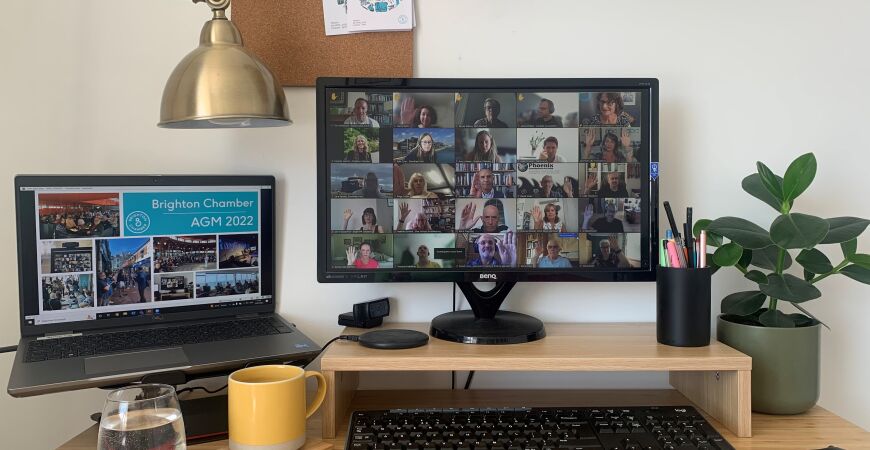 Fri 05 / 08 / 22
Brighton Chamber AGM 2022
This July was our third online Annual General Meeting – this year, looking back at 2021, what we achieved with our members, and what our plans are for the next few months.
Over 30 members joined us, along with members of the Chamber board, and Chamber President Julie Roff, who kicked off proceedings looking back at our achievements in 2021.
By Hannah Jackson of Brighton Chamber
Achievements in 2021
Last year, we were adapting to and dealing with Covid, eventually beginning to see the end of restrictions. And, although there were challenges, there were plenty of highlights to celebrate too.
In 2021 we welcomed 179 new members, with 13% of these being returning members.
We organised a (whopping) 163 events, both virtual and in-person, including Slo-mo Networking, and new events like the Chamber Book Club and Netwalking. Plus, more than 30 Bite-sized Learning sessions, continuing to run expert led Q&As, and a second round of our Reset.Restart business support programme.
Bigger events in 2021 also included our second Brighton Base Camp: En Route, and our big Hybrid event at the Ironworks.
The Brighton & Hove Living Wage campaign, now in its tenth year also reached over 800 employers signed up to pay the Living Wage – meaning more than 4,000 salaries have been elevated across our city.
Chamber's finances in 2021
Chamber Vice President, and Finance Director and Deputy CEO of Shoreham Port, Sara Bassett, followed Julie with an update on the Chamber's finances in 2021. The 2021 accounts can be viewed here.
Although 2021 was an interesting year, with Covid and lockdowns continuing, the Chamber's cash position remains steady. Extra funding won for projects in 2021 included From Brighton with Love, Reset.Restart and the Living Wage Campaign.
Looking forward to 2022, the budget has again been set conservatively, taking into consideration current economic challenges. This year the Chamber has also benefitted from Grant Funding from Brighton & Hove Council for the Confident Business series.
Members voted to approve the 2021 accounts.
Plans for 2022/2023
Handing over to Sarah Springford, Brighton Chamber CEO, to run through more recent events from 2022, Sarah nodded to Julie's introduction - that although 2021 has proved to be a second challenging year impacted by Covid, the Chamber has adapted its business model and started 2022 with excitement, plans and energy.
This year so far, the Chamber team have moved into a new office at Brighton Eagle Labs, growing the team by taking advantage of a Student Consultancy Project, working with the Catalyst Team at Sussex Innovation, and taking on an intern from the University of Sussex.
The end of April also saw the return of Brighton Summit for the first time in three years – welcoming over 350 attendees to a new venue, The Attenborough Centre for the Creative Arts.
Membership and plans for 2022/2023
Following Sarah, Amy Lishman, Head of Member Engagement and Deputy CEO, gave an update on Chamber membership. So far in 2022, we have welcomed 86 new members to the Chamber – with 16% of those being returning members.
Amy spoke about a few things we've been working on:
• Creating more topical, member-focused content that allows us to showcase different members and talk about the issues that matter to businesses
• Retiring the newsletter in favour of business stories mailers, and Chamber-ly, to help create a sense of community.
• Net Zero Champions – members meeting to discuss challenges that businesses face to reach Net Zero, signposting support and expertise.
• Strengthening our Ambassador network, with new people and perspectives joining our Chamber Ambassadors group.
• New events like Netwalking and Coworking Days.
And looking forwards to what we have planned: from more consistent research and insight into our members and what businesses want, finding new ways for businesses to learn and get information, and continue to grow the Chamber as an inclusive and supportive network of businesses.
People changes and voting
Three board members stepped down this year – we'd like to say a big thank you to Jill Woolf, Jo Crease and Andrew Thomas.
Two Board members were voted in, with Sara Bassett standing for re-election as Vice President, and Sam Knowles standing for Vice-President.
Members voted to approve the 2020 AGM minutes, and 2021 accounts.
In closing
With closing remarks from Julie Roff, we sent attendees off into final networking rooms.
After a morning of talking about the Chamber's achievements, members shared some of their own from the past 12 months. As always, we loved hearing about what you've achieved, and shared some of our highlights here.
With thanks to our event sponsor, Galloways Accounting.