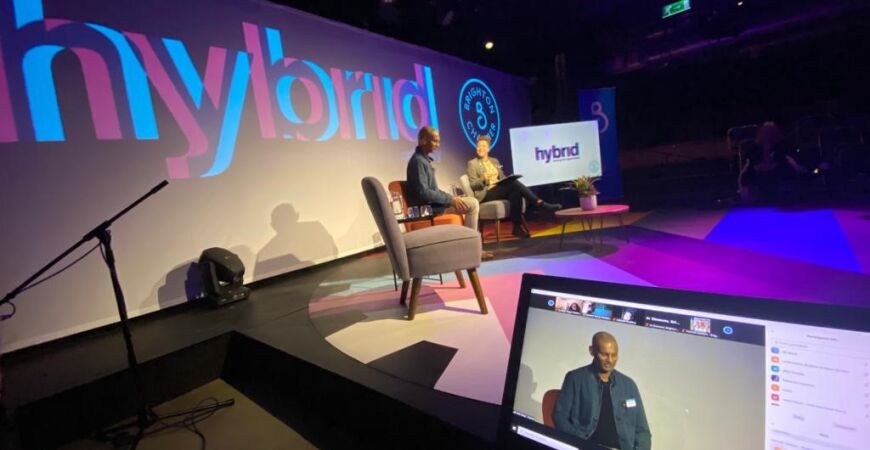 Brighton Chamber of Commerce's first truly hybrid event was a resounding success, with 80 people flocking to the Ironworks Studios, and the other attendees viewing on their laptops at home on Friday 12 November.
As any regular at the Chamber events knows, there will be inspirational speakers and you will leave feeling energised and ready to take on any challenge the business world can throw at you. Hybrid was no different.
Kathy Caton, Founder of Brighton Gin, was our fabulous host for the evening and she began by introducing the event sponsor Edward Street Quarter - Brighton's newest neighbourhood.
Speakers included Immunologist Robin Shattock, Professor of Mucosal Infection and Immunity at Imperial College; Sanjay Lobo, CEO of onHand; and Rachel Watkyn, Managing Director of Tiny Box Company Limited.
Here's a little of what you may have missed!
Robin Shattock, Professor of Mucosal Infection and Immunity, Imperial College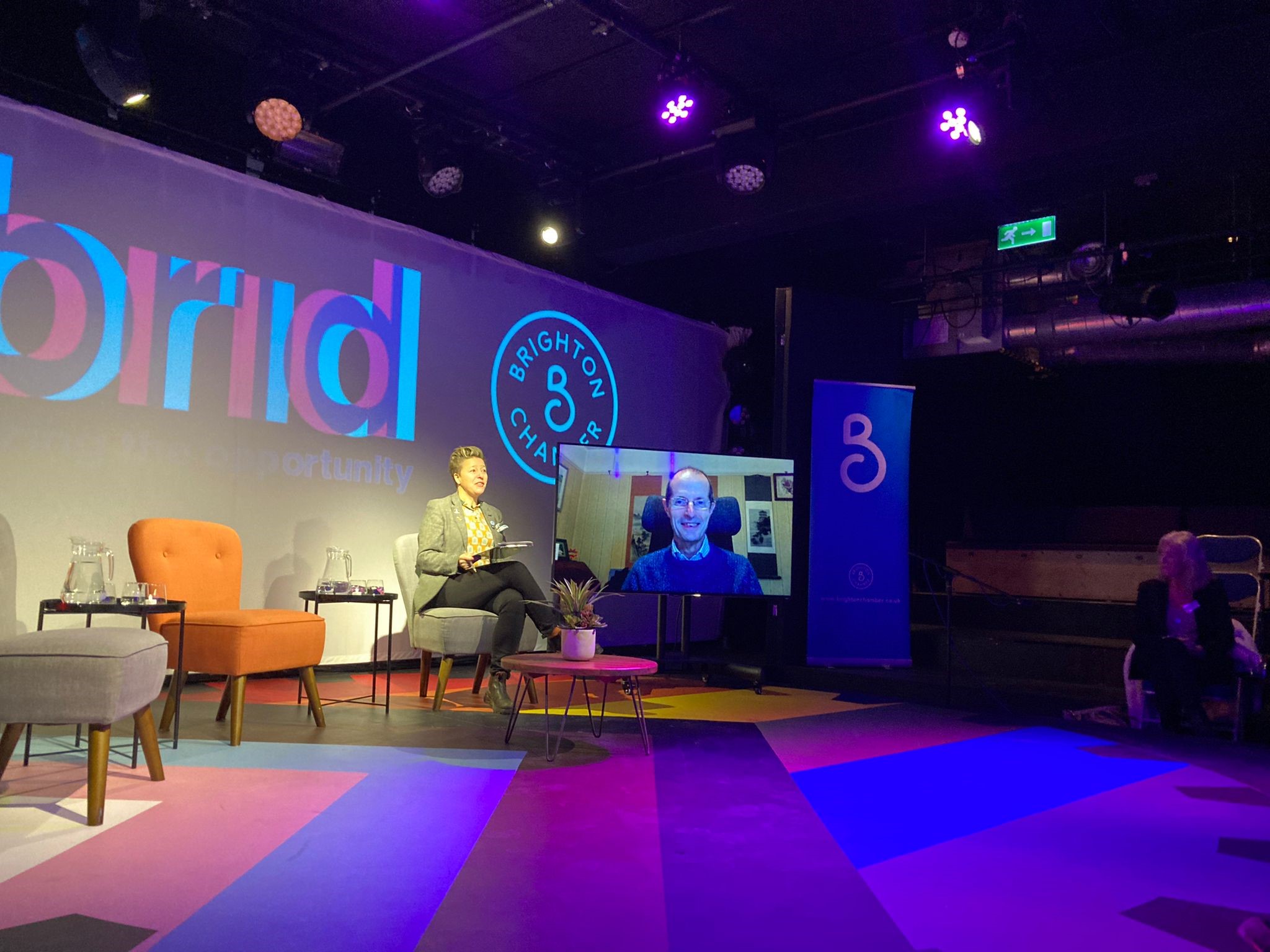 Did you know the anti-vaccine movement is nothing new? According to Professor Robin Shattock, this movement began when the smallpox vaccine was created by Edward Jenner in the early 19th century.
The world's first vaccine was developed from cowpox, when Jenner noticed that dairy maids had a resistance to smallpox. Many were distrustful of this new medicine, with fiery cartoons and pamphlets even suggesting it could make people look like a cow.
Fast forward to 2020 and Robin is at the forefront of developing a vaccine for Covid-19 as the virus spreads around the globe and shuts down society.
The experience of trying to save the world was exciting, energising and daunting, with highs and lows, Robin explained. But how did they manage this level of stress?
Robin described how teams working on the vaccine had no time off for 18 months, so being aware of burnout was crucial. However, he said he tried to focus on what could be achieved today, as opposed to allowing himself to be overwhelmed by the enormity of the challenge ahead.
His advice for us as we approach winter is to wear masks on public transport and in busy indoor public places where ventilation is poor. But he believes by March next year life will finally be back to normal.
It is a sobering thought that the vaccine for Covid-19 is relatively easy to create. There is still no vaccine for HIV and we have had 35 years to work on it, Robin explained.
Sanjay Lobo, CEO onHand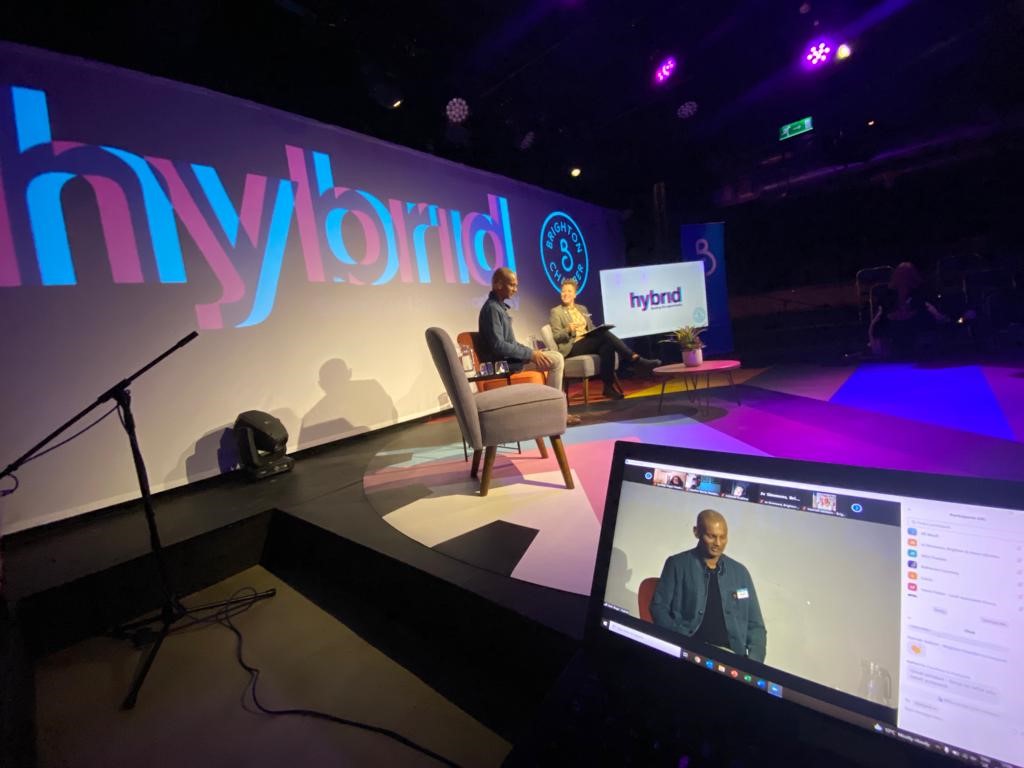 Inspiration struck for Sanjay when his father needed a carer to do his food shopping for him. An inexpensive trip to the supermarket for food for one turned into a much more expensive shop to pay the carer for the work. That's not to downplay the work carers do – they do a fantastic job, said Sanjay. But how could help be more readily available to people like his dad?
That's how the idea for onHand came to him and with a background in start-up tech companies like Lastminute.com, he wanted to do volunteering differently and better.
The onHand app enables businesses to carry out CSR (corporate social responsibility) work with ease. Download the app, and accept a local mission which could cover areas such as food waste, homelessness, youth mentoring, environment and elderly and isolated help. OnHand will even plant trees for your company in high impact areas.
With his background in tech, Sanjay loves reporting, so the app can show businesses data to demonstrate how much of a difference they are making.
For more information visit: https://www.beonhand.co.uk/
Rachel Watkyn, Managing Director, Tiny Box Company Limited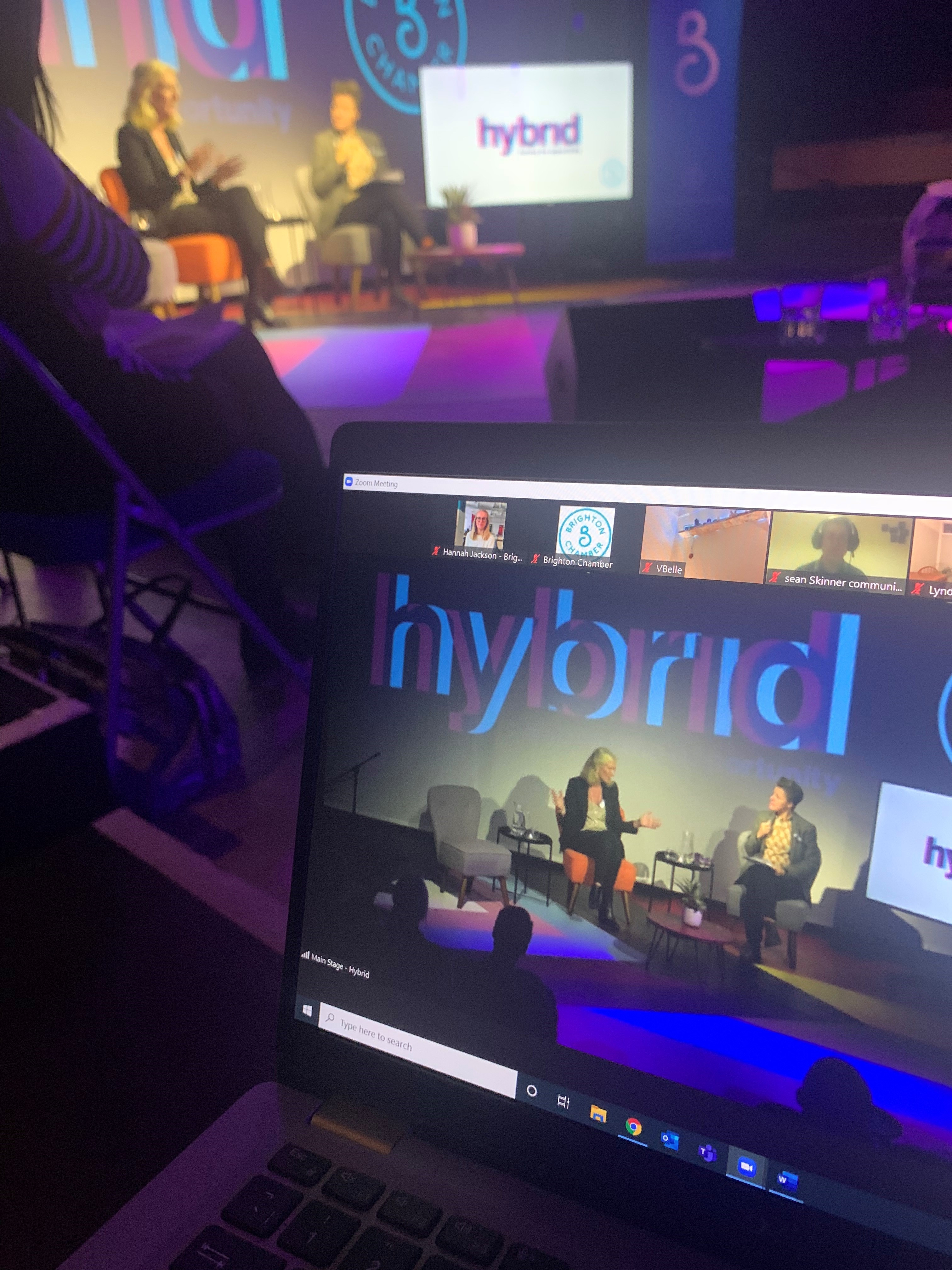 It's fair to say that Rachel Watkyn has been dealt a difficult hand over the years, including spending some of her childhood in care and her own recent battles with cancer, from which she is now in remission.
How did she pick herself up and found the Tiny Box Company, win funding on Dragons' Den, become one of the most successful female entrepreneurs ever to appear on the show and lead a company which now has 80 employees?
The answer perhaps lies in her positive attitude – she was healthy enough to run a business and she always had a roof over her head, she said. Others were worse off. Whilst working in Sierra Leone during the military coup, the extreme poverty she witnessed drove her vision for a fairtrade business, initially a jewellery company.
Together with radio DJ Robin Banks, they started Tiny Box Company after realising there was nowhere to buy recyclable and environmentally-friendly packing.
Business was going well. Then the pandemic struck. The market traders who were part of the lifeblood of the business had nowhere to sell their products. So, the Tiny Box Company started selling their products for them on a new platform, offering their clients and the business another revenue stream.
It's no surprise that Rachel won the 2020 NatWest everywoman of the Year Award for her triumph over adversity. She is an inspiration to us all.
Her advice for other women thinking about setting up a business, is to believe in yourself, stay humble and be kind.
Samantha Clark is Senior Account Manager at Midnight Communications.
Midnight Communications works with businesses, professional service firms and brands alike, applying their commercial expertise to crack consumer briefs and approaching B2B campaigns with creative flair. Find out more about Midnight Communications here.
With thanks to our event sponsor, Edward Street Quarter.
And to our event partner, Ironworks Studios Brighton.
Come for a tour with Kathy Caton of our venue for Hybrid, Ironworks Studios - a unique new multi-purpose events space, at the heart of Brighton's North Laine.