Topical events, debates and more..
Lively, topical and challenging
Come to a topical event to find out what's happening in our city, get help with issues that are relevant to your business, and meet other business leaders to discuss relevant issues. Our topical events include Q&As, one-hour lunchtime sessions run by experts on subjects that are relevant to your business. At The Big Debate we discuss the topics important to Brighton and local businesses. Or, are you a leader in construction and property? Construction Voice looks at the latest issues that will affect our city's skyline.
And our largest event of the year, Brighton Summit, offers unrivalled opportunities to connect, learn, and network.
Brighton Summit
The Brighton Summit every October is a conference bringing together our city's diverse business community for a day of inspiring talks, practical workshops and new experiences.
The number and the quality of the people you'll meet means the networking is off the scale. The vibe is exciting, the mood is collaborative and the food is wonderful. It's the most productive and beneficial day you'll spend out of the office all year.
Construction Voice
Construction Voice brings together leaders from the construction and property sector to provide insights and discuss topics such as planning, viability, talent, design and sustainability. Held both online and in-person, our panel and discussion events attract 80+ attendees.
"The Construction Voice events have covered a wide range of topics and have been invaluable in helping to connect the Property and Construction industries to the wider issues affecting the city. It's been great to be involved and help frame the discussion on how we can work together to improve our city." - Gavin Stewart, Executive Director, Brighton & Hove Economic Partnership
Have a constructive say on the issues that matter to you and your business and be heard by the city's movers and shakers.
You can find out more about Construction Voice, and read about our previous events here.
The Big Debate
Lively, topical and challenging, Big Debates attract more than 100 people from the businesses, charity, corporate and public sectors. It's a chance to hear an expert panel address key issues facing businesses in the city – and maybe influence the decisions they make too.
The interactive format works for virtual and in person events, allowing time for table discussion with other attendees. We record the outputs from attendees, summarise them and share them with the decision makers in the city to help inform their work.
Feel you've missed out? You can catch up now. Read our blogs on...
How do we create a fairer city to support business growth?, July 2023
Where have all the people gone?, November 2022
Net Zero: Big ideas at the Big Debate, March 2022
Is a four-day week good for Brighton business?, November 2021
What's next for Brighton? Let's exploit the glamour of our city, June 2021
We have re-shaped work and the city has changed, October 2020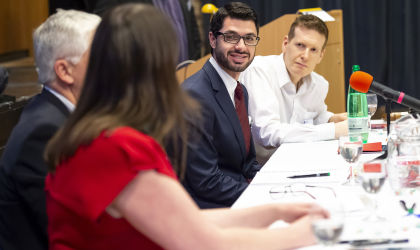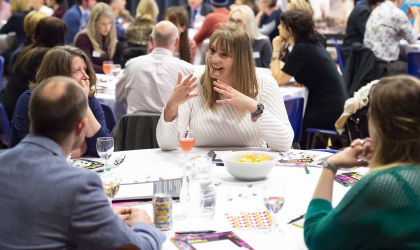 Q&A session
Get expert advice from Brighton Chamber members at these free, 60-minute sessions where you'll have the chance to ask your questions. We'll cover topics affecting your business including HR issues, accessing grants and loans, getting paid, commercial property and contracts and cybersecurity.
Find recordings from previous Q&A topics on the Chamber Youtube channel.
Net Zero Champions
Interested in sustainability, and meeting like-minded businesses in the process?
Our Net Zero Champions are the people in business in Brighton who are leading the way to Net Zero. This group meets regularly to share knowledge, expertise, and to hear from others working in sustainability. Our Net Zero Champions events are anything from Behind the Scenes tours at Plumpton College to Q&As with Caroline Lucas.
Your business does not need to be Net Zero to attend, all you need is the desire to take those next steps. Find out more and register your interest to be a Net Zero Champion here.
Keep up to date with Chamber events

Click here and click 'Follow' to receive alerts when our events go live on Eventbrite.