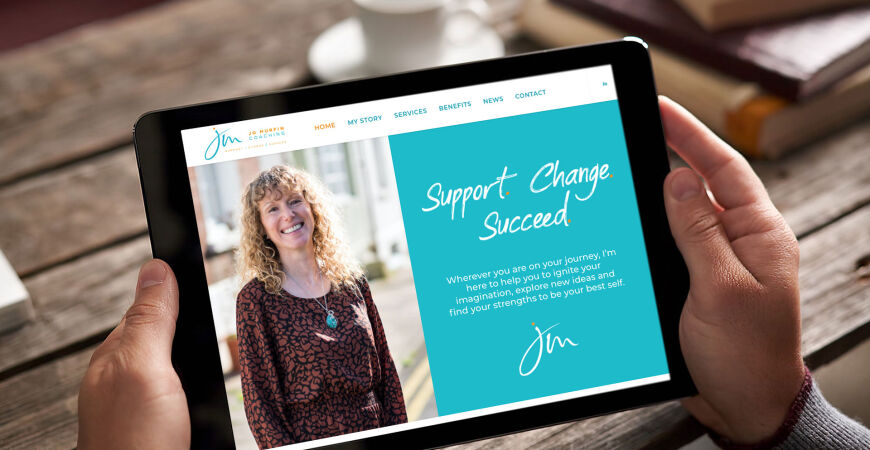 Wed 24 / 02 / 21
From networking to collaboration - how three Chamber members are working together
The Chamber is a place where members can come together to connect and collaborate. Read the story of three Chamber members who, after an initial meeting at one of our networking events, teamed up together to collaborate on a website and branding project.

By Amy Lishman of Brighton Chamber
Meeting great people to work with is one of the many benefits of business networking. Whether you're looking to connect with someone to collaborate with on a project, or an expert to help take your business to the next level, making connections is a proven way to develop and help your business succeed.
Earlier this year we spoke to three Chamber members - Jo Murfin, Richard Excell and Lauren Psyk - about how they've been working together over the past 6 months on a website and brand project.
Here's their story of how they met, worked together, and why business networking is an important part of their growth strategy. We hope you enjoy getting to know them as much as we did.
Hi Jo. So, this all starts with you. Why did you decide to work on your website and brand? And why did you decide to do it during a pandemic?
I became a qualified Leadership and Career Coach 5 years ago, working as part of an internal coaching network. However, my journey to becoming a coach began 18 years ago when I became a manager of a busy contact centre and engaged a coach to help develop my leadership skills.
In early 2020 I decided to offer freelance coaching to share my experience and support people with challenges such as remote working, career change and work life balance. I realised that a website would be a great place from which to share my articles, videos and newsletters, so I decided to work on my brand and website with a specialist to reflect the professionalism of qualified coaching.
I joined the Chamber and started attending learning and networking events. And that's where I met Richard Excell, from Excell Design & Marketing.
So Richard, tell me, how did you meet Jo and end up working on her website?
I met Jo through one of the Chamber's Member Meet-Ups during the early stages of the Coronavirus pandemic. With events having to go online it became the best way to network and meet other members. The format gives everyone a chance to not only tell us what they do, but importantly what they are struggling or succeeding with as a business. So many great conversations have come out of these meet-ups and have invariably lead to referrals for services and products.
What was your favourite thing about working on the brand and website design of Jo's website?
The initial conversations we had, discovering and exploring the strengths and offerings Jo has as a coach, what makes her unique and understanding why clients would use her services.
Inevitably, Jo's values and ethos helped to form her brand along with her experience and proven success in the field of coaching. I'm always intrigued to find out what makes other people tick, what their take is on everything, what their passion is - and how this combines to motivate them in business.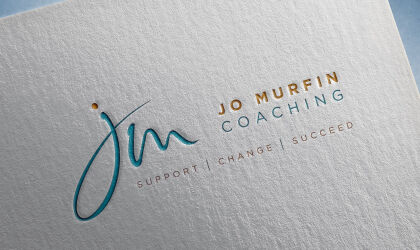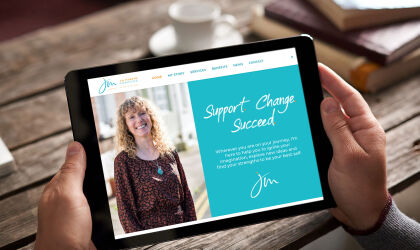 I've had a look at your finished website Jo. It looks brilliant. What was the process like, working with Richard?
Working with Richard was an absolute dream. During our initial meeting, Richard clearly set out his recommendations, process, pricing and timescale based on what I wanted, which meant I knew exactly what to expect.
It was immediately obvious that Richard is very creative and knowledgeable. I was absolutely thrilled with the first drafts of my brand and outline for the site, which demonstrated how completely Richard had understood who I am and my passion for coaching. I was presented with various brand options and Richard made sure I was completely happy before progressing to the site content.
I've now got such a lovely website that I'm extremely proud of. I've already received my first website enquiries shortly after launching the new site. I'm looking forward to working with Richard soon on a marketing strategy.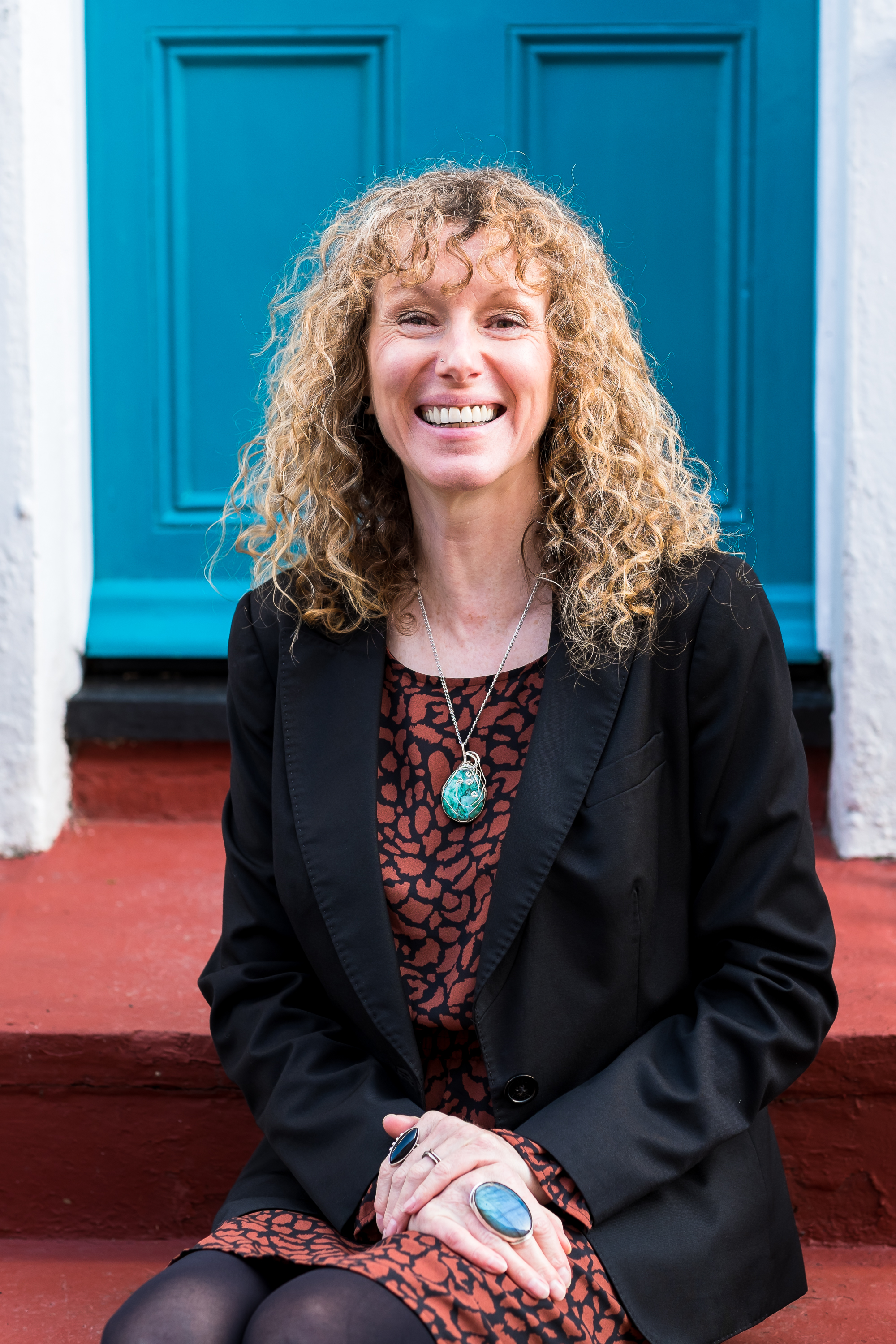 How do you fit into this Lauren? How did you meet Jo and what did you enjoy about the shoot?
Jo approached me via email and said Richard had recommended me. Jo was looking for some natural looking headshots that would help to convey her personality and represent her new brand, and she wanted something a bit different. We then chatted over email and Zoom to finalise the details ahead of our photo shoot.
Jo was really open to all the ideas I suggested. Building a rapport with clients is a very important part of my job - if I can get clients to relax and enjoy themselves then we can create brilliant photos together. Jo made that easy by being very enthusiastic and curious during the shoot. I also felt that she trusted me and was happy to go with the flow.
Even though you shot these photos in the summer, how was it shooting this during a pandemic?
I am lucky in that my photography is quite well set up for this situation! Most of my shoots take place outdoors, so I found it quite easy to adapt to doing socially distant photo shoots.
For portraits I use quite a long lens, which means I need to stand well back from my subjects to get the shots I need so I felt confident that I could keep us both safe. I wore a mask and I made sure we stuck to areas that were quiet so that we could avoid other people. Obviously, this is not possible during the latest lockdown, but I'm confident I will be able to return to photography work in a Covid-safe way when the time comes.
Jo, what was the best thing about working with Lauren? Had you ever done a professional shoot like that before?
The best thing about working with Lauren is her fabulous energy. I had never done a professional shoot before and was pretty nervous - particularly as we were in the streets of Brighton. Lauren quickly put me at ease and before long I wasn't even aware of other people in the street. Working with Lauren was absolutely brilliant and the photographs were lovely quality with lots to select from. I'm thinking of doing another shoot with Lauren, so I have more photographs for videos and social media posts.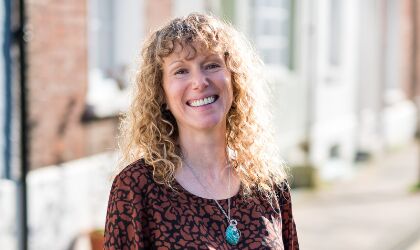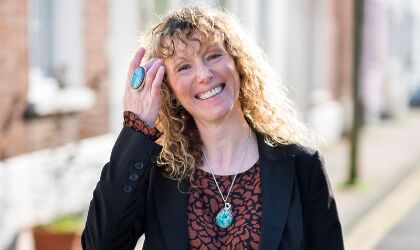 This question is to you Lauren and Richard, it sounds like networking is an integral part of your business strategy. How important is networking and building relationships to your business success?
Richard: Networking is a vital part of my own business marketing. It's how I meet not just potential clients but also suppliers, referrers and find help and advice for my business. Networking gives you the opportunity to find the people you may need and the time to get to know and trust them. I've even made friends that I can meet up with on a social level, have a drink with and set the world to rights!
I always wonder what I'd do without networking for me and my business and how did I ever get along without it?
Lauren: I agree. It's very important for me to have people who refer me to their clients. It's also a great confidence boost to be recognised by other Chamber members for doing a good job - being someone they are happy to recommend to their clients. I went to a brilliant Chamber Bite-sized Learning session last year about building a referral network, and this is something I want to build on even further.
Thank you to Lauren, Richard and Jo for sharing their collaboration story with us. You can check out Jo's website, brand and images here.

You can also read Richard's tips for starting a rebranding project here.

Find out what networking events are coming up at the Chamber: