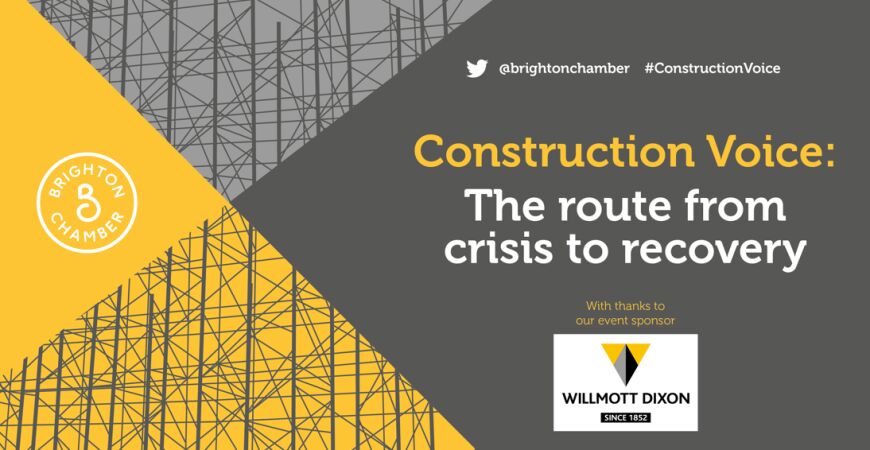 Brighton Chamber's regular 'Construction Voice' event is always a firm favourite in my calendar because it always boasts interesting discussion amongst high profile people in the sector.
The last event on the 16th July was no different in that respect, although we met via Zoom so it felt very different to our usual get-togethers!
Sponsored by Willmott Dixon, the event was focused on 'the route from crisis to recovery' and chaired by the enigmatic Ed Allison-Wright, Vice Chair of the Brighton & Hove Economic Partnership.
Russell Miller from Willmott Dixon kicked things off, speaking about the 'tailspin' that Covid-19 caused in the sector. By collaborating with its customers and supply chain, Willmott Dixon quickly introduced control measures and managed to keep all its projects open, on track and kept its workforce safe – not an easy task! Russell commented: "our challenge now is not to waste the crisis but use it as an opportunity to learn". Something every sector is surely looking at in the wake of the pandemic.

Andy Parsons, MD at the award-winning architects Yelo, spoke of Covid-19 having accelerated some existing trends in the sector, for example, with more homeworking likely, the need for one or more study in residential properties will be ever more prevalent. With that in mind, homeowners will also be looking at making their home a nicer place to work and considering improving amenities such as balconies and gardens with food-growing space.
In terms of the commercial market, Andy has also seen some trends accelerate – with landlords contacting his firm when tenants have left or gone out of business and they need to do something with the space. In the last few weeks, Yelo has picked up two projects with former language schools to change the use and transform them into guest houses.
Regarding the high street, Andy hopes to see more mixed-use with residential opportunities to make use of vacant retail or storage space.

Moving onto planning, Luke Carter, Director at Lewis & Co Planning, talked us through the recent legislative changes to the planning system that the Government enforced to allow the Nightingale hospital to be built. Luke explained that these changes were temporary, and the building will have to be removed in January and the site restored to its former use.
The Government has subsequently made changes to permitted development rights including building flats above existing blocks of flats. These are subject to prior approval and need checks and balances to be conducted by the council to ensure the accommodation provided is of a sufficient standard. Luke urged lessons to be learned from previous commercial to residential developments which led, in some cases, to flats being built without windows!
Although often lambasted, Luke didn't see the current planning system as a barrier to recovery; he saw the bigger issue as the availability of labour and materials to meet the demand for buildings of all types.
The Government has announced a proposal to make significant changes to the planning system later this year, but there's hasn't been much in the way of detail yet. Here's what we know so far.
A regular at these events, Phil Graves, Director at Graves Jenkins, gave an update on the commercial property market. He described the recent months as "the greatest turmoil in the property market, certainly in my career" with every business in the sector affected in some way - from the tenants to the landlords and property developers.
The retail and restaurant sector has been severely affected and Phil gave the example of the local Coppa Club which spent £1.5m on a new fit-out and haven't been able to open up.
With no real indication as to how long the coronavirus will continue for, Phil suggested that all businesses will have to find new ways of working. With the high street floundering, the prospect of turnover rents has been raised – which wouldn't have previously been considered for big retailers. Many retailers are now looking at how to use the space, joining up with other retailers and possibly opening up their upstairs space to residential use.
Despite the rise in homeworking, Phil didn't think the traditional office will disappear. He's expecting a pent-up demand for quality office space but there will be changes afoot including demands for shorter and more flexible lease arrangements as well as more co-working spaces.
And what of our city? Phil was hopeful: "Brighton and Hove does tend to bounce back well". Let's hope you're right, Phil!
The discussion then moved on to the subject of social value, with Sarah Fraser, Head of the Willmott Dixon Foundation, reminding us all that social value isn't just about doing the right thing, it's about understanding that it can have a commercial impact too… and that's OK!
Sarah's three top tips were:
1. When it comes to cost cutting, don't just think about saving, but consider value. No matter how big or small your business, there's always an opportunity – Willmott Dixon recently looked at where it gets its food from and made a decision to use the Junk Food Project which saved money but also stopped food from going to landfill.
2. Social value doesn't have to be difficult – consider what's in your gift! For example, Willmott Dixon conducts a lot of renovation works in its communities and its IT teams help to equip and support schools with technology.
3. Use your heart and do what matters to you. There are thousands of worthy causes out there so the trick is to pick something that matters to you and will motivate you and your team. Willmott Dixon recently worked with the Brighton Metropolitan College and the YMCA on a project to house the homeless.
Sarah recently conducted a survey amongst the Willmott Dixon team and discovered that 87% of the team do something to help their local communities and of those, 97% say they get something back from it.
With all of us feeling inspired as to how we can help our communities, the discussion then moved onto the thorny issue of pricing.
Another regular, Sean Clemons, Executive Partner at Robinson Low Francis (RLF), remarked that his team is frequently being asked by clients if they should commit or wait and see where the market goes. Sean's advice is not to wait to see what the construction price might be, but ensure it makes commercial sense to proceed.
Sean explained there's a lot of push and pull factors on prices – contractor productivity has decreased by as much as 25% and sites are still getting used to the new reality of operating sites safely. There's also been a big impact to the supply chain – apparently there's a plaster shortage which has led to costs increasing from £5 a bag to £45 a bag!
For the first time during the event, the B word arrived… Sean remarked that Brexit will be more of a focus towards Christmas. A hard Brexit could be a reality and could impact the UK's ability to source materials cost-effectively.
Having touched on some challenges, the panel was pretty optimistic. Phil commented that finance is much cheaper than ever before, and a third of the office space at the new development at the Sussex Cricket ground was already under offer.
Luke didn't think the pandemic will affect the need to meet the housing demand in the Brighton and Hove area, although the areas outside of the city might need some strategic planning.
Keeping the optimism going, Andy talked of using the pandemic as an opportunity to look again at becoming more environmental and how there are new government incentives including grants for environmental changes to residential homes.
In terms of design for social distancing, Sean talked of new technology being incorporated in design to minimise touch and how whole buildings will be managed from a phone including calling a lift, opening doors etc.
A quick poll of attendees showed that 43% expected to work from home 3-4 days a week, with 35% 1-2 days a week, only 5% will be completely office-based and 16% not going back to the office at all.

Nick Hibberd, Executive Director of Brighton and Hove City Council gave a great summary of the discussion so far and commented that the pandemic should be seen as an opportunity for the construction sector to consider purpose before profits and what value can be created.
Nick suggested that a change in our value framework as individuals and as a city is needed. The importance of our health and wellbeing, our environment, sustainability, inclusivity and diversity have all increased as a result of the pandemic and the recent Black Lives Matter protests. Nick commented: "How we reflect that change in values in our use of space is going to be critical".
The council has begun considering what this all means in terms of the future design of the city and a lot of work is being undertaken regarding reallocating space – for events, cycling and walking.
Skills will be a key challenge in terms of recovery, as we'll likely see a significant rise in unemployment and there will be a need to reskill whole sections of the population for the jobs of tomorrow.
Nick was also optimistic, stating that Brighton and Hove bounces back well, but we need to build on our strengths in terms of innovation and working in partnership. He said: "we need to be clear about our challenges and seize upon the opportunities that have been made."
Yet again, my chamber blog has focused on the need for collaboration! It doesn't matter what sector your business is in… we'll all be stronger if we pull together.
Hope to see you 'IRL' soon! TTFN, Flo.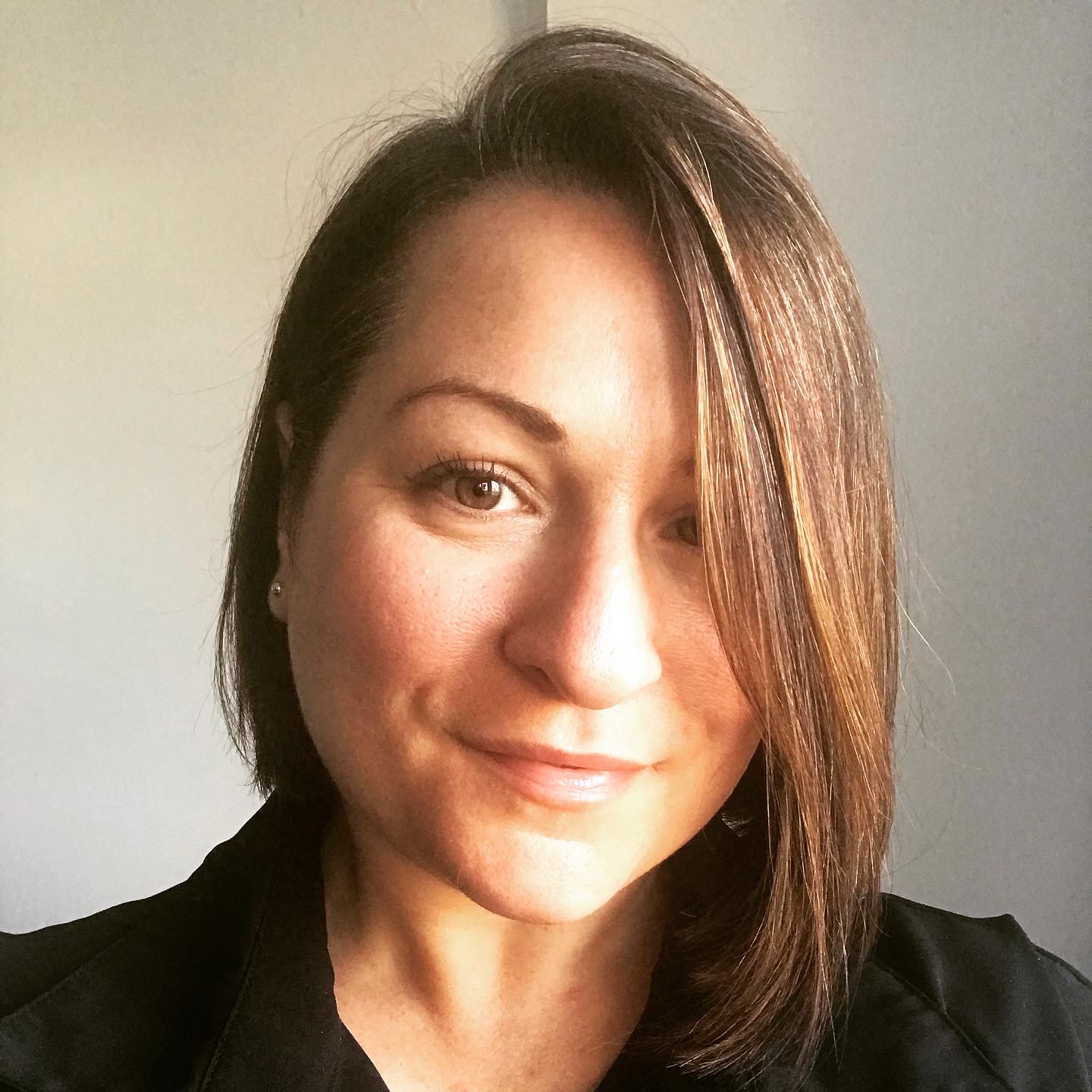 Flo Powell is Joint Managing Director of Midnight Communications, an award-winning PR agency helping businesses and brands win the trust and recognition they need to achieve their goals, through a powerful mix of PR and content services.