Mon 07 / 03 / 16
Construction Voice: Constructing Great Communities
The most recent Construction Voice event looked at what it takes to create great communities. Steve Bustin, Chair of the event, gives us a breakdown of the discussions that took place.
'Site-Specific' is a term that tends to be bandied around in the theatre world and it's not often that it could be used as a label for a business event, but last week's
Construction Voice event
was, in many ways, site-specific.
Field BTN entrance
FieldBTN
, the site formerly known as Preston Barracks, played host to its first event in a temporary space created in the old rifle range of the barracks building. The panel took the place of the old firing targets, physically and - at times - metaphorically. The space is temporary because ultimately the old barracks building will be demolished as part of the redevelopment of the site into a mix of housing, student accommodation, shops and cafes by event sponsors
U+I
.
This was a supremely appropriate (if a little chilly) location to debate the suggestion that construction is responsible not only for bricks and mortar but for constructing great communities too.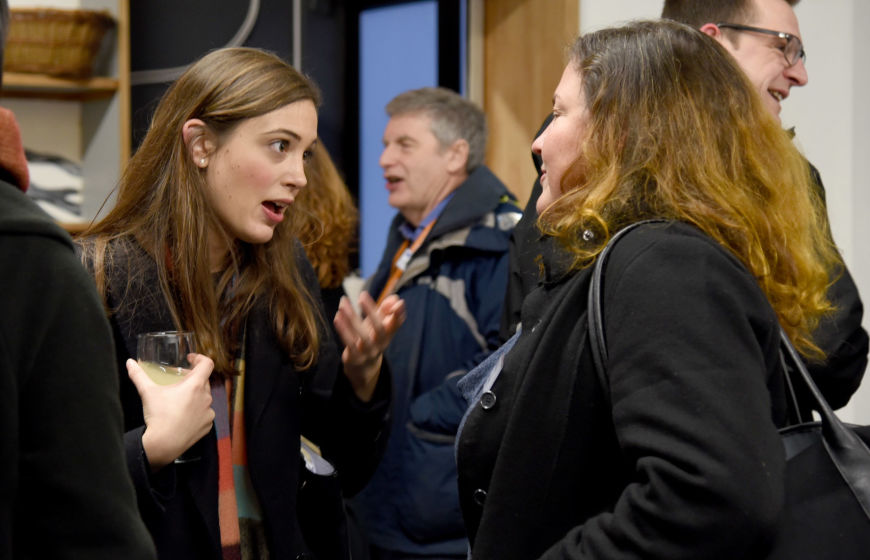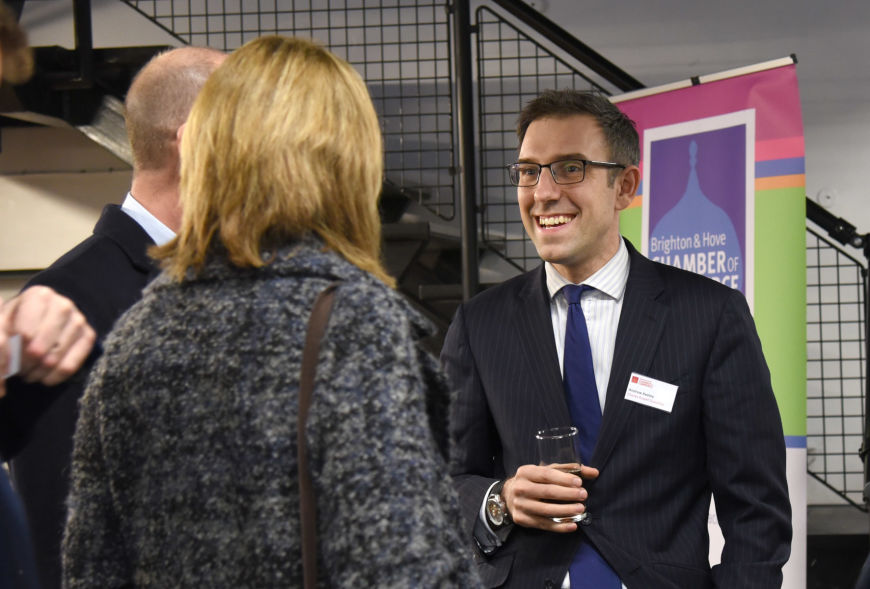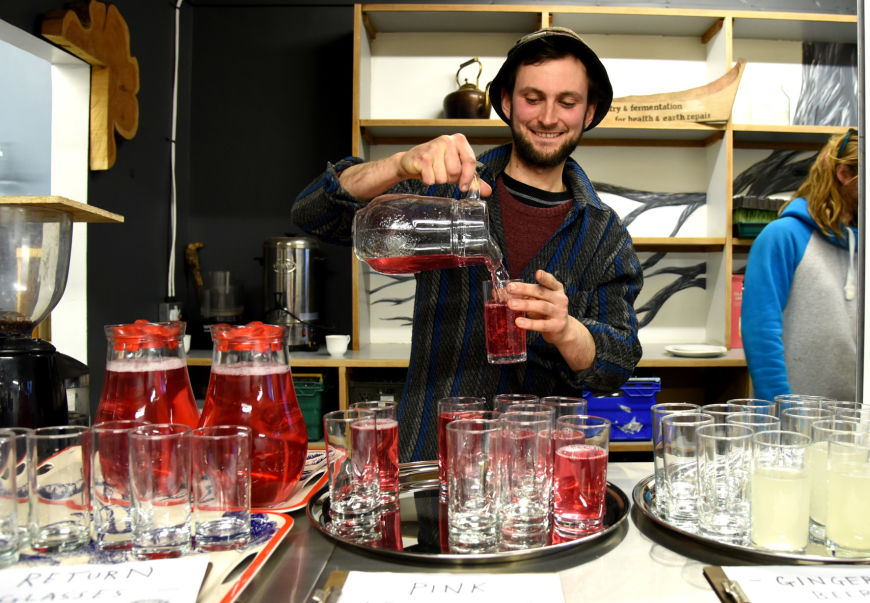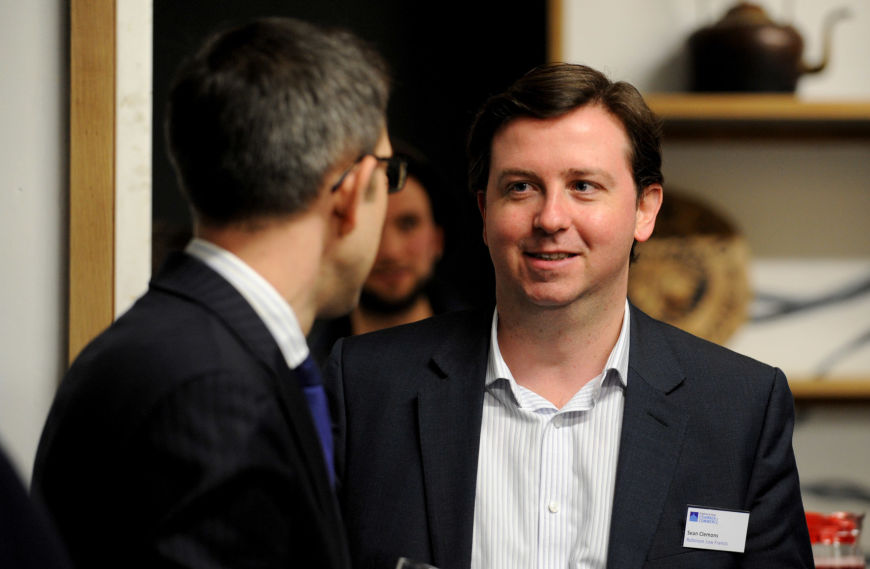 Audience members enjoy a pre-debate chat and refreshments
The event opened with straw polls on some of the topics likely to come up. When asked whether communities could be designed or built or whether they have to be allowed to develop naturally, around a third of the room felt they could be built but a much larger majority felt they happened organically. When asked whether it was the role of the construction industry to create great communities, an overwhelming majority felt it was.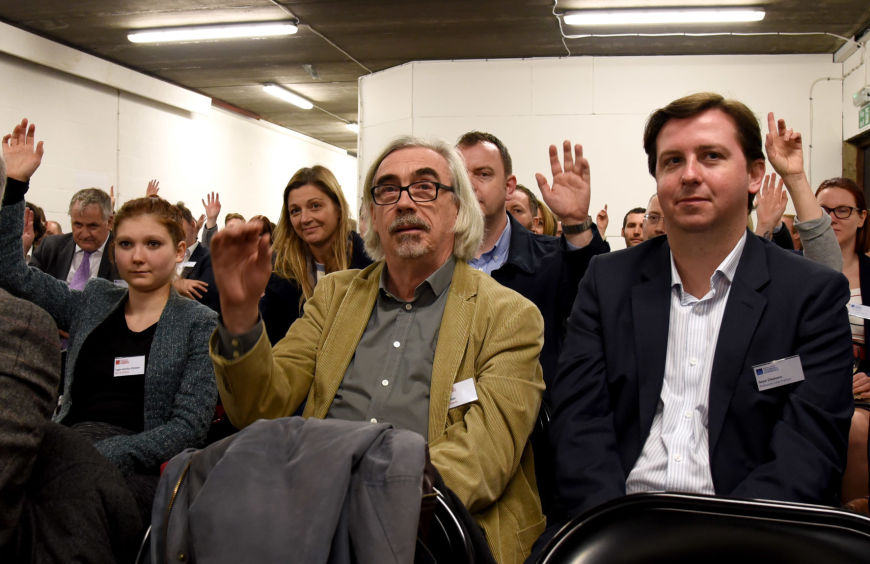 Audience members participate in a straw poll
We then heard from four speakers, all with different backgrounds and roles but actually with overlapping views.
Town planner and built environment expert
Sorwar Ahmed
kicked off by looking at the ingredients needed for the creation of healthy and sustainable places and strong communities as well as high quality developments. He argued that people, place and partnership are the keys to making a great place and that liveability is key – a combination of development being on a human scale and creating a sense of place.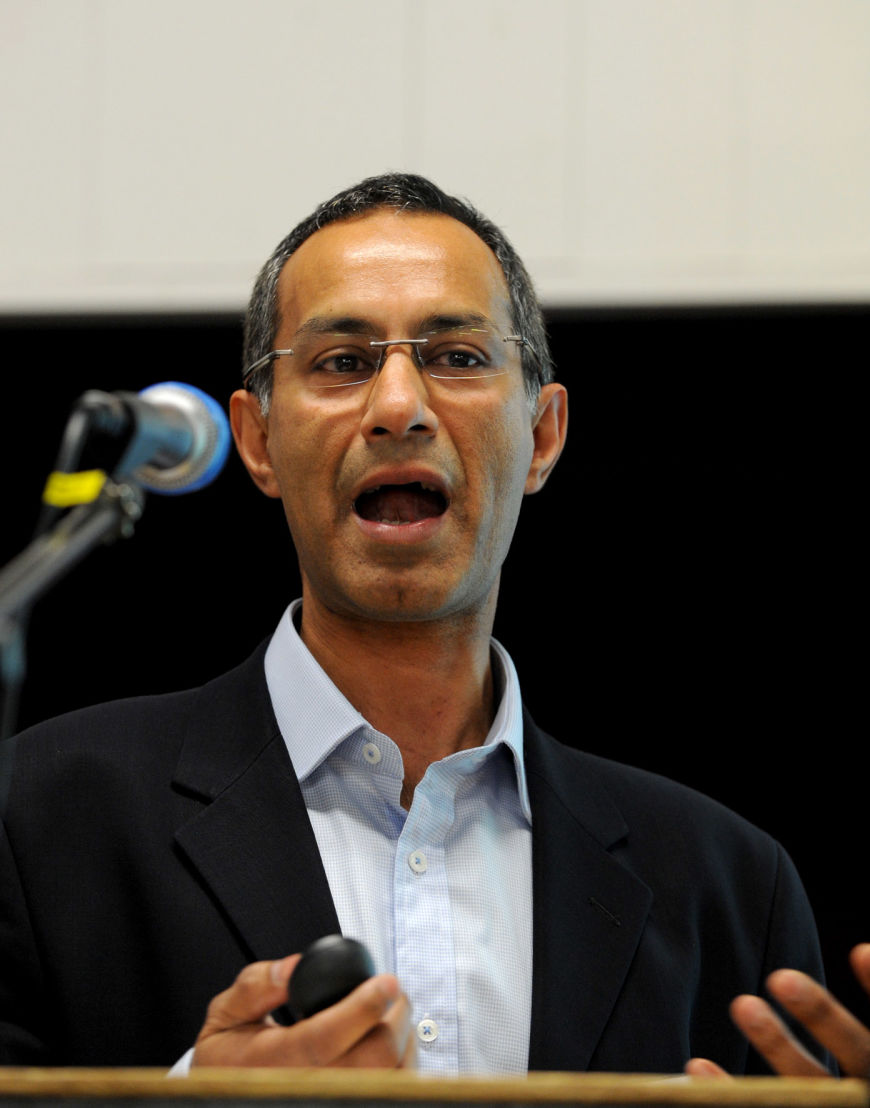 Sorwar Ahmed presenting
Next up was Rob Sloper,
U+I
Project Director for FieldBTN at Preston Barracks. Rob talked about U+I's interest and experience in place-making, talking us through a development they're currently working on at The Old Vinyl Factory in Deptford. Rob explained how they had set out to engage with the local community right from the outset, some years before development started at the site, opening a café in an old railway carriage and inviting in local creative businesses to occupy disused railway arches. Once these new residents were themselves organising events, the site became cool and talked about – meaning that the flats to be built on the site were in demand and making the whole development more profitable – a win-win for both developer and community.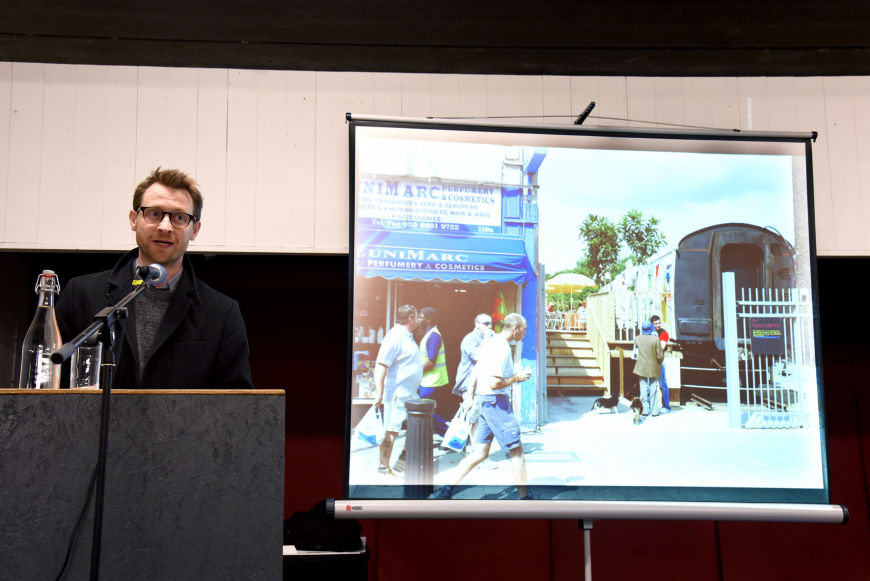 Rob Sloper with his slide of U+I's railway carriage café in Deptford
The third speaker took a different tack. Specialist placemaking and wayfinding designer
Richard Wolfstrome
explored how to bring meaning to a place by developing participatory narrative and design elements to create desirable places with a greater sense of ownership. He explained how this could connect people to place and offered a formula for place ownership that took in community, vision, narrative, heritage and design. Richard stressed how important it is that people feel a cultural and historic connection to the places they are in.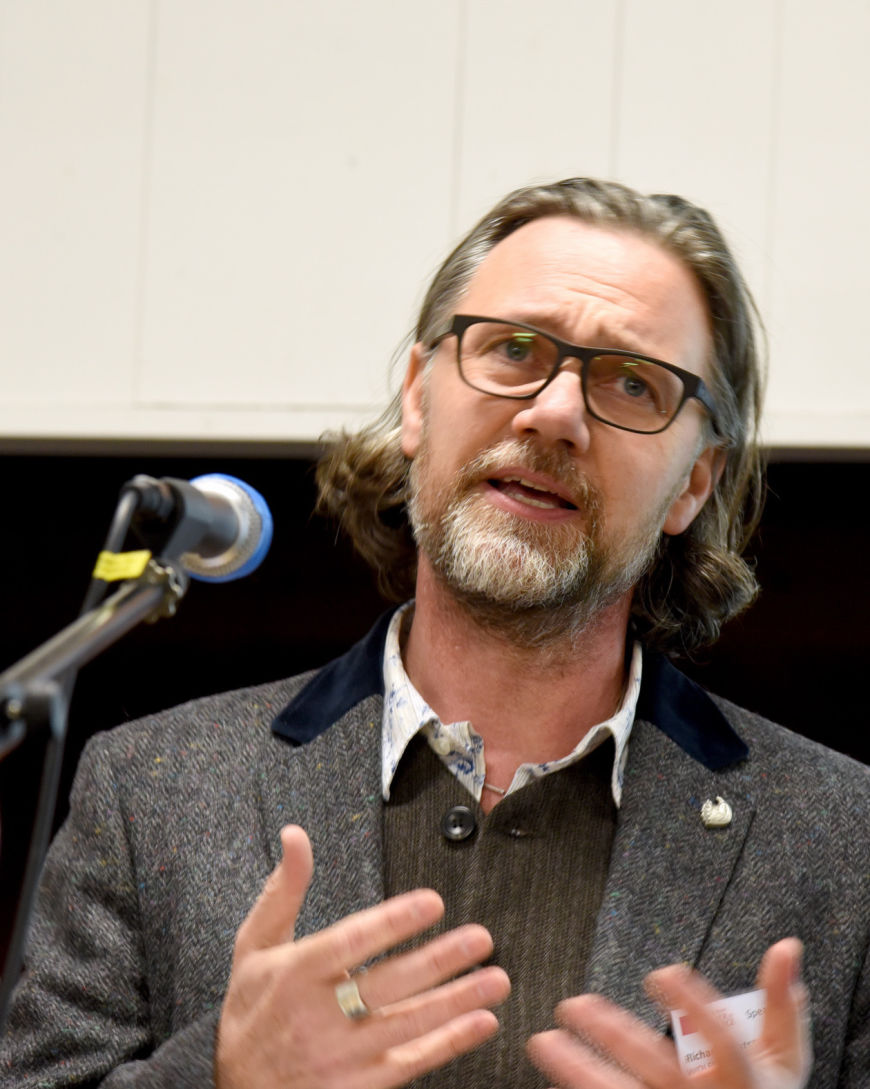 Richard Wolfstrome speaking
The final speaker of the evening was
Brighton and Hove City Council
CEO Geoff Raw, who comes to his current role from a background in town planning. Geoff explained how Brighton & Hove has a lot of strengths as a city and community including the student population, a huge creative hub and a thriving tourist trade but warned that the city also faces huge challenges such as the housing shortage, an increasing elderly and vulnerable population and government-imposed budget cuts. He went on to suggest that the city council has a role in providing civic leadership on issues such as regeneration and community cohesion, but that developers and developments had a role to play in these too, as they shaped the physical environment.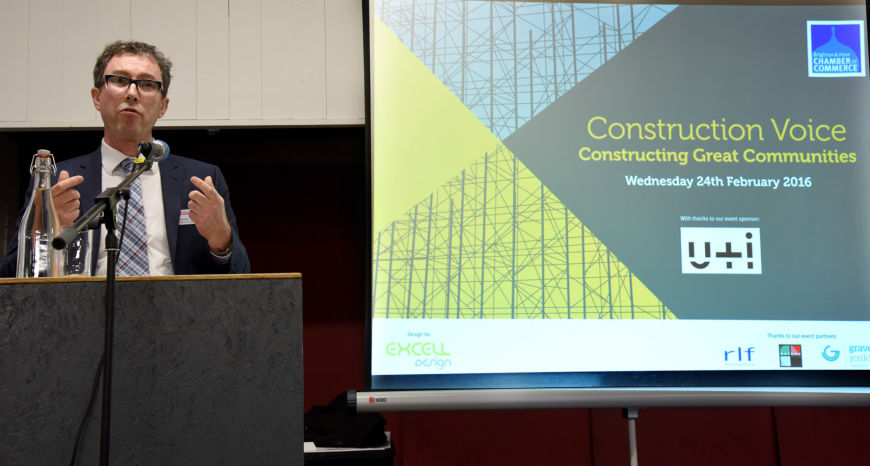 Geoff Raw makes his presentation
The discussion was then opened to the floor, with the panellists facing a variety of questions from a range of stakeholders including architects, property consultants and community activists.
The first question was raised by Zoe Osmond, head of the
University of Brighton
's
Green Growth Platform
. She asked whether developments could be made more sustainable, with panellists agreeing with her that sustainability is more than just a set of official standards to be adhered to and was more rooted in the ethos and long-term vision of developers. There was also some feeling that customers were now more savvy about sustainability and would see through 'green wash' in marketing campaigns.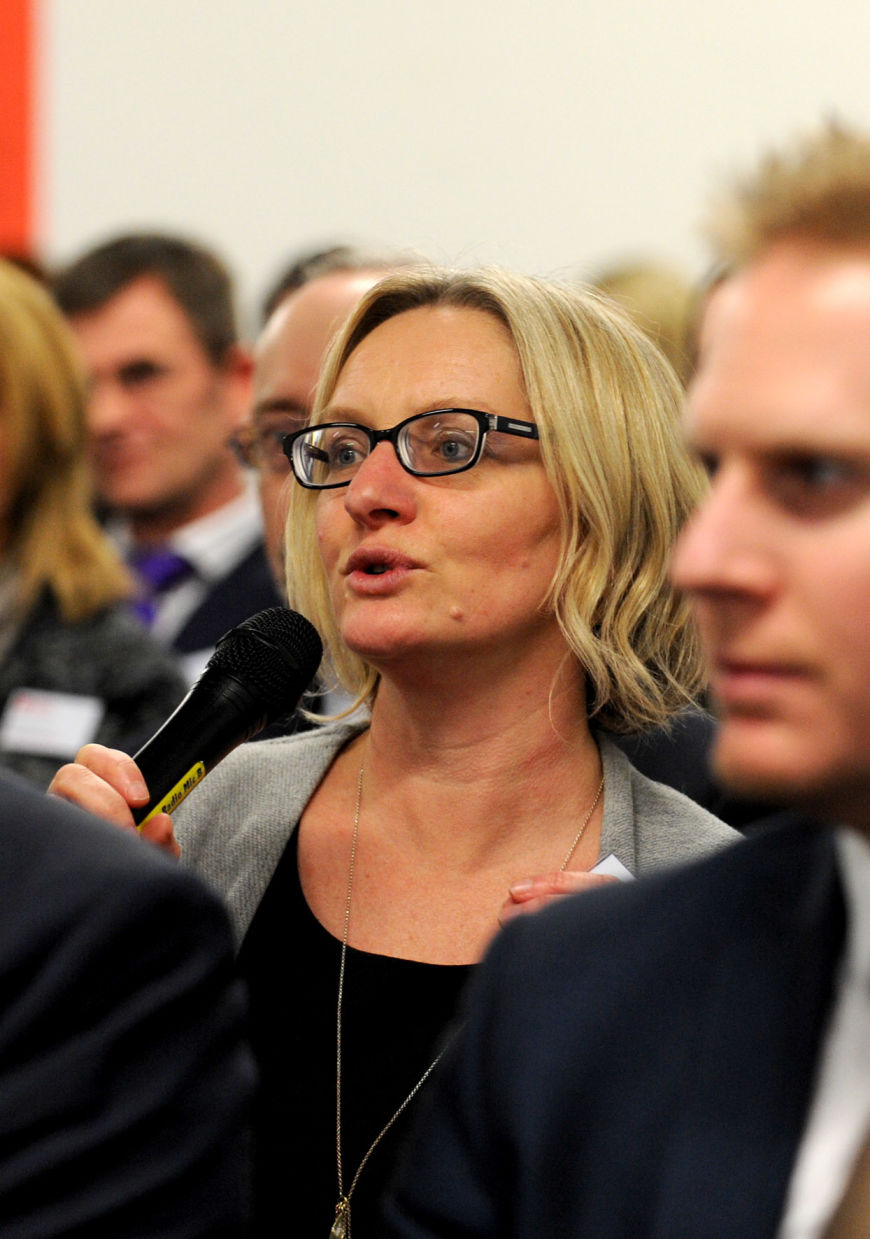 Zoe Osmond asks the panel a question
One of the key themes of the evening then came up with a question about the very definition of 'community' and whether it can be measured or quantified in any way. Sorwar Ahmed felt it was very hard to pin down a 'one size fits all' definition of what makes up 'community' but there was discussion among the panellists that it was more than just the people and encompassed culture, history and a sense of place as well.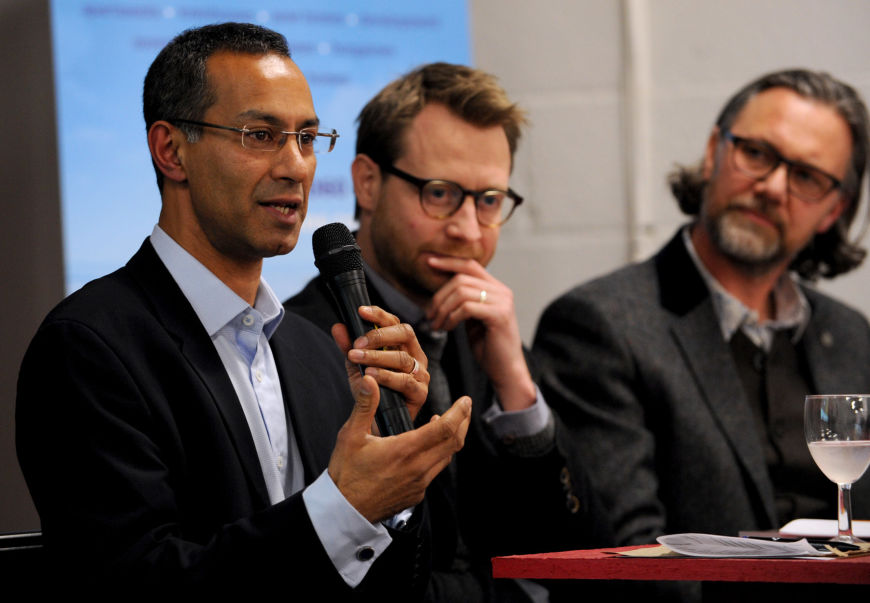 Sowar Ahmed responds to an audience question
A couple of questions then followed from self-identified community or resident activists asking about how local residents can be involved in decisions about development (one suggestion being that city residents are included on the panel making decisions about planning applications).
The notion of a legally stipulated percentage of community space being built into any development was mooted, although panellists were quick to point out that it was not always easy to know what sort of community spaces would actually be used. A straw poll on the motion 'Should there be a legally mandated ration of community space in any development' was only supported by two people (including the questioner) while the vast majorty of the room voting against – or abstaining on the basis that their vote would depend on the ratio suggested.
A final point was raised by former Green councillor Geoffrey Bowden, who suggested that it was bureaucracy that stopped communities developing and changing that was within the power of the council rather than developers.
To round up the debate, a final vote was taken on the motion 'Is it the role of the construction industry to form meaningful partnerships with communities' with the overwhelming majority of those present voting in favour.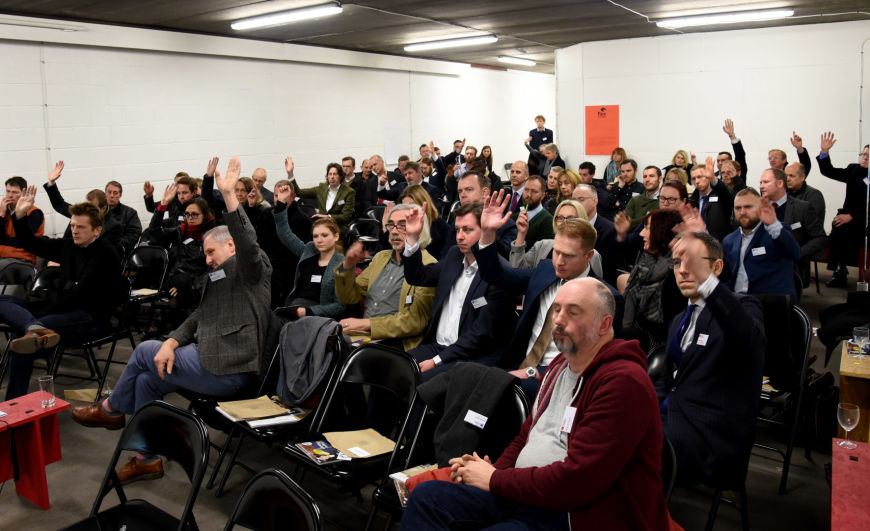 The audience place their final votes
Speaking after the event, all the panellists said they were encouraged by the diversity of topics that came up during the debate.
Sorwar Ahmed said he was particularly struck by the questions and suggestions about engagement with communities.
"The whole idea of engaging people early really stood out for me tonight. I was particularly interested in the question asking whether councillors or individuals should be representing themselves in the discussions with the construction industry.
"I was also very impressed by the examples cited by U+I of community engagement. I think they've been very innovative, and a lot of people seemed to agree with their approach."
Rob Sloper from U+I was encouraged by how many people in the sector seem to be embracing place-making.
"Sometimes you get very insular in how you think about how we do things differently and about how important place-making is to us as a company – you forget that everyone else is embracing it just as we are.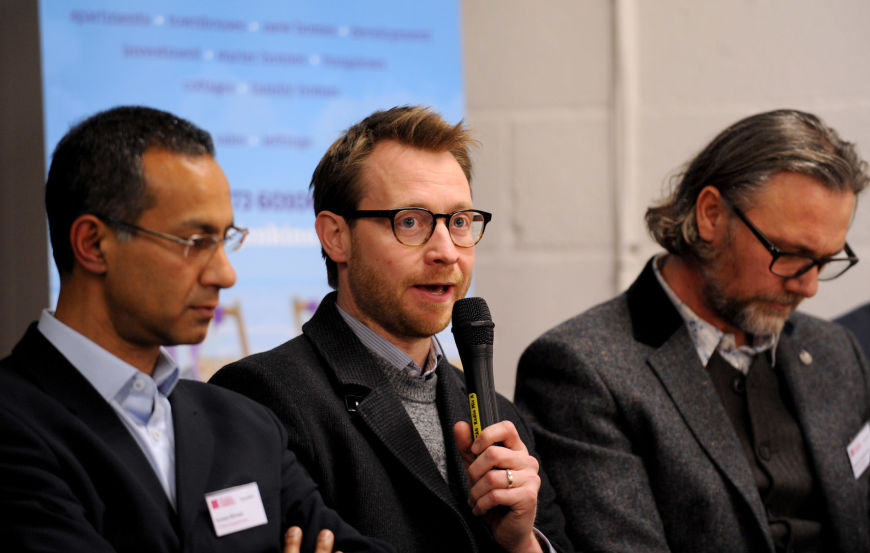 Rob Sloper speaking during the panel debate
"Sometimes when you're in development you get used to getting knocked around a little when you take forward your proposals and you talk to the local communities and you try to work out how you can integrate. I think it's encouraging to see at every level from council through the local residents to developers that everyone wants to get involved. That's really reassuring and positive, right? People have listened, things are changing – it's not just about bashing out boxes any more!
"The main thing I'll take away from tonight is an appreciation that place-making isn't just about creating successful spaces – which is obviously at the centre of it - but can also make it more profitable as well, so there's a point there for developers that not only is it the right thing to do but it can inspire and excite as well as drive value on the bottom line."
That's going to be good news for place-making expert Richard Wolfstrome, who says he was pleased the debate covered lots of different angles that will hopefully make people think about views other than their own:
"I thought it was a really good mix of the political, the logistical and development side of things – a good mix, and I think I might have brought in the slightly esoteric, which I think worked well!
"I'd like to see awareness raised, people being open minded, looking at other ways of doing things. To be open minded about ways they can develop their own work, schemes or whatever. There was some really interesting ideas came out tonight, and I hope more collaboration will happen as a result."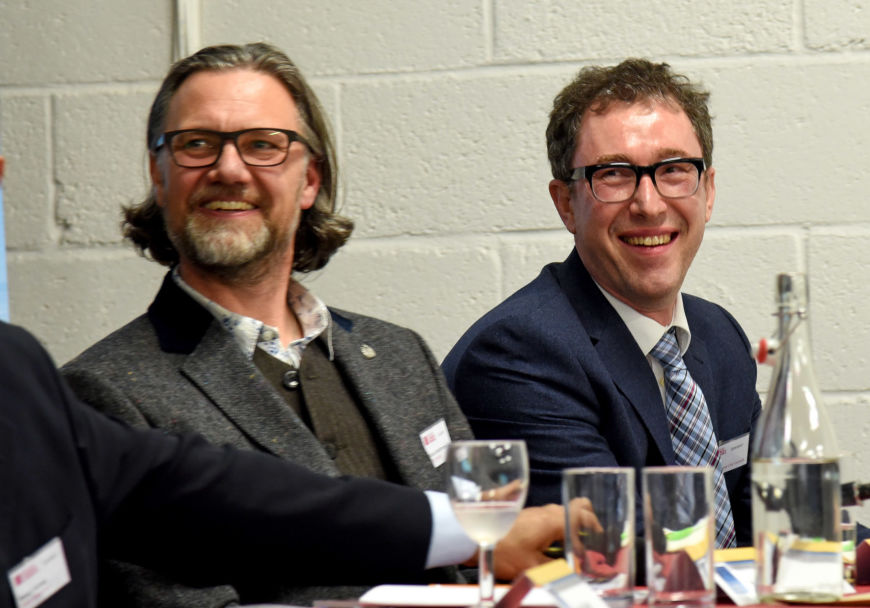 Richard Wolfstrome and Geoff Raw during the debate
Brighton and Hove City Council's Geoff Raw says he was pleased to hear that so many people from different business and community backgrounds all have the city at the heart of what they do.
"I think what's great is that a lot of the development community are coming out to an event like this. They genuinely are trying to work on solutions on how to improve the city and provide development that's going to be of value to local communities. I think it's a perennial challenge as circumstances keep changing and everyone needs to work out how can we do things better.
"I hope that people will think more broadly when they're doing their developments, looking at the lifetime impact of their schemes. I hope they'll think about what kinds of communities will colonise these places and the culture they will bring to the city."
Also speaking after the event, Ed Allison-Wright of
Haydon Consulting
, one of the event partner organisations, said the speakers and discussion had helped to outline the scale of the challenges facing the city and its development and construction firms.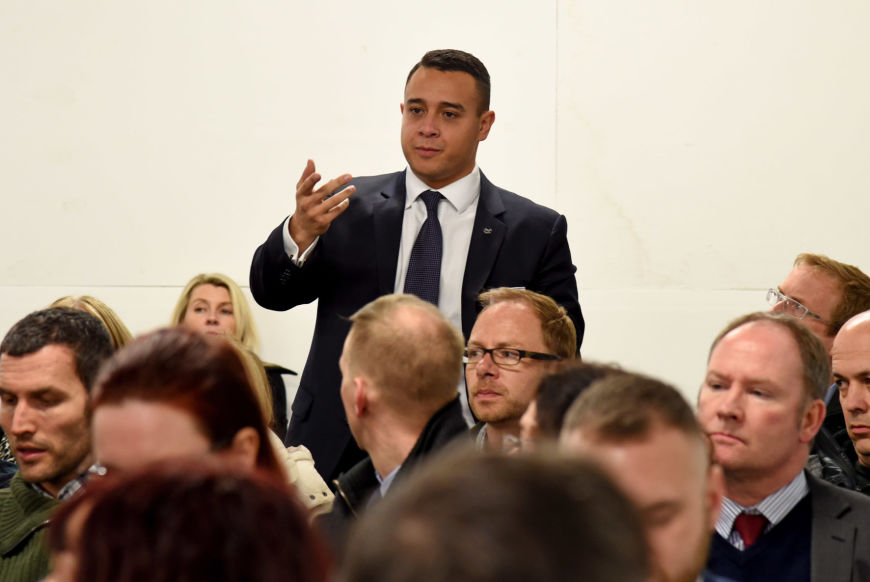 Ed Allison-Wright asks a question to the panel during the debate
"I think one of the things that stuck in my mind is that we all have a big challenge ahead of us if we're going to take on the City Plan, which looks like it's going to be adopted, to try to reach the target for every single use of the city that we need to, but to do so in a way that creates great communities.
"One big problem – and I think it's the elephant in the room – is resource. For the private sector it's easier to respond to the market but I think the biggest problem is often resource in the local authority. A policy advisor for central government commented recently that local authorities are punch drunk from the volume of different cuts and negative attitudes they are currently subjected to, which makes it hard for them to be innovative when it comes to creating good communities. They're constantly firefighting, which means we lose an opportunity, as the local authority is just as important a stakeholder as the private sector in the redevelopment of communities.
"I also think it would be good to keep a 'sense check' on how different schemes in the city are progressing. How do we ensure they are enhancing the city without basically gentrifying areas and forcing the local population out to Newhaven or another location? Although it isn't wrong to work on a regional basis, within Greater Brighton, we often simply make way for a swathe of buy-to-let or DFLs – Down From Londoners. How do we prevent that so we can retain that Brighton and Hove community spirit that is so prevalent in our communities?"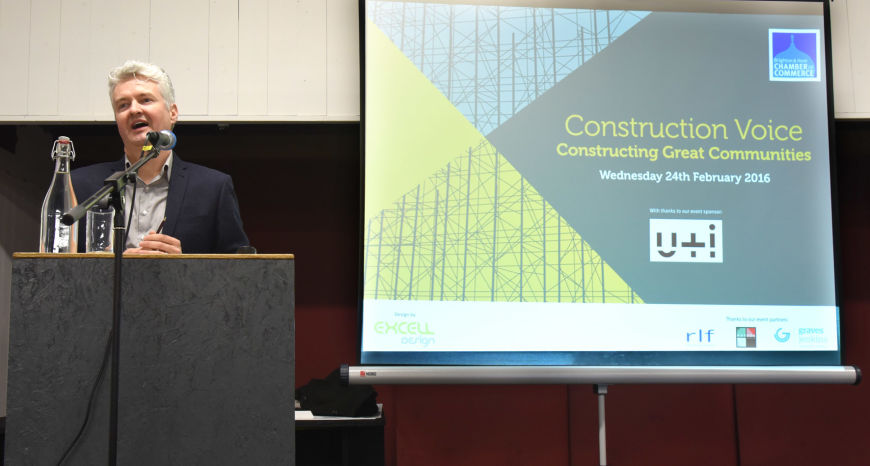 Steve Bustin hosting the event 24th February 2016
This blog was written by the debate's chair, Steve Bustin. Steve is an award-winning former BBC news journalist and Public Relations consultant.
The photos were taken by Vervate, award winning professional photographers who specialise in commercial and PR photography. Because they all cut their teeth in the media, they're very good at capturing the meangingful moments from your event.