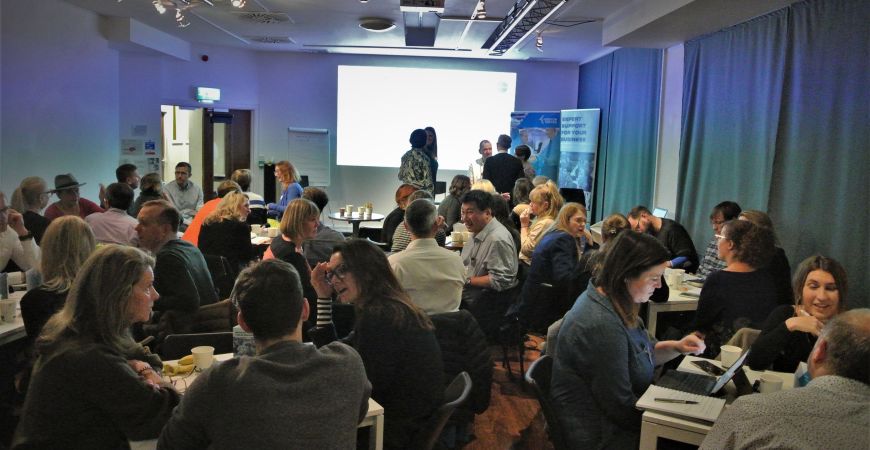 Fri 22 / 11 / 19
Smart Bidding: How to win contracts
Did you miss Catch the Wave's Smart Bidding event? Catch up with this blog from Jill Woolf.
By Jill Woolf of Chimera Communications
Last Friday, the Chamber hosted another sell-out Catch the Wave event - a panel of procurement specialists on winning contracts from some of the biggest organisations in and around Brighton.

The room was packed and we were welcomed by Chair Emma Mills-Sheffield of Mindsetup, a tendering expert who's handled large-scale bids of up to $0.5bn. She explained big bids can take well over a year but there are set steps for all tenders.
Panelists' tips
Susan Carroll from Scala Advance talked about her tender bid experiences and the importance of listening to your gut. Susan advised to think hard about your business and vision to ensure you're right for the job. Take a big picture view and be proud. Your success can be the client's success. She recommended adding case studies and testimonials. Even if you don't win, it's opening a relationship with a client you may not have had before and it's worth keeping in touch – Susan did this and it's proved beneficial.
Karen Brown, Head of Procurement at Gatwick Airport, explained how their £400m annual budget is split. £50m is spent with SMEs and they always try to work with the local economy eg construction, marketing and IT.
Karen advised against bombarding her with emails, instead SMEs can register on https://www.gatwickairport.com/procurement to be invited to tender. Projects up to £50k are dealt with by individual departments, while anything over go through the Procurement Department. If you don't go on the list, you won't know about forthcoming tenders.
Julian Wood, Head of Procurement & Insurance Services at the University of Brighton explained that University departments have a discretionary level of £5k with anything over going through the procurement process https://www.brighton.ac.uk/about-us/working-with-us/supplier-information/index.aspx
Julian said he's happy to chat on the phone about the process rather than get emails, which go unread (we were now getting the message). Again, Julian underlined that bidders need to answer specific questions on tender documents, not offer what you think the client needs, and always keep to the word count limit.
Another site to register: https://www.sesharedservices.org.uk/esourcing, a collaboration between public sector authorities.
Cliff Youngman, Head of Procurement at Orbis, a partnership between Surrey, East Sussex and Brighton & Hove City Council, looks for the best value for money for residents. His team influences a £300m annual spend for Brighton & Hove, plus Adur & Worthing, and overall £1.2bn for Orbis of which £500m is spend with SMEs.
30% of Brighton & Hove City Council budget is spent within the city, 20% with SMEs, anticipated to increase to 50%. Tenders can be broken down into 'lots' of specialist areas.
All tendering is now carried out electronically and there are also adhere EU procurement thresholds. Cliff explained Brighton & Hove City Council's procurement processes and gave his top tips:
• Read the question and evaluation carefully
• Respond as asked and don't make assumptions
• If you're not sure, ask
• Explain how and why
• Be honest
• Tailor your response
• Understand the specification and demonstrate you can deliver
• Be innovative
• Social Value adds value
• Submit the day before the deadline in case of troublesome IT
• Attend site visits if offered
Responses to questions to the panel
You can influence if you think the tenderer is looking for the wrong thing but always keep to the process, then make suggestions once you've won.
Tenders can be from a consortium of suppliers but there should be one lead business. Clients are looking primarily at the financial health of the main contractor to mitigate risk and you must be prepared to be jointly and severally responsible. You must have a clear structure and demonstrate you have necessary resources.
Get expertise like coaching for the pitch or design if needed. Plan carefully so you don't have to panic at the last moment.
The pitch team should include those working on the project (not marketing people) as clients judge whether they can have a good working relationship.
Bidding is cyclical and you can be asked to bid again in the next round.
Overall, clients are looking for fairness, governance and value for money.
Delegates left the workshop with a renewed awareness and vigour for tendering, and with many useful tips to put into practice straight away.
Jill Woolf is Managing Director of leading strategic PR and marketing consultancy Chimera Communications and a mentor at the NatWest Entrepreneur Accelerator as well as at the Business Schools of the University of Sussex and University of Brighton.