Chimera Communications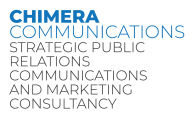 Leading strategic PR, communications and marketing consultancy working with businesses of all sizes and types locally, regionally and nationally.
Your message is what defines your brand. Understanding that message is vital when you talk to anyone your business is targeting. Getting it right is essential.
Our philosophy at Chimera Communications is about combining a broad range of integrated PR, communications and marketing services with real sector commercial and not-for-profit knowledge into an exceptional offer. And we do it with no-nonsense, straight-talking advice and support. There's no Ab Fab stuff going on here!
We also offer private mentoring sessions with our MD Jill Woolf; social media management; and value-for-money training on effective and practical PR, communications and marketing topics including media training, how to communication for better business results, customer service, and personal branding.
See how we can help your business become better known, manage your reputation, communicate better with your stakeholders, and ultimately improve your profits here.
Chimera Communications's blog posts