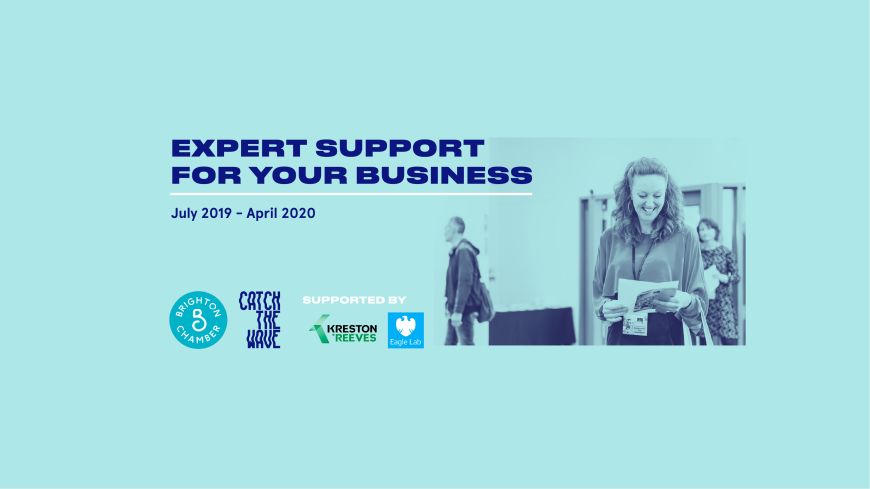 Catch the Wave is a new business support programme for anyone in the city who wants to launch and grow a business. It includes affordable workshops, useful resources and expert mentoring sessions.
Designed and delivered by Brighton Chamber, Catch the Wave includes practical, interactive sessions and runs from July 2019 to April 2020.
Catch the Wave series one included:
Social enterprises and purpose led businesses
Social investment
This workshop will introduce social investment as a tool to grow your charity or social business. You'll get an in-depth and practical overview and understand the next steps you need to take to fund the growth of social impact in your organisation.
The workshop will include:
The basics of social investment including the benefits and drawbacks.
The stages and documents necessary when seeking social investment.
A plan for next steps so you can apply this learning straight away.


Start-up business
Grow your business smarter and faster
When you're establishing your business, you rarely have time to take a step back, review your progress and think about where you're heading. These workshops are for start-ups and early stage businesses in their first couple of years who want to consider their goals and gain a deeper understanding of what they need to thrive.

The workshop will include:
Carrying out a business health-check
The ingredients for good decision making
Ways to engage with your customers and clients


Social enterprises and purpose led businesses
Social impact (date TBC)

If you're a social business and you need to evidence your social impact to access investment, this workshop is for you. Open to social enterprises, charities and purpose-led businesses.
The workshop will include:
A clear impact framework for your business.
Key performance indicators for measuring social impact.
Choosing the tools most suited for data collection for your business.

How to win contracts
Smart Bidding

If you don't know how to bid for public and private sector contracts (or even how to find out about them) this workshop will demystify the process. It is possible for smaller businesses, charities and social enterprises to win contracts - you just need to know how. You'll leave fully armed with the knowledge to start bidding successfully. The workshop will include:
Finding out about opportunities
An insight into procurement policies in the public and private sector as well as large organisations
Practical advice on writing bids
Q&A with procurement experts

Pre-start business
Make it happen: from a brainwave to a business
If you have a fantastic idea but aren't sure how to go about turning it into a profitable business, this workshop is for you. It's designed for anyone in the planning stages of their new business and will help you develop the essential skills and knowledge to set it up.

The workshop will include:
Pricing, marketing, networking, accountancy and more

A peer support session where you can share ideas and solve problems with other fledgling businesses

Where to go for business support

Mentoring sessions
Attendees of Catch the Wave workshops can book a mentoring session with a business expert across a range of topics from marketing and social media to finance and business law.
Online presence
Businesses that sign up to a Catch the Wave workshop can take advantage of the Viva initiative offered by Brighton-based business Create.net and learn how to build a one-page website. The next session is available to book for CTW attendees here.
Cost
The Catch the Wave sessions are supported by Kreston Reeves Accountants and Barclays Eagle Labs and cost £20 each, apart from Smart Bidding which is £10.
Make sure you sign up to our mailing list to stay in the loop or contact Bee on bee@brightonchamber.co.uk if you have any questions.