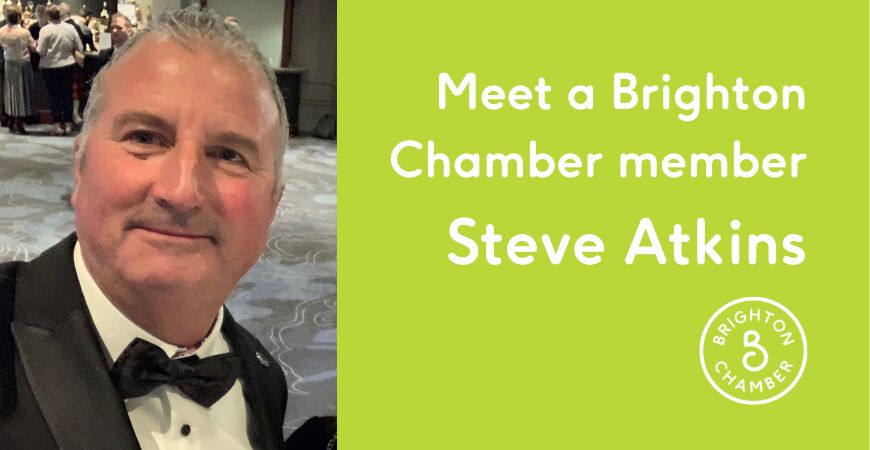 Thu 16 / 09 / 21
Meet a Chamber member: Steve Atkins
Steve Atkins of SEA Plumbing and Heating has been running his own business for over 15 years. Amy Lishman talks to Steve to find out more about his business, the value of apprenticeships to the construction industry, and his work with the Sussex Disability Football League. And we find out why Steve is so good at talent competitions...
By Amy Lishman of Brighton Chamber
Can you introduce yourself and say what you do?
My name is Steve Atkins and I run a local company called SEA Plumbing and Heating, which takes its name from my initials, (my middle name is Elvis). It's a small business and was formed in 2006 – I've been a plumbing and heating engineer all my working life.
What's you focus for SEA Plumbing over the next twelve months?
We cover all aspects of plumbing and heating and are Gas Safe registered. I have, however, always sought a place within our market that we can make our own, and earlier this year I believe I found it. Full bathroom re-fit! I have always been fascinated by the logistics of bathroom refurbishment - the different trades people, timescales, materials, design, customer input, customer satisfaction etc.
I realised that the common denominator, the trade that makes the most visits, at various stages of the project, is the plumber. So, the most efficient way to transform a customer's bathroom is for the plumber to be the builder/project manager. Using my experience, and contacts in the business, I can plan the project almost to the day, alleviating a lot of the stress for the customer. We found that where a building company, many of which we work for, would complete a bathroom in 4 to 8 weeks, we could do it in 2 to 4. We now have the confidence to make this our focus for the next 12 months of business.
You've been running a business for over 15 years. What advice would you give to someone just starting out?
Treat the business like your best friend: don't let it down, be there whenever it needs you, stick up for it, speak highly of it and build on the relationship. If you never let it down, it will never let you down.
How important to you is supporting young people to learn a trade?
It is paramount that young people are given opportunities to learn trades within the construction industry. Some of these trades are highly skilled and come with a great deal of responsibility. They are thought provoking and challenging. All trades can offer a decent standard of living as well as enhancing self-esteem, social skills, and confidence. I believe young people should be encouraged and supported to make a choice of making a career within the industry - most will not look back.
What is your take on apprenticeships?
I have helped 5 young people through their apprenticeships including my present one, who stayed on after qualifying, and has been with me for the last 11 years. It can be hard work both for the employer and the apprentice, but the rewards are more than worthwhile. We must remember that a lot of new apprentices are children who have entered a big, scary world. I would like to see a mentoring system in place to coach employers on the art of managing, empowering and nurturing apprentices. I once spoke to a health and safety consultant who told me that if you carried out a risk assessment on the idea of taking on an apprentice, you would never have one. It is critical that this balance is addressed so that more young people can be encouraged and enabled to enter construction.
You've been involved with football in Sussex for many years, and you're currently the Chairman of Sussex Disability Football league. How did you get involved in this role, and can you tell us a bit more about it?
I have been involved in football in various roles for many years and was asked by the Sussex FA to join the Sussex Disability Football League in 2016. It's the best thing I ever did.
It's a PAN Disability League, which means that anyone with a disability can play. We put on 2 tournaments every month at a superb central venue, Sussex FA headquarters in Lancing. We have around 400 players coming together with their clubs to play competitive football with each other. Ages range from 6 to 75. The friendships made, the fairness of play and the joyous sights and sounds on the day are something to behold, and it's a privilege to be involved.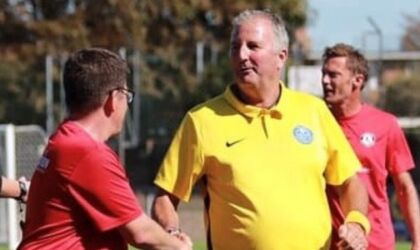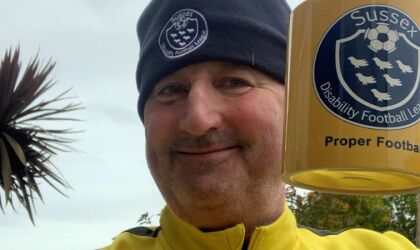 And a question we always like to end on, can you tell us a fun or interesting fact about yourself?
When I was younger, I won several holidays by winning talent competitions. It might have something to do with my middle name…
Get in touch with Steve via SEA Plumbing and Heating's website here.