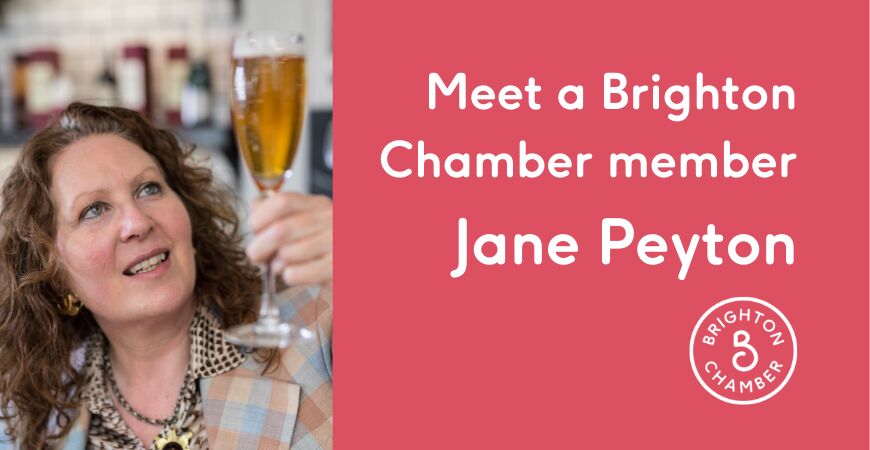 Wed 06 / 10 / 21
Meet a Chamber member: Jane Peyton
Jane Peyton is an accredited sommelier of beer, cider, wine and spirits - founder of School of Booze, author of a book by the same name - and a Guinness World Record holder! We had a chat with Jane to find out more about where School of Booze came from, her other writing ventures, and what she has planned over the next few months.
By Hannah Jackson of Brighton Chamber
Hi Jane, can you tell us a little bit about yourself and what you do?
Hello, I'm Jane Peyton, Kemp Town resident and founder of the School of Booze. I am an accredited sommelier in beer and cider through the Beer & Cider Academy (I was the UK's first accredited cider sommelier, and the UK's first beer sommelier of the year), and Wine & Spirit Education Trust. Alcohol is a universal language, and I am fluent in it!
As the name suggests, School of Booze is a business with drinks education at its core. If that sounds dry, it's not in reality. I host corporate beer, cider, wine and spirits tasting events; I train hospitality staff and brand owners in drinks knowledge; I consult for drinks brands on subjects like glassware design and drinks trends; I write drinks copy for brands; I do public speaking; and many other drinks related activities.
How did you come up with the idea for School of Booze?
As a child, I wanted to be a teacher and now as an adult, I am. I'm fascinated with the role that alcohol plays in society, how it bonds humans, and has done for millennia - ever since humanoids first picked up a piece of fermented fruit that had fallen from a tree and got a buzz from eating it.
In 2008 I decided to start my own business. Until that point, I had worked as a PR Executive, a producer of natural history TV documentaries, and a journalist. My only experience of alcoholic drinks was imbibing them in the pub.
I did a Venn diagram and made lists of my professional strengths, what I enjoyed doing, and how I could make a career of them. Where the circles of the diagram intersected it was apparent that I should start a business where I educated people about alcoholic drinks in a social setting. I took all the professional drink courses available to give me credibility as an educator.
How have you shifted your business model, to continue drinks education when we couldn't meet in-person?
During the pandemic I had to pivot as my business depended on in-person activities, so I launched an e-learning platform with downloadable courses in beer, cider, and wine aimed at anyone who wants to know more about those drinks.
For that pivot, I am a finalist in the Great British Entrepreneur Awards 2021. And because School of Booze is unique in the range of services it offers, it has been included as one of the Top 100 SMEs in London & South-East England 2021 in an initiative backed by NatWest and Newsquest.
What's your favourite drink to teach people about?
Beer is a particular passion, and it is the world's favourite alcoholic drink! In 2008 when I founded School of Booze there was virtually no education available to hospitality staff and consumers about beer, and no-one offering beer tasting as a corporate event. I found a niche in the market and filled it. Right from the start, I offered cider, wine, and spirits training and corporate tasting events, but it was beer that most clients wanted – and still is.
Now that we're getting back to the 'new' normal, have you got anything exciting coming up in your business over the next few months?
I'm so pleased that businesses are beginning to socialise again, and I have lots of bookings for corporate events both in-person and via video conferencing. Some of my overseas clients who cancelled visits to London have rebooked me for early 2022. The new school term is beginning!
We know you've also written a few books! Including one called School of Booze. How has writing been part of your business journey?
I have published nine books – four of them about alcoholic drinks. Because the books are non-fiction and educational this fits in with my professional role of being a teacher. The fact that some of the books are about subjects in my profession gives me credibility as an expert and also helps with publicity. And many of my lovely clients buy signed copies in bulk to give as gifts to their employees.
Also being able to write means that all the copy on my website, marketing materials, training materials, and social media is readable, has my 'voice', is authentic, and effectively communicates the subject that I love to teach.
You joined the Chamber at the start of this year – what have you enjoyed about your membership over the past 9 months, and what advice would you give to new members?
I had always imagined a chamber of commerce would be rather dull and serious, so I was so happy to discover that the Brighton Chamber is anything but that! I'm enjoying being a small part of Brighton's dynamic business sector and meeting so many members from the Chamber. Everyone who works at the Chamber is so friendly and helpful and determined to help members in any way they can. Thank you! My advice to new members is to be active and go to the networking events, and take advantage of all the opportunities available through Chamber membership.
And lastly, can you tell us a fun or interesting fact about yourself?
I am a Guinness World Record holder for hosting the world's largest beer tasting tutorial (1,256 people)!