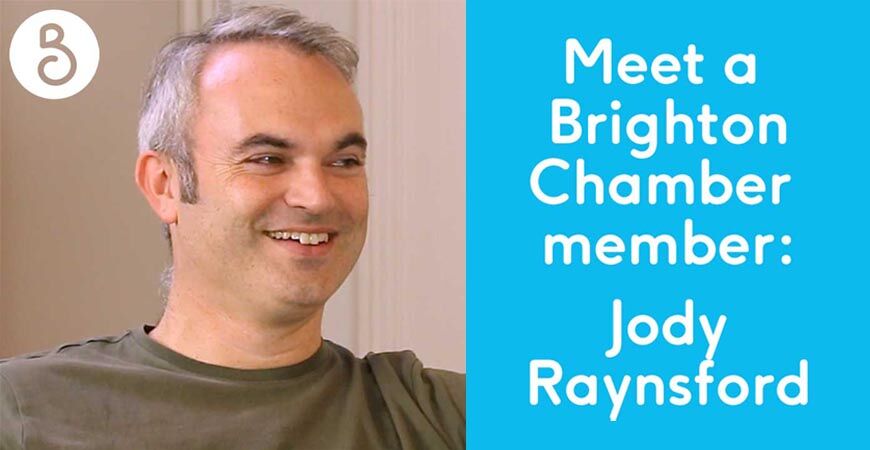 Tue 10 / 11 / 20
Meet a Brighton Chamber member: Jody Ranysford
Meet a Brighton Chamber member as Amy Lishman interviews Jody Raynsford of Hello Genius in this video.
By Amy Lishman of Brighton Chamber
Meet a Brighton Chamber member as Amy Lishman interviews Jody Raynsford of Hello Genius in this video. Jody gives us some business insight and tips, plus you can find out how Hello Genius made the most of their Chamber membership.
Can you introduce yourself and tell us about your business?

I'm Jody Raynsford, Founder of agency called Hello Genius , a marketing agency that focuses on belonging, connection and community. We develop strategy and run campaigns for brands that want to connect with their fans and followers better.
How can the Brighton Chamber help my business?

When I joined the Chamber it was just me in the business. My initial reason was to have a place to network and meet people and get the business name out there. Now that I've been a member for several years, it's become much more than just that. I have used the Chamber to grow the team, connect with freelancers, contractors and other people to grow the business. I have tapped into the Bite-sized Learning training events, where members share their knowledge and expertise. Being a member of Brighton Chamber has helped so many different areas of the business, including our growth.
Making connections at Brighton Chamber

The Chamber invited me to speak at Brighton Summit in 2019, I gave a talk on How to start cult'. I hadn't been to a Summit before, I wasn't prepared for how big an event it is! Luckily I had prepared well and I had an amazing time delivering a workshop. Doing a workshop meant that I had audience participation The crowd were brilliant, openminded and joined in – it was brilliant.
As a result of that talk I made some incredible new connections, won some new business helping businesses develop cult brands. Being in that entire environment was incredible and one of the most valuable aspects of being part of the Chamber.
Have you got in mind an event that stands out from those you've attended at Brighton Chamber?

My favorite event was a Chamber networking breakfast where Sam Knowles from Insight Agents, gave a talk about his personal business story. It was personal, was full of his experience and he is an amazing storyteller. He linked back to data to tell his story, and the result was incredibly entertaining. It was one of those moments where you learnt a lot, forgot to eat your breakfast and even forgot you were networking.
Events like this with great speakers, they shift your perspective personally, but also the way you think about your business.
Top business networking tips

Try not to think of Brighton Chamber as a traditional networking environment.
Keep your ears open, genuinely listen and have great conversations with people rather than just try and shoehorn mentions of your business in. That's the best way to go.
Thank you to Jody Raynsford for sharing his insights into how membership has benefited his business.
Are you a Brighton business looking for contacts, a support network or other businesses to collaborate with? What can we do to help you make the most of your membership?
Get in touch with Amy on amy@brightonchamber.co.uk for a chat today.
Video produced by Let's Talk Video Production: https://letstalkvideoproduction.com