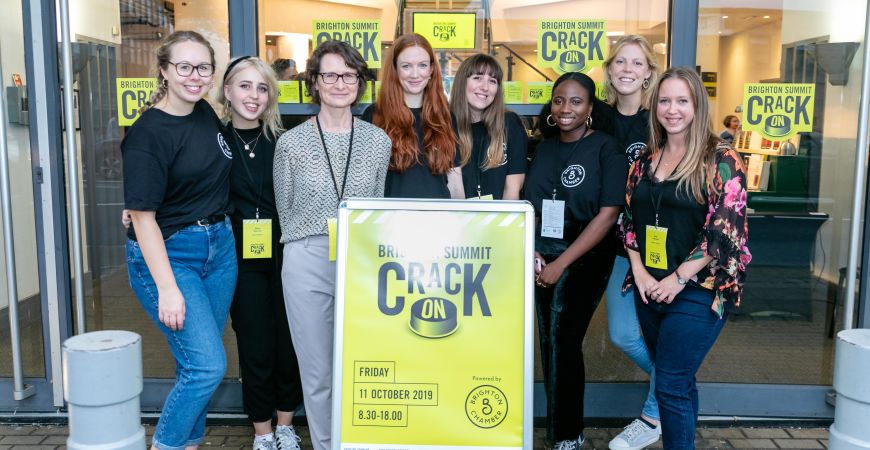 Fri 29 / 11 / 19
Looking back to look forward: 2019 at the Chamber
By Sarah Springford of Brighton Chamber
It's the time for revisiting business plans and creating budgets, but as well as looking forward I've been looking back at what we've achieved in the last twelve months.
We've worked hard, had fun, learnt lots, built relationships and grown Brighton Chamber.
Each month was packed but here are some of my highlights.
January
I met the people who are the driving force behind the Engine Shed, Bristol's incubator, accelerator and a central hub for business, to see how Brighton could evolve with lessons learnt from other cities.
February
One of 12 excellent Chamber Breakfast speakers, Edwardian tailor, Zack Pinsent, helped us start the year in style. We also hosted an event that unpacked the city's new Economic Strategy for businesses, and Brandwatch CEO, Giles Palmer, inspired us at the Chamber lunch.
March
We designed and launched a new event to give our members a structured and facilitated way to connect with each other. Slo-mo Networking was born and has been a sell-out ever since.
April
The theme for this Big Debate was whether Brighton's businesses are reaching far enough. Discussions helped raise the point that more business support is needed for those looking to export (watch this space).

May
100 attendees joined us for our annual Fringe Pop-up at The Spiegeltent, complete with an outdoor breakfast picnic and a preview of several spectacular festival performances.
We also saw the 500th employer sign up to our Brighton & Hove Living Wage Campaign, no mean feat!

June
Our business support programme, Catch the Wave, was launched and has since earned a 100% satisfaction rate.
July
We unveiled our new Brighton Chamber branding and our website went live, receiving positive feedback from members who quickly got stuck into using the exciting services we've created. Six months in, we still love using it every day.

We also went back to Moshimo for a Pop-up Circular Economy Breakfast and another annual favourite – the boat trip around Shoreham Port for 60 members.

August
We welcomed our seventh University of Sussex intern who helped us to create more videos and encourage more employers to sign up to the Brighton & Hove Living Wage Campaign.
We also joined up with the other local Chambers to network and there was a sneak peek behind the scenes at the West Pier Trust.

September
Our new Events Manager, Laura Barban, and Membership & Marketing Executive, Matilda Sjöberg, joined us bringing fresh energy, skills and ideas to the team.
October
Crack on was the biggest and the best Brighton Summit so far. In its seventh year, we had over 400 businesses attending and the day ended with a standing ovation for Gina Miller. (My favourite day of the year!)
November
It was Living Wage Week, so we had a Living Wage Pop-up at a living wage venue with a living wage speaker and a living wage sponsor…575 employers had signed up.
December
Our fortieth Bite-sized Learning of the year – all delivered by our members for members.
We're now planning ahead for next year, keeping in mind the generous feedback from our membership survey.
We've baked, ventured underground and appreciated art; we tasted wine and ate cheese; we went behind the scenes at Brighton & Hove Buses and Shoreham Port; we've done campfires and film screenings; we've covered topics from fundraising to Instagram, delegating to exporting; we've focussed on start-ups and high growth businesses, digital and tech and construction sectors; we've had meet-ups and socials. And there's still so much more to try next year as Brighton is full of opportunities and exciting businesses.