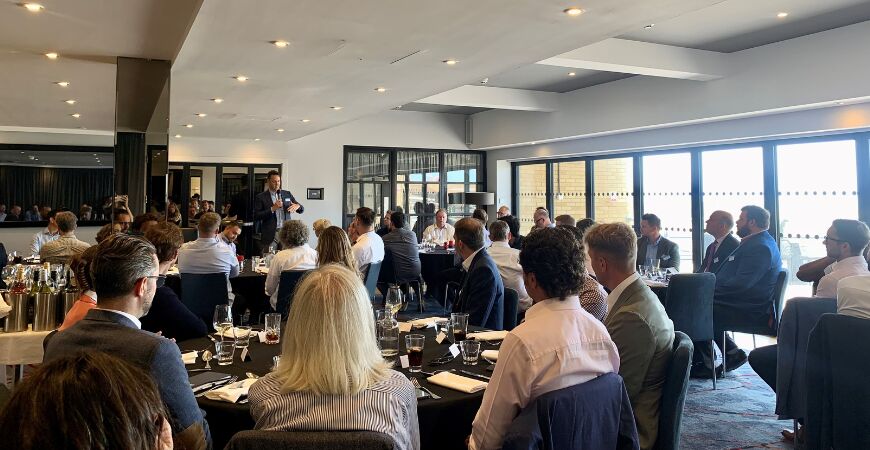 Wed 19 / 07 / 23
Construction Voice: money makes the world go round, but how fast and in which direction in the years ahead? 
Flo Powell writes after our latest Construction Voice Lunch, with guest speaker Tom Reynolds, a specialist in real estate finance and Head of Development Finance at Carbon Funding Consultants.

By Flo Powell of Midnight Communications
It won't come as a shock for me to say that the last few years have been tough for most businesses. For property and construction, the industry has been through the mill – first with Brexit and a resulting loss of labour, then Covid which caused delays, then the war in Ukraine which drove up energy and building material prices and, to add insult to injury, Liz Truss and Kwasi Kwarteng's budget which helped drive the UK economy down and inflation up.
So where do we stand now in terms of construction viability and finance? What are the best options for getting investment? These were the hot topics of another lively discussion at the Brighton Chamber's Construction Voice lunch at Malmaison Hotel in Brighton Marina.
Attended by the who's who of property and construction in Sussex, our regular host Ed Allison-Wright announced this was the ninth year of the event, organised by Brighton Chamber with the support of a group of event partners – RLF, Haydon Consulting, Graves Jenkins and Lewis & Co Planning.
You only have to look at the skyline of cranes across Sussex to know there's plenty of construction happening. Sponsors of the event, local developer Cayuga Homes completed £50m of property schemes last year and will complete around the same this year with over £100m of schemes in planning.
Our speaker, Tom Reynolds, Founder of Carbon Funding Consultants, explained that the construction industry craves a stable environment to make decisions, and most had eyed 2023 with extreme caution, although in reality many have had a better first half of the year than expected.
As we enter the last two quarters of the year however, we're facing stubbornly high inflation and continued economic uncertainty. There are talks of the Bank of England base rate hitting 6.5% or even 7% in the coming year.
A good piece of news is that there is growing confidence in the pricing of construction projects now which is hugely helpful to those weighing up investment risks.
Tom took us down memory lane to 2007. Time enables memory to blur and you forget just how traumatic that period was, wondering if it was the end of capitalism and if the pound would ever recover. With plenty of artificial stimulus from the Government, the world carried on turning and capitalism continued apace. Tom's biggest piece of advice? Follow the money. Look at what is getting funding and where the opportunities lie for a better, and quicker, result in raising finance.
The planning journey remains the biggest frustration for developers as they need a degree of certainty as to how long the planning process is going to take – the longer the planning process, the bigger the disincentive to invest. Locally, we're lucky that our local authority is so engaged with the industry – sat on my table was regular Construction Voice attendee, Brighton & Hove City Council's Head of Planning Liz Hobden, along with her colleague Martyn Holmes who has a specific remit to unlock challenging sites in the city.
With a general election looming in 2024, we'll likely see some Government promises and policies to help stimulate the economy. The demand for housing in this country isn't going anywhere and meeting housing targets will likely be key pre-election topic. The hope is that the Government will make the ministerial role less of a 'steppingstone' position and more of a long-term senior cabinet role.
The business of property finance has changed significantly since 2007 when it was the preserve of only a dozen or so suppliers. We now have a more diverse market with banks, property lending companies (local firm Close Brothers is a good example), challenger banks, fintech, crowd funders, peer to peer lenders and others. So, there's more options to source property finance, and there is money to be had, especially, as Tom says, for agile, nimble developers with a clear and defined plan.
In terms of following the money and looking at the trends which are getting more interest from property investors, Tom recommended:
Build to Rent – a hugely growing market as highlighted by L&G's Head of B2R at a previous Construction Voice event.
Care communities – property for those in need of care, and/or for the 50+ market, is growing in demand and therefore interest from investors.
Modular housing – the recent demise of Ilke Homes was described as a 'bump in the road' by Tom. Everyone else we speak to, including local modular homes manufacturer Boutique Modern, agrees – there's big opportunity here, especially for the affordable housing sector.
Green/sustainable builds – property investment is likely to favour net zero developments. Currently, there are incentives for developments that fulfil sustainability criteria – this will soon flip to penalties (from the carrot to the stick). Essentially, your property development will need to be net zero to even get off the ground.
Tom also recommended taking a fixed rather than a variable rate on property finance so you can control your debt – some variable rates are the same as fixed at the moment anyway.
Ed Allison-Wright polled the attendees on three questions:
85% of attendees knew someone who will be materially impacted by interest rate rises
Nobody thought the current environment will impact confidence to invest in property
90% of attendees thought that interest rates would settle at 5% or more
Liz Hobden, Head of Planning at Brighton & Hove City Council closed the event with the message that Brighton and Hove is open for business -the council wants to see development and regeneration in the city.
The council has allocated over 100 sites for development, so if you're a developer eyeing the city, start with those as planning will be quicker and easier. If you're a developer working on a site which has become challenging from a planning perspective, get in touch with Martyn Holmes who has a specific remit to unlock these sites.
Brighton & Hove has a new administration for the first time in 20 years with strong labour control, who have already prepared and adopted a four-year plan which sets out their priorities. Not surprisingly, the need for more affordable housing is in the plan: 'Our goal is to deliver accessible, affordable and high-quality homes for all residents of Brighton & Hove'.
In summary, if you're a landowner or developer looking for finance locally, you need to look at what types of developments are the most successful at getting funding, choose a fixed rate, read the council's new plan and take a look at the 100 sites they've already allocated for development.
The next Construction Voice event will be in October – watch this space for information.