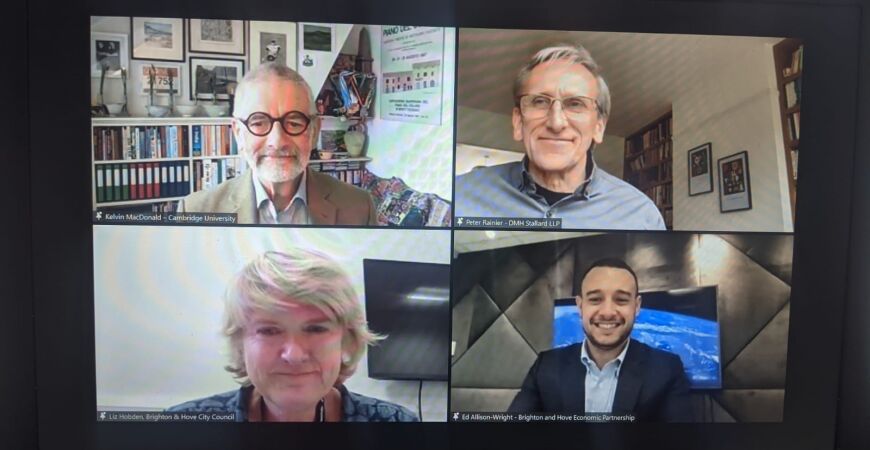 Tue 30 / 03 / 21
Construction Voice - is the Brighton and Hove City Plan on track?
Five years on from our City Plan: aspirational and achievable? Construction Voice, Brighton Chamber brought together a panel of experts to discuss the progress of the Brighton & Hove City Plan so far. In this blog post, Flo Powell from Midnight Communications, shares the key points raised by each panelist, and the findings from breakout discussion groups.
By Flo Powell of Midnight Communications
The great and good of Brighton and Hove's property and construction sector gathered again for the Chamber's brilliant 'Construction Voice' event, organised in collaboration with RLF, Graves Jenkins, Lewis & Co Planning and Hayden Consulting, chaired by the wonderful Ed Allison-Wright.
This time, we discussed the council's City Plan, aided by a presentation from none other than Liz Hobden, Head of Planning at Brighton & Hove City Council.
Heidi Copland, Head of Planning and Environment from sponsors DMH Stallard reminded us that it was five years ago at the Sussex County Cricket Ground when the group discussed the plan when it was launched…and what a five years it's been!

The Council's City Plan was hailed as ambitious when it was launched in 2016 and Liz took us through the successes and challenges over the last five years. The plan set out the housing delivery target, retail and employment land requirements to 2030 – including 13,200 homes and 140k sqm additional employment space.
The Plan identified eight development areas, 18 strategic site allocations and 22 strategic city-wide policies. Of the 18 sites, 12 had made progress including Preston Barracks on Lewes Road, the Edward Street Quarter and Circus Street developments, and the Hove Gardens site.
The council's Tall Buildings study was mentioned, prepared 15 years ago, which is due to be reviewed. It is inevitable that our city's developments will grow taller as we're sandwiched between fish and sheep with a high demand for housing. How this is actualised is another matter and careful consideration will need to be made regarding design, infrastructure and sustainability.
Liz mentioned some major challenges with three development areas: Brighton Centre and Churchill Square, the seafront including the King Alfred site and the Brighton Marina. Each site has had no real progress. These sites in particular have a lot of demands on them which make them challenging to deliver.
The Urban Fringe Sites have progressed, with five of the 16 receiving planning permission including Coldean Lane with more than 200 living wage residential units.
The target of 13,200 homes is over 20 years (2020-2030) which is 660 a year. We are not achieving this at the moment. Since 2010, only one year had achieved this - in 2015/2016. In fact, on average we've only achieved 481 homes a year so, over the next ten years, we need to ramp up to meet a much higher annual average.
The target for 30% affordable housing is quite far off. Over the life of the plan, only 23% of the housing has been affordable, and much of that was down to the council's own delivery rather than planning application negotiations.
The other big challenge is the loss of workspace via permitted development – where offices can be turned into residential homes without planning permission. In total, 564 homes have been delivered through this process which means the city has lost 30,000 sqm of office space and more than 200 affordable homes.
Student housing was hailed a success story with 4,500 rooms delivered over the life of the plan, which frees up homes in multiple occupancy to be bought by families.
In terms of employment space, the plan's ambitious target was an additional 140,000 sqm so that people can live and work in the city and minimise the need for travel. However, the city has had a net loss of 28,000 sqm over the last 10 years. The Circus Street development and the Edward Street Quarter site – the former AMEX House – will help buck this trend but more is still needed.
So… is the plan on track? There have certainly been some successes – Lewes Road has been transformed, Preston Barracks, Circus St and Edward St Quarter are all excellent developments for the city, 4,400 homes have been delivered and we have more student housing than ever. However, we're down on employment space, we haven't achieved the affordable homes target and three of our big projects at the marina, on the seafront and in the city centre, have all stalled.
Peter Rainer, Principal Director at DMH Stallard, with more than 30 years' experience in planning, suggested three Rs:
Review – a review of the City Plan is due, not least because the world has changed significantly over the five years. As these things can take a long time, we need to start reviewing it now, so we have a plan in place in a few years' time.
Reform – significant planning reforms are on the way which loosen up planning control and Brighton has been picked as one of 20 cities to take the brunt of new housing delivery – both good reasons to review the plan.
Resources – the planning system is key to the city and the council needs to resource it properly.
Kelvin MacDonald, Senior Fellow, Dept of Land Economy – University of Cambridge and Board Member of Brighton Housing Trust, brought a piece of history to the discussion – the original Brighton Borough Plan!
Kelvin called the current plan a hugely impressive document and commented that there have been great improvements to the city since it was launched. However, Brighton & Hove has a huge challenge in terms of affordability to buy or to rent in the city and Kelvin called for a focus on the levels of deprivation in the city.
The council has more than 20 different strategies on the go - the City Plan therefore needs to tie in to all the other objectives the council has, including climate change.
The forthcoming expected relaxation of planning control could make it even harder for the city to meet its housing targets and greater pressures will be on the way regarding joint working with surrounding authorities.
The attendees were split into groups to try to come up with some solutions. It was a bit of an ask, to try to discuss this huge subject in 15 minutes, so I was impressed that so many answers came back, although many of the responses asked even more questions. To be honest, we could have done with a half-day workshop!
Here's a summary of the findings of the discussion groups:
The affordable housing target could be increased to 50% to try to yield the 30% needed. It was felt the council should be bolder and take control of this target.
We need to protect the city's offering for families and over 65s.
Build more student housing to free up more family homes.
Height and density of buildings should be kept to the strategic areas in the plan.
Tall Buildings policy needs to ensure good design and sustainability.
Ensure good quality public realm in high density development areas.
Heavier enforcement for Section 106 might be needed.
The process for dealing with local objections on planning applications should be sped up.
Transport infrastructure needs to be carefully considered with new developments – Toads Hole Valley was used as an example as it could increase traffic on local Hove roads by 40%.
Create 'coherent neighbourhoods' with local amenities and workspace for local residents.
Embrace hybrid working in the plan with a focus on provisions for working from home in residential developments and collaborative working in commercial developments.
'Windfall' sites could be identified to add to the housing target.
Grant more flexibility for ground floor uses of local retail centres.
Create a quicker process to prove retailer redundancy to get the units leased.
Introduce more flexibility for retail sites to allow more pop-ups, focusing on the experience of the city rather than a 'traditional' shopping offer.
More policy to increase public art placemaking to encourage tourism and position Brighton as a hub for arts and culture.
Investment needed to improve the welcome to visitors to the city, in particular at Brighton station.
To answer the question 'is the city plan on track?' is therefore a difficult one. In terms of housing delivery, affordable housing and employment space? No, it isn't. There's no doubt that the council's planning department have made improvements and is striving to meet its targets, but the city is facing huge challenges and therefore the finding of this discussion is that a review is needed and quickly.
In true Brighton fashion, this event was all about collaboration and there are plenty of experienced professionals willing to help review the plan and expand on the quick discussion. It's a huge task and one that can only be achieved together, maybe even in person next time...
With big thanks to our event sponsors, DMH Stallard.

With thanks also to Flo Powell, from Midnight Communications, for an excellent write-up of March's Construction Voice event.

Midnight works with businesses, professional service firms and brands alike, applying their commercial expertise to crack consumer briefs and approaching B2B campaigns with creative flair. Find out more about Midnight Communications here.