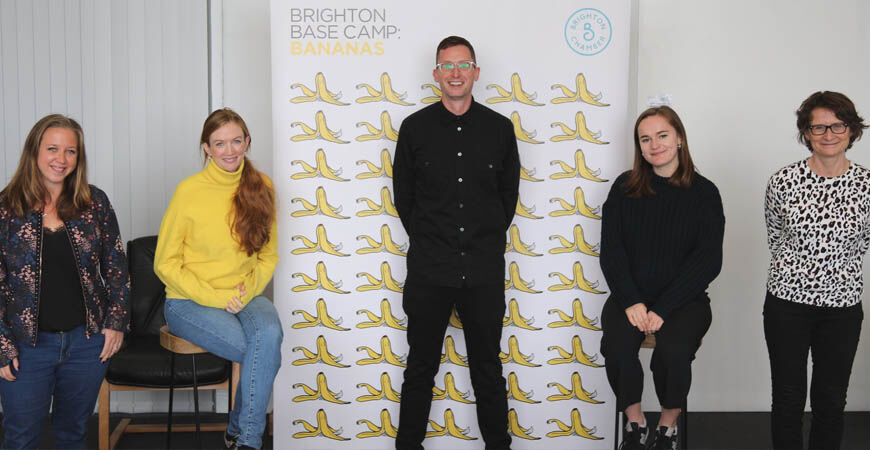 Tue 27 / 10 / 20
Brighton Base Camp: Bananas
Base Camp was a large-scale virtual event that took place Friday 16 October 2020, the younger sibling of the Brighton Summit.
The event brought together 145 people from 106 companies for a fantastic morning of 3 inspiring speakers, 2 great networking sessions and 5 workshops to help members take stock of this crazy year and inspire us all to breathe new life into our businesses.
It proved our largest virtual event to-date and the hashtag even ended up trending on twitter after generating 549,660 impressions, so a big thanks to everyone who shared and joined the conversation online.
"It was the most energetic, interactive and positive conference (or online event) I have experienced yet - in this new virtual world of ours."
Vicki Hughes, FUGU
Here is what happened on the day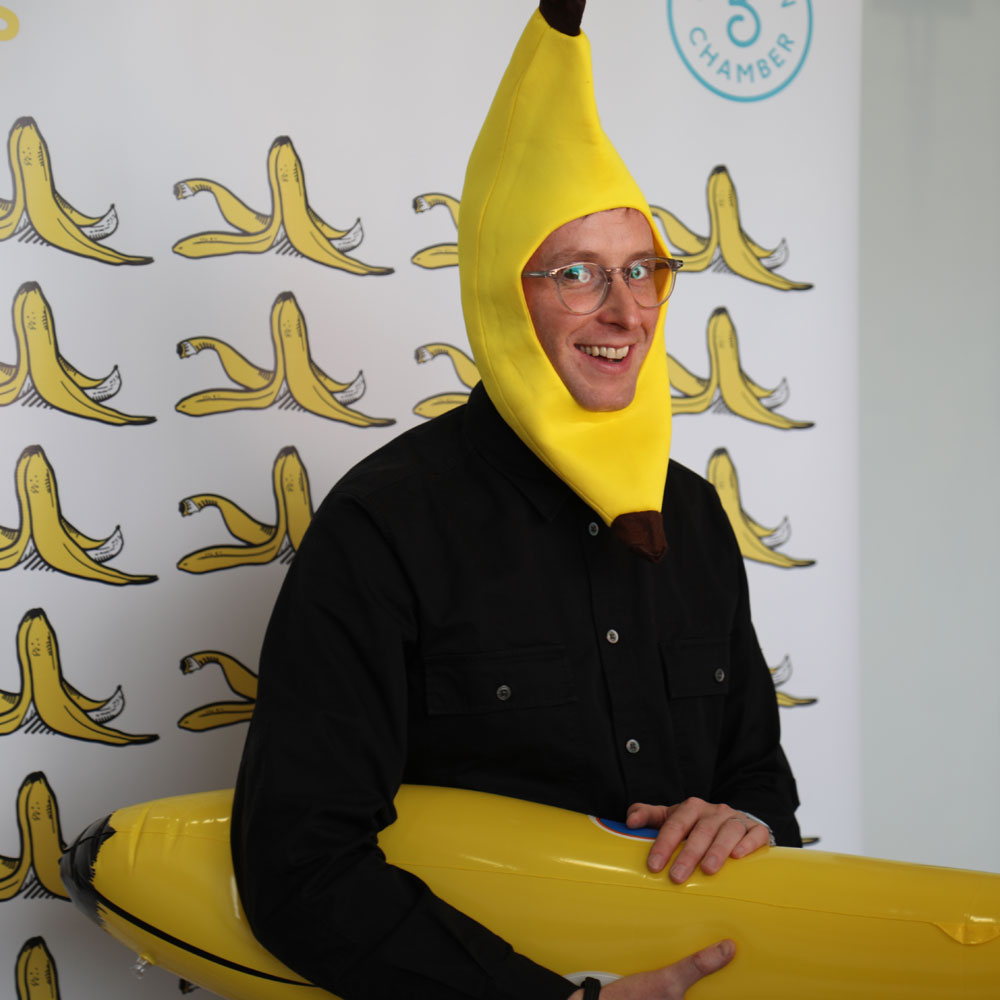 The day began with a warm welcome from our MC James Dempster from Cobb Digital who was suitably dressed in banana themed attire; before we broke into 28 networking groups to help attendees make valuable connections and warm all our conversation muscles in anticipation of the talks ahead.

"Bananas was the perfect mix of interaction, learning and listening. Professional and extremely well run, but still with that spark and sense of fun that Brighton and the Chamber are known for. Loved it!"
Lauren Psyk, Photographer & Writer
Embracing uncertainty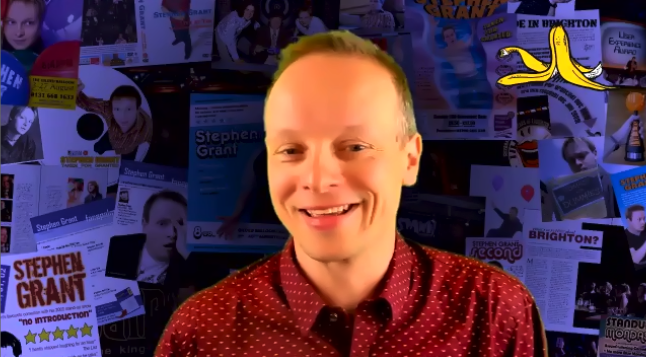 Our first inspirational Keynote was from Stephen Grant, the resident compere at the Komedia's Krater Comedy Club and one of the UK's funniest, hardest working and most respected comedians.

Stephen began with the tale of his own route into the comedy industry – and explained how diversifying and embracing uncertainty helped to protect himself in an unpredictable industry. He imparted some great insights into how embracing uncertainty can apply to current business approaches, and to a world that has its own ever-changing rules. It was a great way to kick-off the day and much hilarity ensued.
"Great event with wonderful business owners from all over Brighton! There was a great sense of community and support for each other throughout the day, not to mention lots of laughs!"
Kelly McDonald, Catalyst Team at SINC
Newly enthused, attendees then jumped into one of the 5 different workshop sessions on offer. Toby Kress spoke about agile approaches to innovation, Toby Buckle discussed adopting a resilient mindset, Harry Venning unleashed our inner cartoonists, while Camiille Pierson shared a 5-minute strategy to improve wellbeing and Jude Bolton shared her tips and advice for communicating with confidence.
"Brighton Chambers Brighton Base Camp was fun and engaging from beginning to end. With inspiring speakers and fun workshops it was a great day in!"
Rachel, Madison Web Solutions
"This was a fabulous event. Really well thought out and offering great opportunities to both learn and meet new people. I thoroughly enjoyed the morning, and am looking forward to the next one."
James Kelly, Storganise
Collaboration & community
After the workshops, we gathered back for our second Keynote discussion with Adam Joolia. A conversation about his work as CEO of AudioActive; a ground-breaking, highly influential music organisation that specialises in technology and contemporary youth culture.
Adam gave insights into how the company has inspired local businesses to collaborate through shared values of community to create a better future through music, together generating more opportunities for young people.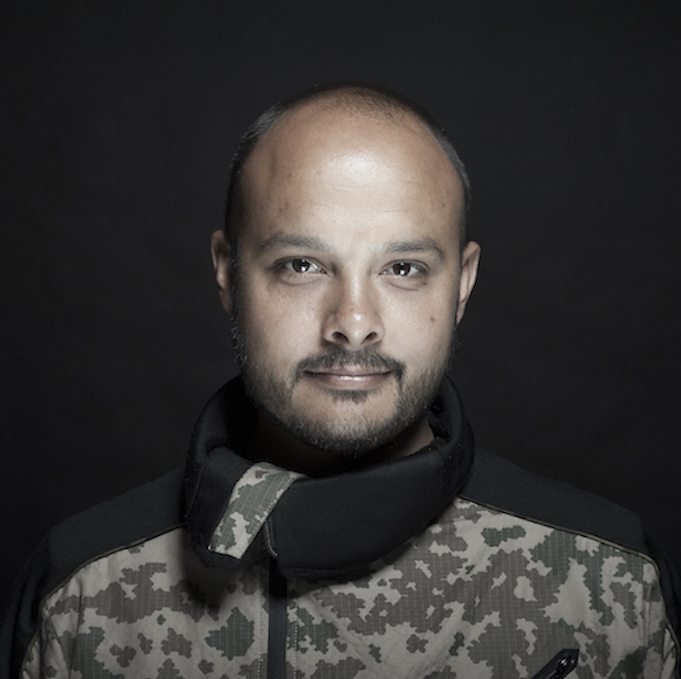 "Brighton chamber events are always excellent, and the virtual event was indeed the same. High quality as always with great speakers and engaging takeaways to put to plan in your business straight away"
Ric Hayden, LearningCog Ltd
Be bold, be brave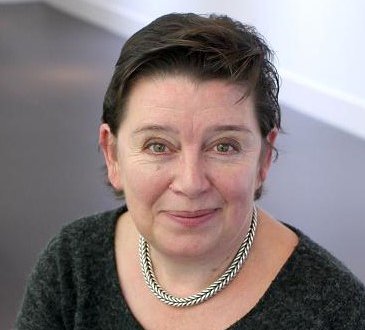 After a second networking break, our final Keynote speaker for the day was Lyn Goleby; the founder of Picturehouse and who oversaw the chain's massive growth during the 90s and eventual sale to Cineworld in 2012.
Lyn spoke about the importance of being brave and trying something different – and what it feels like when that "something different" becomes a huge, widely-copied success.
She also spoke on the difficult decision to leave Picturehouse for something new and her latest business venture that focuses on social gatherings during these troubled times – and what's in store for the future of the project.

"Brighton Base Camp Bananas was positive high energy from beginning to end. I met new people through the networking opportunities, was inspired by the talks from a diverse selection of people and finished feeling that it was time definitely well spent"
Nick Elliott, Booster
"Basecamp was such a creative, exciting and fun solution to losing the summit. I expect nothing less from the tour de force that is Brighton Chamber"
Felicity Beckett, Flick's Flicks
Thank you to everyone involved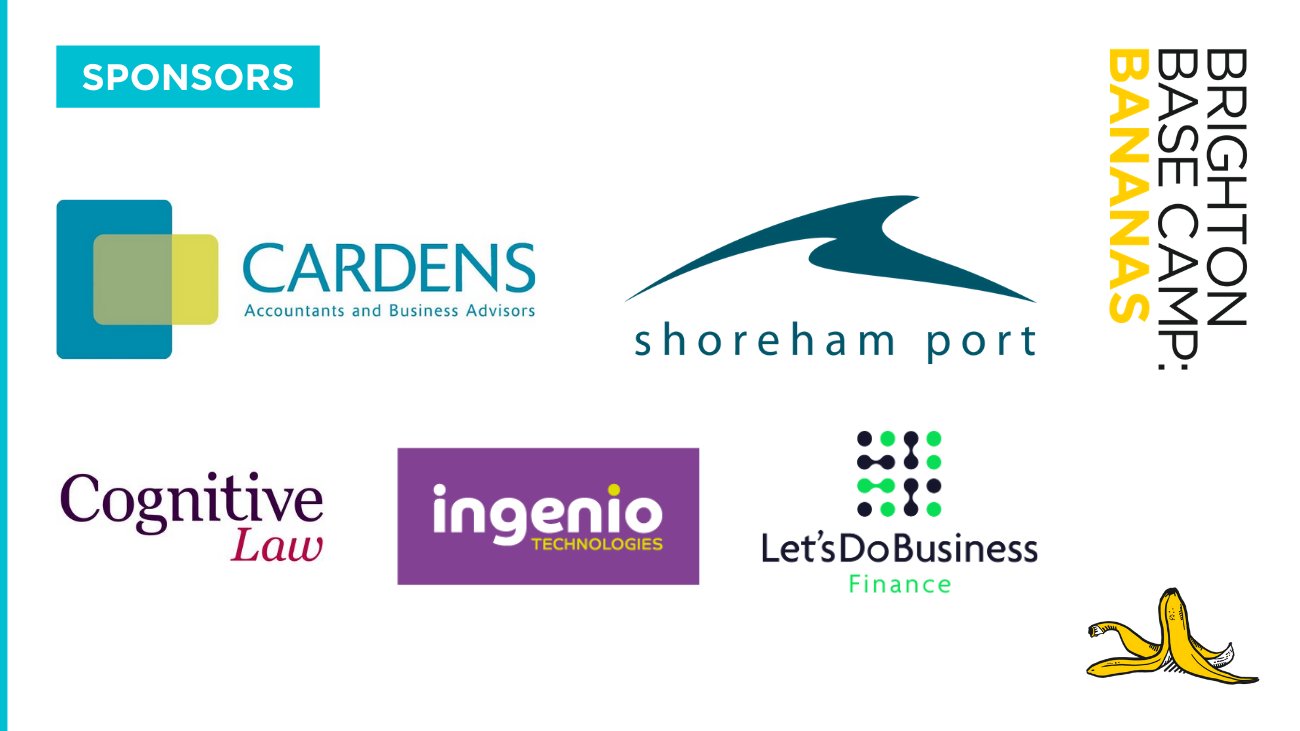 A big thank you to our MC, James Dempster, MD of Cobb Digital for bringing so much energy to the morning.
Thank you to our Keynote speakers:
• Stephen Grant – to see Stephen's upcoming events you can visit his Facebook page.
• Adam Joolia, Chief Executive of Audio Active
• Lyn Goleby, Executive Chairman of Trafalgar Releasing
Thank you to our workshop leaders:
• Harry Vanning, Cartoonist for leading 'Release your inner cartoonist!'
• Camille Pierson, The Float Spa for leading 'The power of 5 – exercises for your body and mind led'
• Toby Buckle, Hazelbranch for leading 'Practical resilience: mindsets and techniques that really work'
• Jude Bolton, Speaking Works for leading 'Presenting yourself positively'
• Toby Kress, Plus X for leading 'The secret to delivering your next game-changing product or service'
Thank you to our supporters:
• Brilliant branding by Sandra Stauffer and Visual Function
• Great copy by The Sentence Works, supporting copy by Digital Firefly and website development by Madison Solutions
• Brilliant photos and video from Let's Talk Video Production
• Support from our media partners, Platinum Business and Chimera Communications
• Supporter on the day from The Catalyst team helping behind the scenes
• The team at Fugu PR did a great job live-tweeting event for us. If you want to see any of the tweets from the event head over to the Chamber twitter.