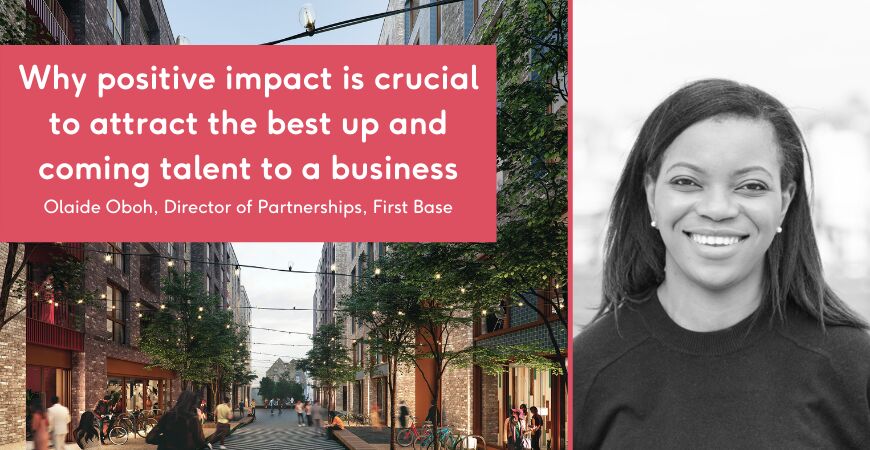 Wed 28 / 04 / 21
Why positive impact is crucial to attract the best up and coming talent to a business
Olaide Oboh, Director of Partnerships at Chamber Breakfast sponsor at First Base, shares the importance of positive impact when working on projects like their new Edward Street Quarter development in Brighton.
By Olaide Oboh of Socius
"Our lives begin to end the day we become silent about things that matter," said Martin Luther King.
Gen Z and Millennials are vocal about the issues they care about, more so than previous generations. Whether it's championing diversity, supporting others or protecting the environment, they will be heard, from social media to the corporate boardroom.
These generations want to work for businesses which care about these values too.
Companies that want to attract and retain the best Gen Z and Millennial talent should consider how they communicate the positive impact that they create in an authentic way.
What do we mean by positive impact?
A positive impact is the effects that businesses have on the world around them.
First Base work with The Social Value Portal, who help us to measure and manage the impact (also known as social value) that our work generates.
Edward Street Quarter
Edward Street Quarter is the £120 million redevelopment of the former AMEX House in Brighton, owned by First Base and Patron Capital with investment from Investec.
It will introduce a new high-quality public realm, with 125,000 square feet of Grade A office space, 20,000 sq ft for leisure and retail and 168 new homes. But these are more than just buildings.
This is a chance for us to make a difference, and this knowledge motivates our team every day.
We start with people, the most important aspect, and listen and understand their ambitions and aspirations. We then devise targets and plans that will help to deliver genuine social, economic and environmental value.
According to a recent Cone Communications Millennial Employee Engagement Study, "64% of millennials consider a company's social and environmental commitments when deciding where to work," and "64% won't take a job if a company doesn't have strong corporate social responsibility (CSR) values."
The environment
How a company decides to care for the environment will vary depending on size, but it's important to consult with employees to give them ownership.
At Edward Street Quarter we know our team are passionate about improving the public realm and of course property developments with green credentials will be popular with visitors and tenants.
As part of the scheme, we are helping to build a healthier community by creating an exemplary cycle scheme to reduce congestion and encourage zero carbon commutes, along with introducing three new green spaces and a host of other initiatives to improve the environment, including air purifying paint!
Our employees are proud of this and we know the future office workers at Edward Street Quarter will be proud to work there too.
Making a difference
The Guardian reported that young people accounted for nearly two-thirds of job losses since the pandemic.
The pandemic has hit young BAME groups particularly hard. Over the past year, the UK jobless rate for young black people rose by more than a third to 35%, according to the Resolution Foundation think tank.
So, we decided to support young people who were struggling to find work and to help local people who had been furloughed.
Several young people have benefitted from skills training after they were referred by partners as not currently in employment, education or training (NEET).
The Social Value Portal is also measuring the social, economic and environmental benefits being delivered by Edward Street Quarter, which currently stand at around £9m.
This figure includes the value created through local jobs, training opportunities, supply chain opportunities, support for the business, community and charity projects.
To stand the best chance of attracting and retaining young talent, companies should carefully consider what they can do to protect the environment and make a difference.
Leaders should consult with their employees about how they support the wider community to provide a sense of ownership, ensuring loyalty which stands the test of time.
Afterall, we're in this together and your current workforce, as well as future talent, will react well to a company that takes its positive impact seriously.