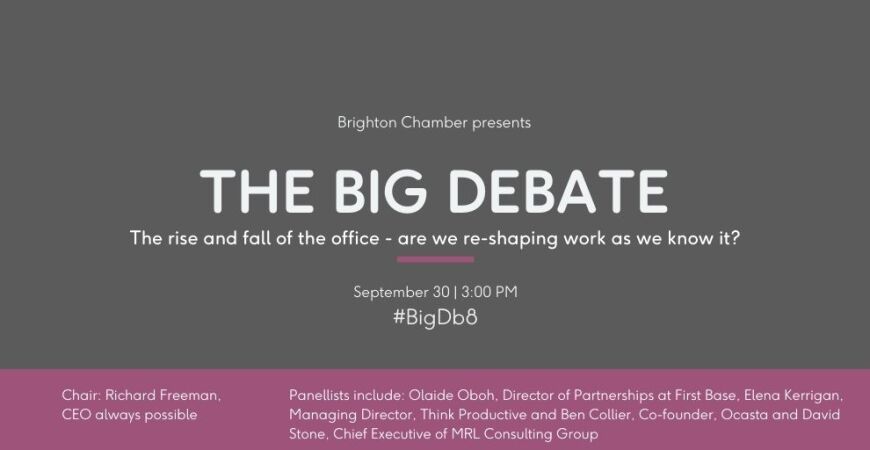 Tue 13 / 10 / 20
We have re-shaped work and the city has changed
103 people debated the future of the office and re-shaping work
By Sarah Springford of Brighton Chamber
Brighton Chamber has held 120 events since lockdown on 17 March 2020 with over 1800 attendees. Wed 30 Sept was the first virtual Big Debate.
The Big Debates, usually held in person with wine and crisps, bring together our business community to discuss, explore and debate a topic. Provoked by the panel, discussion takes place in smaller groups and then key points shared with the wider audience. Outcome include the sharing of useful valuable information, a temperature check on opinion, and good connections made.
Just like a real physical event, the Chamber team met with panellists and the Chair beforehand to chat, calm nerves, check logistics, say hello. We were soon joined by ten facilitators – Chamber members who had been asked to take on the job of leading the discussion groups.
The topic discussion was 'The rise and fall of the office and are we re-shaping work?' over 100 were at the table and the answer was a resounding yes.
Chaired by Richard Freeman of always possible, the panellists and the feedback from the breakout groups x 10 produced a fascinating, sometimes surprising list of valuable messages for ourselves, our businesses and city.
The panel's lightening talks
Olaide Oboh, Director of Partnerships at First Base Limited, a property developer and investor, gave her thoughts about the future of the office 'it's not just about just bricks and mortar, it's about people. People are the most important asset and we thrive when we get together, collaborate and share ideas. Our offices need to enable that. The days of commuting for hours just to sit at a desk are gone. People like to work in different ways and they are demanding flexibility from their offices, not just the same old, same old'.
First Base are delivering 110,000 sq ft of work space in Brighton's Edward Street Quarter. The scheme will provide a variety of different spaces to cater for how people choose to work. Whether its collaborative space, showcase areas to share ideas or team focus space.
Olaide added that post C-19, 'it's vital that we ensure that our offices positively impact on our health and wellbeing. The spaces we create have to be designed to help us stay healthy; simple things like improved ventilation, touchless entry and exits will all become the norm'.
Elena Kerrigan, Managing Director at Think Productive, a company that has practiced a four-day week for 9 years and helps teams be more productive, happier and motivated. Recently, in their clients, they have seen more stress, brain overload and decision fatigue as people face new challenges and uncertainty. But there are things we can control and influence, and which can help us build a better "normal" than before!

Einstein said 'in the middle of a difficulty, lies opportunity'. Elena shared three opportunities that are emerging right now that people can seize on:
1) Being forced into new work environments has naturally led people to tune in more into their attention and energy rhythms. We only have 2-3 hours of proactive attention a day, so protect that most precious resource and use that time to do the more complex, problem-solving parts of your work. Also, open up the conversation with your team about when might be good windows for everyone to collaborate or meet, so they can protect their proactive attention time as much as possible too.
2) Now that the way things are done is a little bit up in the air, it's the perfect time to experiment with new habits. For example, rather than jumping into your emails first thing in the morning, start the day by checking in with your own agenda and priorities first. Even blocking out 10 minutes to do some quality thinking will help you make better decisions and to make space for the high value, high impact work. With so much changing right now, it's very easy to fall into a stressful reactive mode.
3) It's the perfect time to try new things as an organisation too. Review your email culture (is digital presenteeism creeping in?). Reflect on how you run your meetings (are you giving everyone the opportunity to "check in" during your opening round?).
Right now is the perfect time to experiment, to discover different, better ways of doing things.

We will need more technology than Zoom agreed Ben Collier, Partner at Ocasta(specialists in employee knowledge), and we can learn from the jobs that have always been done remotely. We need a break from our screens and we need on-demand instant access to the 'business's knowledge', the knowledge that was previously in people's heads. It's more important now to share company knowledge and for it to be easily accessible.
New joiners need pre-onboarding (the time between accepting a job offer and starting). This means investing in new starters who are in danger of feeling that their first day is just like any other day (same chair, same room). Technology needs to adapt and support businesses.
MRL introduced a four-day week some years ago said Chief Executive David Stone. MRL have three offices and 60 staff in Brighton, Germany and France. Whilst recruitment could be the perfect job to be done remotely, David is not an advocate and strongly believes that working in the office has much more to offer. 'Some people have not adapted to working from home well and some have not. When we offered the team the chance to work in the office again, no one chose to stay at home'. David also raised the concern about mental health of employees working from home and wanting them to stay well and happy.

Lockdown has meant that David has not recruited rookies and graduates and he won't do that until they can be in the office and benefit from learning how to do the job face to face.
Olaide on getting together 'We need to get together in person to innovate, to collaborate, to have those water cooler moments… '
Ben on working remotely 'We've hit that place where we are now missing getting together. A quiet place is needed for the day to day stuff, emails etc and then getting together for creative stuff…'
David on a blend 'We'll be letting experienced people work from home…'
Elena on leadership 'Leaders play a huge part in people behave in a team. Look at your purpose, let those values speak through everything you do'
Chris Weeks, Co-founder of Bounce technologies Ltd went as far as to put the case for travelling to meeting in other parts of the country for creative gains. Olaide had done both in lock down – 5 cities in one day virtually and actually visiting them over a week. 'Google maps doesn't give you the sense of the place sometimes you need to go there' she agreed.
'Training online/ watching videos can work well for those who need to do at their own pace, in own time' said Ben. 'Bringing people together for face-to-face training works best for some types of training' said Elena.
Businesses are making decisions about spend and thinking about how this could be with local cafes and shops where possible. E Cargo Bikes Zedify are a shiny example. Ben said he would introduce a 'coffee shop budget' to be spent with independent cafes.
Gin manufacturer, Kathy Caton from Brighton Gin asked whether city centre would be affordable in the future for manufacturing businesses? A blended city centre offering is best replied Olaide.
A quick poll
Will there be a working remotely revolution or will be we be back to where we were in two years? In the poll, 72% said they would choose a mix of office and remote working from now on.
Does a thriving city economy like Brighton need people to work in central offices?
The breakout discussions shared their thoughts and ideas. The room agreed with the need for flexible safe space to meet in person for work; they felt it was a good thing that we are spending our money across the city and in the areas where we live ; they felt that reenvisaging the city would include not just retail but entertainment, green spaces, homes, health and education and more.
On the role of the office and working remotely
• There are opportunities to group by location not just by the company you travel too.
• We no longer need central offices, lockdown has proved this, but we want the social and emotional benefits it also brings.
• Workspaces are more important than ever for helping us to connect and collaborate and work together.
• Employers are thinking about which tasks to be done remotely and which tasks need people to meet.
• The old culture of the office and the presenteeism is gone, and that culture was not working for everyone.
• There are opportunities for entrepreneurs in local economies e.g. new lunch delivery services.
• The role of the office has changed but we need space to collaborate, to have fun and to stay safe. This is particularly true for new recruits.
On peoples' needs

• People need connection and social interaction with other people.
• People like the flexibility of where to work and are looking for a mix in the future.
• By commuting less has environmental benefits and favour bikes and pedestrians.
• Working remotely does not always mean working from home. Some people find it easier to work from home but not everyone wants to.
• Talent is staying local and not commuting and we have been distributing money in more rural places.
• This could also be a big opportunity for those with disabilities.
• More green spaces are needed especially if you live in a flat.
• How are we going to meet people?
On the future of the city centre

• Can the city centre be re-imagined with more space for homes?
• The office culture is not what makes Brighton's city's economy thrive. It is not a traditional city centre with retail and office but it is a tourist destination.
• Over lockdown, communities evolved, but there is now a sense that we are returning to that isolation, individualism. A reinvigorated city centre could help bring back that sense of community.
• The new city centres will be more mixed in their use - educational, artistic, residential, community spaces.
• The short term is going to see a painful amount of change but we believe city centres will thrive again but with fewer big offices and commuters and more residents.
• Spending is now spread across different local areas across the city and at different times.
• Staff like to work in the city centre because there are more things to do. Can we make the city centre more fun?
Thank you to our brilliant facilitators: Mo Kanjilal, Sandra Murphy, Pete Jenkins, Emma Cleary, Amy Lishman, Sam Harland, Emma Greenfield, Mat Hunter, Kirsti Cox, Brian Warren.

Final words from the Chair, Richard Freeman
These conversations have been happening between colleagues and friends up and down the country for some time now, but what I learned for the first time at this Big Debate is three things:
- Collaboration cannot be a 'nice to have' word. There were endless examples of Brighton & Hove businesses sharing expertise, problem-solving together and thinking about the eco-system in which they operate. Isolation has brought the genuine inter-connectedness of our businesses into sharp relief.
- This is not a binary moment of either/or. The future is almost certainly a hybrid of office, home and co-working space in the knowledge economy. There are risks and new behaviours to get used to in this reality – but huge opportunities for flexible, more intuitive, more productive lives that can only be a good thing!
- We need to go through a year cycle of trying new things before we can really understand the impact of mass working from home (on recruitment, company culture, mental health, training, innovation etc) – but if we keep sharing our learning at events like this we'll all find a better rhythm.
Thank you to Social Brighton for live Twitter feed #BigDB8