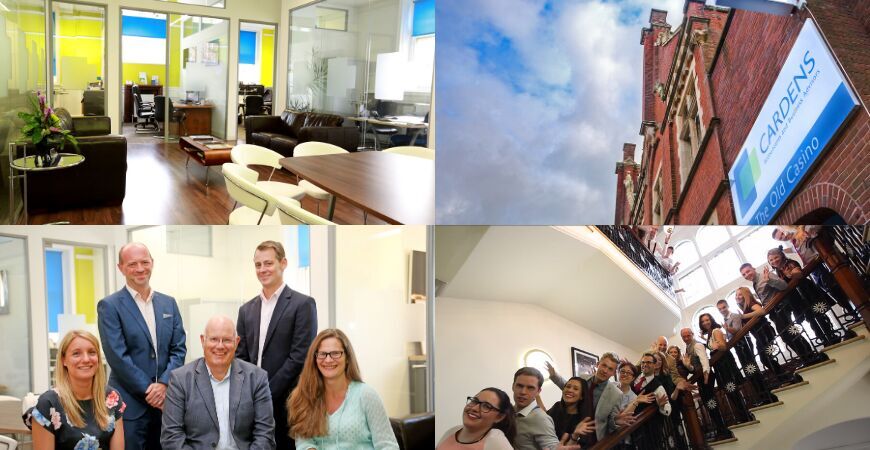 Mon 14 / 09 / 20
No Banana Splits For Cardens Accountants
Chamber Vice-President Jill Woolf interviewed Victoria Mason, partner at BaseCamp sponsors Cardens Accountants to find out how the company has fared since lockdown.
JW: How have Cardens dealt with being thrown a COVID-shaped banana?
VM: Well, it was all a bit worrying for us for the first few weeks, just like everyone else. At Cardens, we all spent the first few months solidly on the phone answering clients' HMRC queries, like how they could get money to see them through. At the same time, clients were cancelling their direct debits with us – those who pay their fees over 12 months. The banks told us to get rid of any unnecessary costs, which was also quite scary.
But it didn't last too long. We've come through it and everybody was able to work from home. Those who couldn't, for example because of childcare, were furloughed.
It's business as usual and Zoom meetings have become the norm. The office is never going to be full again. We probably have about 10-15 people here each day out of our team of 65. We've recruited during lockdown though and four new people have joined us.
I thought accountancy was a reliable business, but it certainly was scary for a while!
JW: Are you going to keep your premises?
VM: Yes. We were already looking at hot desking which, of course, you can't do now so easily. We'd already moved the managers to working from home one day a week and we'd worked out that at any one point there were about ten desks free due to people being out on audits, sick leave, on holiday, or training. We'd just started working like that when COVID arrived.
JW: Have you and your colleagues enjoyed working from home or has it been difficult in your profession?
VM: I think most of us have enjoyed working from home, probably about 90%. Strangely I've never had so much freedom, and I've really enjoyed the family life that comes with working from home, rather than coming to the office and staying as long as you can to get the job done. It's also about all the social stuff that happens when you're at home. We've had some people who were desperate to come back to the office though, but only a handful.
JW: Presumably everything you do in the office can be done from home, with your systems?
VM: Yes, but I still had to find out where the nearest post office and post box were! The only thing we can't do is use our records which are at the office as we can't have any at our homes due to insurance and confidentiality. Anyone in the team who had manual records had to wait till the office opened in early July.
JW: What worked well for you and what didn't?
VM: Zoom has allowed me to catch up with people I haven't seen for years! Clients I've dealt with for years routinely by email and phone, I've talked to on Zoom and it's been great.
It's been slightly tricky keeping our culture going, like checking in with people, so we've introduced lots of 'huddles' and everyone has their regular team huddle.
At the beginning of lockdown, it was interesting to see everyone's 'office' – I was in a pink bedroom to start with! That lasted two weeks before I painted it white. It was fascinating to see ironing boards and other stuff in people's backgrounds.
We've tried to find lots to do to keep us together because we're quite a sociable bunch, like bingo and a quiz, but getting 40 to 65 people together on Zoom is quite a task. We've got our first outdoor social event soon. It's a barbeque in our grounds. We've each been assigned to a table of six and we're not allowed to move due to social distancing. We can, of course, shout across to people!
Also, it's slightly difficult to make sure people are keeping up to date with everything. But it's shown we can work remotely, and people who wanted to work from home more often have proved to us that they can.
JW: Have you changed for good any other working practices that are relevant to your industry that you wouldn't have imagined before lockdown?
VM: No not really. The only thing is the regularity of Zoom meetings now. And everyone commits to one day in the office a week which probably won't change, maybe it could go up to two. It means we can have team meetings with the right people in at the right time.
Our partners' meetings are now once a week instead of fortnightly. We started at the beginning of lockdown and we've kept that going as there is so much to organise and plan.
We do want to get people back into the office when it's needed, and we still prefer face-to-face when we can. It will never be a full office again though, only for social events.
JW: Have you found your Zoom meetings mean much more focused meetings, as I have?
VM: No not really because I'm catching up with people I haven't seen for a while, so it takes longer. My meeting style hasn't changed – I still talk a lot!
JW: Were you able to give your clients a seamless transition?
VM: Apart from the manual records side of things, service never stopped and we were continuously on the phone. I was exhausted at the end of every day from giving advice to clients and the team. Government updates were every evening, sometimes twice a day, and the goalposts were changing almost hourly so we'd be constantly keeping up-to-date with the latest guidelines and information so we could pass it on to our clients.
We kept sending out mailshots, but it was exhausting.
JW: That shows the power of communications at a time of crisis, doesn't it?
VM: Yes. We'd be inundated with calls each morning from clients wanting to know what the latest changes meant for them. And we also had to be understanding and sympathetic because people were naturally concerned about their business. There were still the normal queries going on as well and also the process for furloughing. We had to take on two new people in our payroll department just to get through it. It was great for working people but admin-wise, it was a nightmare.
JW: What are your top tips for dealing with a crisis like COVID as a business?
VM: Silence isn't good, so in the early stages, it was helpful that clients were in touch with us as suppliers to tell us they had to reduce or stop their direct debits, or find out what their options were. That was much better for relationships than simply cancelling a direct debit and not telling us why.
We're all in this together so it's important we try to help our clients and their businesses. Everyone's been affected so you need to keep communicating with suppliers as well as customers. You should let them know whether your business has been disrupted and that you're trying to do your best to work through this time.
New opportunities always come out of situations like this. Of course, this isn't true for everyone, but I've had so many clients who are in a much better place. They've seen new business opportunities and gone for it. Or some scenarios where clients have been 80% reliant on one part of the business and because they've had to try something new, the 80% has now become the cherry on the cake of the new business.
I was interested to see a whole swathe of our TV production clients take up jobs like Uber or delivery drivers, stacking shelves and so on, to ensure some money was coming in. It's not their long-term career goals for sure, but people were doing what they had to do to make ends meet and who knows, new opportunities might arise from the new skills learned.
JW: Have you found your clients want to see you face-to-face or have virtual meetings become the norm for the future?
VM: I'd say virtual is the norm for the foreseeable future. We only opened the door for client meetings in August but I'm probably encouraging mine to use Zoom. I've had three or four face-to-face meetings.
We have some lovely see-through face shields now and being Cardens, of course we branded them. But you can't drink your tea through them or if you try, it gets very messy!
JW: What are your business plans for the future, given we didn't see the COVID banana coming?
VM: Our business had continued to grow but there are going to be loads of businesses that won't make it over the next six months, especially those where furlough has delayed the inevitable. And then there are all the various loans which are due to be paid back over the coming months. Thankfully for us, things haven't really stopped. We're always trying to grow and get more efficient as well as keep up with technology to maintain our competitive advantage.
Here's another tip, about bounce back loans which I think are ending this month. Apply for them and tuck the money away as it's such a good rate. Only use it if you see an opportunity where you're going to get more out of it than the cost, rather than fritter it away. Otherwise keep it sitting there and pay it back next year.
JW: Has working from home proved more efficient generally rather than being office-based?
VM: I think people are still more efficient at the office. Their hours might be longer at home. From personal experience, there's quite a lot of distraction at home, but maybe that's just me!
JW: On a personal note, was there anything coming from lockdown that surprised you or are life lessons?
VM: I've loved the freedom to take up my Taekwon-do training again and get back in touch with my Taekwon-do family. I've also loved having so much time with my family and being able to work when I wanted to. And I've found that you really can choose how you spend your life and still fit in a full working day.
I'm resisting going back to work in the office if I'm honest, it feels like I'm going back to school!
JW: What will you be taking forward permanently if anything?
VM: I think just roll with the changes.
We'll continue to have our partners' meetings once a week because we're at the moment we need to keep making decisions and be proactive, and do all the things our clients expect us to do quickly.
JW: Has it been possible to cut through any red tape due to the situation, either in the industry or in your own company?
VM: We're quite good anyway as we work as effectively as we can, for example going paperless. If anything, I'm probably less efficient at home as I can't simply put something in the post tray at the office and expect it to be dealt with. I have to find an envelope, then a stamp, and then go and post it! But we have all got a lot better at technology because we've had to.
JW: Are you looking forward to Base Camp: Bananas?
VM: Of course! Brighton Summit is always the go-to business event of the year and I'm glad that although this year has been off the scale and the Summit can't physically go ahead, Base Camp: Bananas will give us a similar yet virtual Chamber experience. And that's always top bananas!