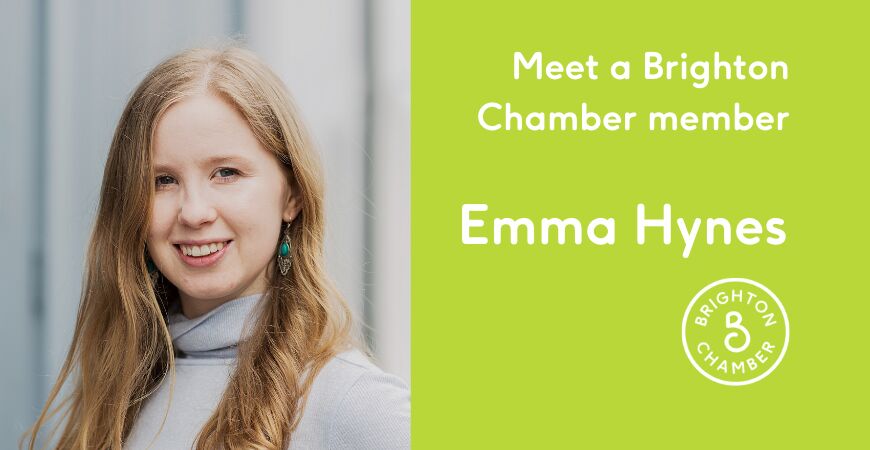 Thu 25 / 03 / 21
Meet a Chamber member: Emma Hynes from Midnight Communications
We recently had a (virtual!) chat with Chamber member Emma Hynes from Midnight Communications, to get to know her a little better and find out about her role at Midnight, how the past year has been, and how she's used the Chamber for professional development, learning and networking.
By Hannah Jackson of Brighton Chamber
Can you introduce yourself and tell us about who you are, and what you do?
I am an Account Manager at Midnight Communications, which means I run strategic public relations and social media campaigns on behalf of a pretty cool selection of clients. Some of my favourite elements of my job are the chance to write and be creative, and to find out about the inner workings of different types of business. I find the media and current affairs fascinating, and working in PR means I can immerse myself in them. Our work can be quite fast paced, but the kick you get from securing a coverage in a national newspaper, top tier trade publication, or on primetime TV is unparalleled.
I am also a postgrad student on the MSc Sustainable Development course at Sussex, so I have been able to use this knowledge to give my clients' campaigns some extra flair and grounding in an understanding of the latest debates and innovations, which is fantastic!
I very much live and breathe my love for creativity and current affairs, so you could definitely say that I am in my 'dream job'!
What have been the biggest challenges and changes for you over the past year in terms of how you work, your clients and what you do for them?
The biggest challenge for me has been overcoming that sense of Groundhog Day – we are normally in a bustling creative office and, even though I can be quite introverted, I really miss seeing my clients and colleagues in-person. I think I am like most people in that, when I am highly productive, I feel good about myself. So, when the pandemic has affected my motivation, it has been important to take good care of myself and find a way of getting back my sense of productivity and self-esteem! Midnight has been incredibly helpful, from taking the time to check in with me and really listen to how I am feeling, to launching a new wellbeing benefit that gives me the freedom to choose what I think is going to benefit me the most (so far, I've chosen an amazing sustainable yoga mat, some running shoes and a huge collection of aromatherapy rollers!)

Specific to my industry, we have a symbiotic relationship with journalists and they have struggled throughout the pandemic with depleted budgets, job losses and added pressure. We have to ensure that we aren't just keeping with our old ways of doing things, and we are constantly developing new PR tactics and also maintaining positive, supportive relationships with our contacts. I am lucky to have colleagues who either are or have been professional journalists, and they have helped me to see things from the journalist's perspective and find new ways of working - meaning we can keep getting our clients great publicity even in a changed world. That's part and parcel of being a leading agency with a long history; we can't sit back and wait for someone to tell us how to change, we need to identify it and take action.

How have you used your Chamber membership, and how has it benefited you and the team at Midnight?
I attend a lot of the networking events and have found these invaluable. It makes me feel like I am plugged in to Brighton's business community and that I am part of something larger – an incredibly creative city full of interesting people! Meeting people from all kinds of professional backgrounds and at all different stages in their career, from entry level to CEO, has shown me how much we all have in common right now.
I have also used our membership to enjoy a lot of delicious food and drink! The tasting events the Chamber has put on in the past have been amazing and I remember them more as fun evenings out trying new things, rather than networking events! The tasting at Fourth and Church in Hove was particularly brilliant (they are still open for click and collect, by the way!)
Another one that really stands out was the Chamber Breakfast in Spiegeltent in 2019, with entertainment from acrobatic duo Circo Pitanga and bacon sarnies all round. I was spellbound and will never forget it!
Also, I have used our membership to support the people I meet. Brighton Chamber has a great ethos around building a community rather than everyone just parroting their hard sell elevator pitches, so I always try to help people out and recommend them to each other.
There are also some great training sessions available through Brighton Chamber. I went to an improv workshop designed for businesspeople, for instance, that managed to be an absolute hoot while still being very useful.
Finally, it has been invaluable for growing my personal LinkedIn presence, which also benefits my employer.
What advice would you give to other members about using their Chamber membership?
Don't just send your most senior people to networking events – junior employees have so much to gain from these experiences. From learning about different sectors and hearing about people's different experiences in business, to gaining some confidence by simply walking into a room and introducing myself, I have found Chamber membership has really benefited my career progression. So, don't leave networking responsibilities up to your directors, put your hand up for an event and see where it takes you (your company may even offer an incentive for bringing in new business, and if not, you'll still get serious brownie points and improved progression.)
Networking events are a great way of getting used to talking about the business you work for. It is really handy to have rehearsed the way I describe Midnight, as this means I am a better ambassador for the business all round, whether I'm speaking to my friends, a client or a journalist.
Be sure to connect on LinkedIn with all the people you meet, and don't be afraid to be a younger or less experienced person in the room. I was 25 and a graduate assistant when I joined Midnight, and I was welcomed with open arms by everyone I spoke to at events. Now I'm more senior and experienced, I feel just as respected and listened to as I did then.
I have found everyone at Brighton Chamber to be very friendly and helpful. If there's something you want to get out of your membership, do communicate it with the team. They are incredibly supportive of members.
Finally, this is Brighton, so feel free to be yourself! People at networking events are still just people, so connect on a human level and ditch that corporate urge to hide what makes you special.
We'll round things off with one of our favourite questions from our virtual Member Meet-ups - can you tell us a fun or interesting fact about yourself?
I'm always divided over which fact to share, so I'll give you both!
When I was a little girl, I lived near Elstree Studios where Eastenders is filmed and ended up striking up an unlikely friendship with Pam St Clement, the actress who played Pat Butcher! I liked to pick her flowers, and she thought I was the cutest thing. I'm still waiting for that casting call…
More recently, for the last nine months I have been staying on a small farm and living in a refurbished art deco wagon dating back to the 1930s. This came with a lot of lifestyle changes, like learning to use a wood burning stove to dealing with my water source freezing over when we had that cold snap! It has been one of the most incredible experiences of my life, I have learned so much about food, nature, animals – and myself!
I am hoping to get on the property ladder for the first time in Brighton and I know everything I've learned and realised will translate back over to city life. It is so worth getting outdoors and removing a few luxuries to find out what really makes you tick!
Emma Hynes is an Account Manager at award-winning PR agency, Midnight Communications.
Midnight works with businesses, professional service firms and brands alike, applying their commercial expertise to crack consumer briefs and approaching B2B campaigns with creative flair. Find out more about Midnight Communications here.