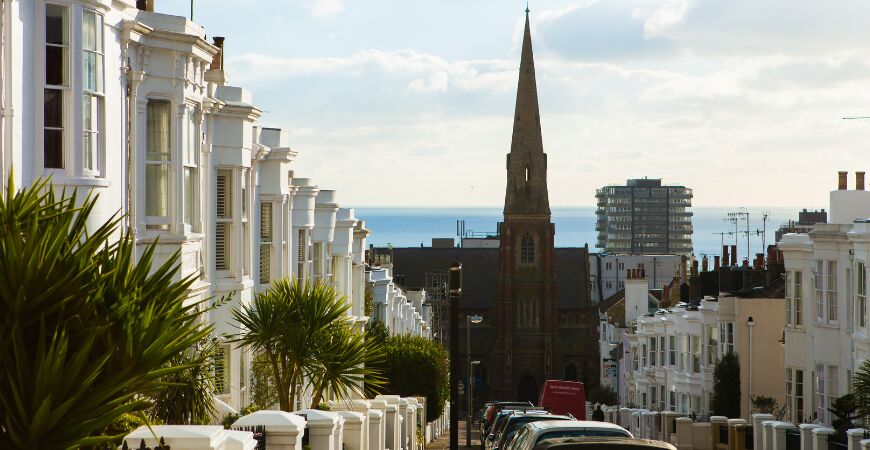 Wed 02 / 12 / 20
Construction Voice: What does the future hold for commercial development in the Greater Brighton Region?
Following the impact Covid-19 has had on commercial property, Construction Voice took a deeper dive into the commercial property sector at the end of November event, attended by over 60 leaders in the industry.
By Paula Seager of Natural PR Ltd
To help us understand the changes and opportunities that the sector holds, Steven Lang, Director of Commercial Research at Savills, kicked off the session, speaking about the importance of eco-systems and showing that the mix of corporate and capital raising is the key indicator regarding the future of commercial development.
We work with developers all the time at Natural PR and there is usually some new industry jargon to get your head around. The latest buzz phrase is 'hub and spoke'. The Collins dictionary definition says this is 'denoting a method of organising intercontinental air traffic in which one major airport is used as a feeder for local airports'. Translated into developer speak this is about where the jobs are and therefore where commercial space is needed and where people with the skills live and travel from to those jobs, often working at home for at least part of the time; it can also include where smaller satellite offices operate for larger businesses, versus the larger hubs where the business HQ is located.
Steve said that the wrap around this issue is that Brighton is both a hub and a spoke and could become even more of a hub for businesses going forward, certainly in some key sectors. What we're seeing now is risk from lender caution and the need for pre-lets to kick start schemes. The big trend in retail is re-purposing of retail space, which may throw up opportunities in the Brighton area. Regarding offices, there are pockets of under supply and a rising focus on green and wellness design and facilities.

He said that in this kind of highly skilled market place, what we're going to need to create going forward is the right kind of space to attract both the tenant and employee. We are also seeing a rise in rural markets and alternatives for investment; beds, meds, and data centres; whilst the life science sector has gone stratospheric!
The investment volume story is that investors are still hungry to get into the UK market. April and May were of course quiet and until end October, there was £32bn investment in UK; 40% lower than the five-year average. But 2020 has already surpassed 2008 investment, so we are in recovery compared to the 2008 recession.
There has also been 'a pandemic of surveys' done looking into the space needed and wanted. Although 'death of the office' was the message initially coming out, this isn't the entire story. Savills research showed the top factors most important around office space were the usual ones: commute length and cost; but comfort at work, colleague collaboration and networking are very high on the list for activities that cannot be done alone at home.

The new conversation is, are you returning to the office or staying at home to work? The hub and spoke conversation. Research looked at how many days per week do people work from home and 69% of people said they'd like to spend two or more days of the week working from home. In terms of travelling for work, both commuting and business, the expectation is for a 50% reduction in time; 60% of people expect to do less commuting. Many were already moving to a flexible model, but COVID-19 has dramatically speeded it up.
In a recent office survey, 69% of people said they'd like to spend two or more days of the week working from home

Savills Office FiT Survey 2020
Brighton is a popular spoke and becoming a stronger hub, and we expect this growth to continue. You can't pick up a tech survey without seeing it mention Brighton. So, how do we make it a much stronger hub? Academia, corporate, capital. Savills looked at sectors that are raising capital; real estate demand comes at a later date, but it's important to look at them and follow the money. These companies will grow and need the right real estate.
What about Brighton? All kinds of capital raising are in there. Life sciences is the largest sector; tech, media and telecoms are growing; and wellness and Software as a Service (SaaS) are the largest growing sectors.

Brighton & Hove currently has take up of 100,000 sq ft and there is 200,000 sq ft of availability. There is very low vacancy, so this shows there is definitely a need for more locally. The Office at Circus Street is the high quality, flexible space that is great and really needed; space that people want to be in. People need to be in the office for certain activities and there are certain sectors and activities which need space, so developers need to think about this.
Creating a metric of the level of venture capital 'per square foot' of offices shows that Brighton is well up there, higher than Southampton, Bournemouth and Reading, but is this also a measure that there's not enough space to accommodate scaling up companies? If that space is not available, these companies will vote with their feet; they need space to grow and we need to provide them with that space. In a post COVID world, it's critical for us to drive the R&D market and keeping a great reputation around academia globally is important for Brighton.
So, looking at moving Brighton from spoke to hub, more development would strengthen the city as a hub, creating more employment. However, we need to balance this with the obvious constraints of the coast. Steve finished his presentation by saying he looks forward to some great schemes emerging and Ed Allison-Wright of Haydon Consulting stepped in to chair some questions.
One of these came from Roger Hinton from the Regency Society, who asked if the demand for new commercial space was declining and will this help the housing market? The answer was not really, and that we still need both. Companies are of course reviewing what they need post-covid, but they are cautious about enacting that business plan and next stage. Take up in London is 30% below normal trends. But this isn't surprising. Covid has exacerbated a lower level of demand, but the capital raising that will soon begin, will lead into growth in head count in those businesses and therefore a need for extra space.
Fear of the 'miss now' is important to people and office space will evolve to match. There will be a need for companies to still bring their staff together sometimes. Space is being reduced for desks, whilst productivity is excellent when people work from home, but certain task focused activity will be needed in offices and there is a need to bring larger groups of people together at certain times.
Next speaker was Rob Sloper, Development Director of U+I Plc, who said that his first take away from Steve's brilliant presentation was that as developer and landlord of 85,000 sq ft of grade A space in the city at the moment, it's good to hear that he shares his view that the future is bright for Brighton!
He said that we are seeing a rapid acceleration of how people are viewing the role of the office. Office space is still in demand, but what that will look like and how we need to adapt as an industry is key. Brighton is blessed in many ways. Housing take up in the past 18 months shows that and throwing this together with the great talent pool in the city is positive, but the under supply has slowed innovation in office space.
Rob quoted Bob Dylan, noting times 'are a-changing', saying that people's eyes are now open to working from home, but purely working from home cannot replicate the innovation and growth that comes from contact. Isolation stops people trusting or believing in new ideas. He cited an example of a study that showed that rowers who row in sync have twice the endorphins of a solo rower; concluding that working in teams is better for us.
In high skilled sectors, employers need to convince staff that they should work for them and the quality of the space they can provide is paramount. An office space has to be a place that employees need and want to be in. U+I strive to stay ahead of the market and enshrined the concept of purpose led design at both their commercial buildings in Brighton; Plus X, opened earlier this year and Circus Street, will open in spring next year and both focus on creating a community.
Plus X is all about innovation; when people cross paths, great things happen. Despite Covid, the innovators at Plus X are working away, actively seeking to work there and get away from home, in order to be in an environment of serious quality with likeminded people and access to the specialist tools on offer.
In the same breadth, Circus Street is providing grade A top notch, highly sustainable space with fantastic air quality and the fastest and best internet standard as measured on a global scale and on a par with London's Shard, as part of a wider quest to be best in class. Just as important, it is part of a wider mixed use place at Circus Street, which includes places to eat, a dance studio, landscaped gardens, making it a welcoming place that you want to go to and spend time at.
Rob asserted that the role of the office in supporting mental wellbeing is key, saying that the office has an incredible role to play in bringing people together and we need to make it a well space. This is why at Plus X, for example, there is enhanced air quality control and other features including yoga sessions on the roof terrace, carefully designed lighting, planting and even fragrances to make it a healthy and creative place to work. His conclusion was that we need to be incredibly creative about making the office a place that effectively helps businesses promote collaboration and therefore innovation. You can find out more about the available office and retail opportunities at Circus Street.
A buzzy discussion in break out groups followed, chaired by Phil Graves from Graves Jenkins, Sean Clemons from RLF, Luke Carter from Lewis & Co Planning, Gavin Stewart from the Brighton & Hove Economic Partnership and Sophie Law-Smith, Director of Footprint Brighton. Key issues emerged, such as the fact that much of Brighton's existing office stock is old and of poor quality, and there was a discussion about whether we can refurbish this well enough to meet the market requirements. On the plus side, there is some superb quality new space coming forward at Circus Street, Edward Street and in Hove too, for the first time in a long time.
We discussed the challenges of Article 4, the need to change uses to move away from traditional types of office space, in order to see growth in areas such as life sciences. It was also noted that there is still demand for cheaper office space outside of the city centre. Nick Hibberd from Brighton & Hove City Council said that regarding leisure and hospitality, they would focus on better destination management for the city, targeting people who stay overnight and bring more investment into the city.
Overall, everyone was optimistic that Brighton & Hove would be in an excellent position for bounce back, though there is a need to build flexible commercial space and for extremely good urban design, to make the best use of the constrained land.
Thanks to Brighton Chamber's Construction Voice events partners:
RLF, Haydon Consulting, Graves Jenkins and Lewis & Co Planning

Thanks to Paula Seager from Natural PR for writing this blog.
You can also read past blogs from Construction Voice on the Construction Voice webpage.
The next Construction Voice will be in Spring 2021. If you'd like to receive an email invitation for this event, please contact info@brightonchamber.co.uk