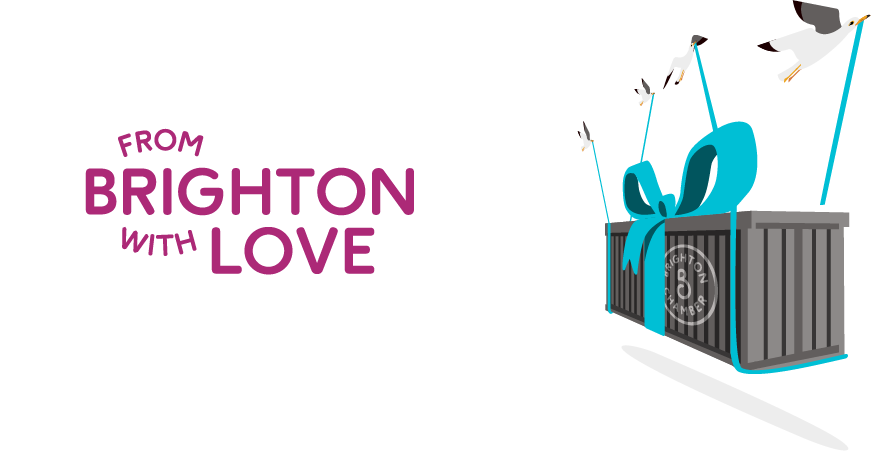 Help with exporting and importing
From Brighton with Love
What's it all about?
From Brighton with Love is a package of support designed to help businesses through EU transition and give them the confidence to embark on international trade.
Originally finishing in July, the project has been extended to December 2021.
You will be able to join an expert panel event, Your Questions Answered sessions, and Export Leaders peer network sessions. The programme focuses on topics including exporting and importing, supply chains, employment issues post-Brexit and more.
It's practical support, delivered by people who are already doing it well. You can ask the questions you want and build the resilience you need to grow your business going forward.
This new initiative is led by Brighton Chamber and supported by Brighton & Hove City Council with event partner Brighton & Hove Economic Partnership.
All sessions will be held virtually, are open to all, and are free to attend.
When is the next panel event?
You can hear some top tips from a previous panel on how to get started, where you can find help and insights on exporting/importing through Covid and Brexit in this video.
With thanks to Big Egg Films for video production.
What are the Your Questions Answered sessions?
These sessions give you 60 minutes with an expert on a specialist topic. Attendees will have the opportunity to ask questions and will come away with the knowledge, essential facts and understanding of the key issues that relate to their business.
Join Export Leaders - Free sessions to help develop your Exporting Strategy

We have designed the Export Leaders sessions to give you the opportunity to meet and work with other exporters and businesses looking to start exporting. Facilitated by MD of Gamification+ and Export Champion for the Department for International Trade, Pete Jenkins, these sessions mean learning together and helping each other.
Our second Export Leaders cohort began at the start of October. To find out more about Export Leaders, read what our first cohort had to say here.
And, to help with your exporting journey, hear advice and insights from three local experts, in this video.
With thanks to Let's Talk Video Production for video production.
Brighton & Hove City Council
Their webpage, Brexit in Brighton & Hove, is regularly updated with useful follow up support and resources. Find out how the new rules affect you, get advice for your business, apply to the EU settlement scheme and find out how the council have prepared our city for Brexit.
The Department for International Trade (DIT)
The DIT can help you find international opportunities for your business – from help understanding how the UK-EU trade agreement affects you and your business; to how to access support measures made available to UK businesses and employees during COVID-19; to getting advice from an international trade advisor for guidance on growing abroad.

Find events and workshops, delivered by the DIT, and designed to help SMEs develop the skills to export, here.
HMRC
Need advice on import and export business tax? HMRC's import, export and customs page has detailed information for your business - from getting started, to preparing your declaration and more.
The HMRC Youtube channel also has videos to help you familiarise yourself with the new customs processes, including recordings of past webinars on topics like Rules of Origins.
Find spaces for live webinars run by HMRC here - these webinars give you the opportunity to ask general questions, get the existing guidelines explained, and signposting to extra help and support.
Migration Observatory, University of Oxford
The UK's new immigration system came into effect on 1 January 2021. Employers now wishing to hire foreign workers have a new set of rules to follow. Migration Observatory have information and resources available on their website, to help you understand and navigate the new rules around the points-based system. Find their piece on the points-based system here.