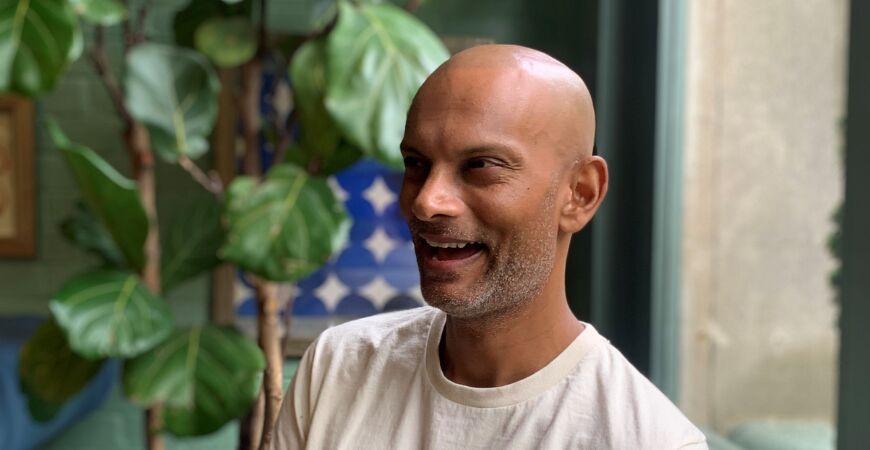 Fri 03 / 11 / 23
The 'Do good' Breakfast
Rose Lock, Account Manager at Midnight Communications writes after our October Chamber Breakfast speaker Sanjay Lobo, CEO of OnHand, joined us to talk about his personal and professional journey to date. From lawyer, to the dot com bubble, to creating an app to help employees have impact - and everything in between.
By Rose Lock of Midnight Communications
From appearing on Dragon's Den to visiting No 10 Downing Street, 2023 has been a busy year for Sanjay Lobo, founder of OnHand – an app which matches keen volunteers with causes and those in need. That's not to mention being awarded an MBE for services to older people for OnHand's work, particularly during Covid-19, when support was needed more than ever.
Sanjay shared his journey from an early career in law to how he became a tech start-up founder of a rapidly growing company, and the rising trend for people wanting to volunteer and 'do good' - especially since the pandemic.
Not fitting in
Sanjay grew up in Tooting, the son of refugee parents, who separated when he was a child. He described a lot of aggression in the area back then and said "the fear of having to spend more time there" was a big motivator for him as a young person. He worked hard and achieved three A grades at A-level – "unheard of" at his school – and was offered a place at University College London (UCL) to study Law.
Unfortunately… he hated it there. He felt like he didn't fit in with a group of privileged law students and didn't particularly want to be a lawyer anyway (having only picked the degree after watching episodes of LA Law). He got a job working in film and media law – not as exciting as it sounds – and then discovered the internet. The first dot.com bubble was growing and Sanjay's firm started a digital practice. While he hated the long hours (and all nighters!), he learnt a lot which would stand him in good stead for his future career.
Moving into tech and the travel industry
Sanjay's next role was at the software company Sabre as a tech lawyer – a job he was convinced no-one else would want to take due to its location out in deepest Hounslow.
Throughout his story, two themes emerged – a lot of hard work and a bit of luck in being in the right place at the right time. Being entrusted with big responsibility by his boss was a great learning experience for a junior lawyer, working on international M&A. Fast forward a few years and he was handling a billion-dollar deal to buy Lastminute.com.
From law to…anything required
By 2010 Sanjay had moved to Barcelona to work for Vista, which supports small businesses across the world with design and marketing. He flipped from the legal team to launching PR, marketing and partnerships teams in Europe and later the US. Despite great success, in 2015 Sanjay found himself without clear direction, having done so many different roles and no longer really a lawyer.
Solving a problem with OnHand
After six months working at a start-up back in the UK, Sanjay had an idea. His father had Parkinson's disease and was unable to go out and do his own shopping – and Sanjay couldn't do this for him every week, living miles away down in Brighton. His dad had some brilliant carers, but the cost of them doing the shopping was double that of the total food shop. Sanjay realised there must be thousands of people in the same situation and set about the idea of matching volunteers to help elderly people though technology.
The idea of sending total strangers into people's homes was of course a massive risk – a lot of work would be needed to vet volunteers. But Sanjay found that not only was there a dire need for this service, but that people were eager to offer help. He began building a team of volunteers and secured investment to hire some developers to build the app.
After Covid-19 hit, Sanjay switched the focus of OnHand from B2C to B2B, enabling businesses to send their teams to volunteer. Since the pandemic, Sanjay believes companies are more invested in social good and as a society we place greater value on wellbeing. Now OnHand volunteers can offer help across a range of projects for social good – from supporting the elderly to youth mentoring, sustainability action and combatting food poverty.
An exciting journey
Earlier this year Sanjay was invited onto Dragon's Den and secured no less than four offers from the dragons. Although he didn't end up taking these offers, he did reveal the biggest secret about the Den – the lift is not real!
OnHand is now growing at 200 per cent and operating in 40 countries. Sanjay was frank about the stress involved in being a founder – but also how exciting it is to be on this journey.
At a time when it's easy to feel powerless against a lot of bad news from around the world, it was uplifting to hear about OnHand and consider ways we can make a difference in our own communities.
Sanjay Lobo is CEO of OnHand - find out more on their website here.
With special thanks to Rose Lock, Account Manager at Midnight Communications, for writing up Sanjay's talk. Find out more about Midnight here.
And to book Chamber Breakfast and more networking events, head over to our events calendar.