Mon 02 / 07 / 18
Past meets present at St Augustine's
St Augustine's Centre is an ambitious private venture by Brighton & Hove based boutique design and build property development company, Roche Barrett Estates Ltd.
For over 10 years St Augustine's, a delisted church, was left derelict and unloved.
We chatted to Errol Barrett, developer and founder of Brighton's newest centre for business meetings, events, the arts, spirituality and wellbeing sectors about his ambitious project and what his vision is for the centre.
St Augustine's was abandoned for over 10 years. What inspired you to start this project?
I have an affinity with former community type buildings and used to reside in a former rectory.
I also tried to purchase one of the largest and rarest 13th century building of its type in the South East amongst others to no avail and St Augustine's struck a chord when I first walked past this amazing building that was in a terrible state of disrepair at the time.
What have been some of the biggest challenges over the past 4 years?
We experienced many obstacles during this period but the most challenging was the £7,500,000 that my wife and I had to invest in this remarkable development. We had to use great financial brinkmanship to get to where we are today. I worked an average of 16 hours per day, 7 days per week for 4 years with only 6 days break during this period. This is the level of commitment required when you commit to such an unusual investment. It's very different from what one would deem to be the norm, so not for the faint-hearted. It's quite an eclectic development where the future merges with the past, so very different and very Brighton.
Tell us about the vision for the centre.
The original vision was a centre for business meetings, events, the arts, spirituality and wellbeing sector. For the corporate market, St Augustine's in now an eclectic event centre and a place for business meetings.
We have a number of ethereal spaces for Brighton & Hove business people and their clients to meet, cogitate and orchestrate new business or creative ideas.
We are also a hub for the arts and spiritual sector so very different and very Brighton and you really do need to see and feel the energy in this place in order to appreciate the full potential of how the building will stimulate commerce.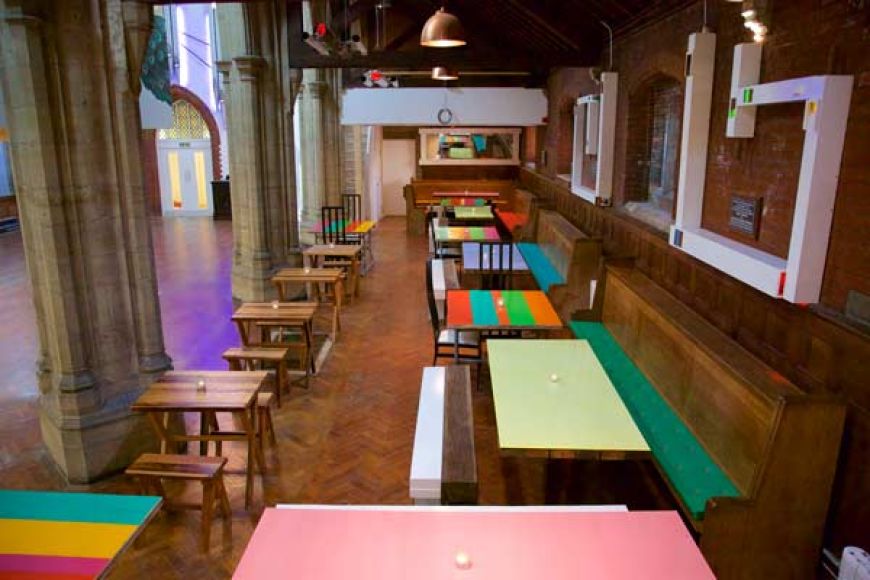 Do you have a favourite story associated with the building?
The stories are too numerous to mention but one story that springs to mind is that we found a time capsule on site at a low point in the development which contained a message from the past, perseverance during times of adversity, so not dissimilar to what the original owners of St Augustine's had to endure during the build of St Augustine's Church itself.
The church was originally built in 3 stages and they too had to overcome adversity in order to complete their original vision.
St Augustine's is a beautiful space, keeping many of the original features whilst incorporating modern design. Do you have a favourite part of the building?
There are so many wonderful spaces to choose from but the main hall, Art's Café, Lady Chapel & Altar are quite remarkable events spaces.
The top floor gallery with 3 storey vaulted ceiling and original features is also quite breathtaking.
You have created several interesting and different ways that businesses can use the space. Can you tell us a bit more about what you offer at the centre?
Because of our involvement with the Arts, Wellbeing and Spiritual sectors, we are able to tailor themed events to meet our clients' needs.
We have a fantastic on-site Arts café, perfect for lunch or a coffee. Our catering uses seasonal ingredients, supporting local farmers and suppliers in order to create memorable themed dishes using ingredients that are sustainably and ethically sourced.
Some of our packages could include anything from hourly, daily, weekly and monthly meeting room hire, themed events, overnight stay in one of our apartments, onsite theatre tickets to dance, meditation, yoga and art classes, or a treatment in our holistic centre in order to balance the mind and body.
We also embrace community events so the building can serve the needs of the general populous from a business and community perspective.
Are you running any launch offers for Chamber members at the moment?
Yes, we have several offers from the incentive to use our Café and meeting rooms to free events space for events that have a catering bill that equates to more than £5,000.
Thanks to Errol Barrett for sharing his story and vision for Brighton's newest Arts, Spirituality and Wellbeing Centre. If you'd like to find out more about St Augustine's, please visit https://brightonstaugustinescentre.co.uk/ or contact Errol and the team for more information on info@brightonstaugustinescentre.co.uk