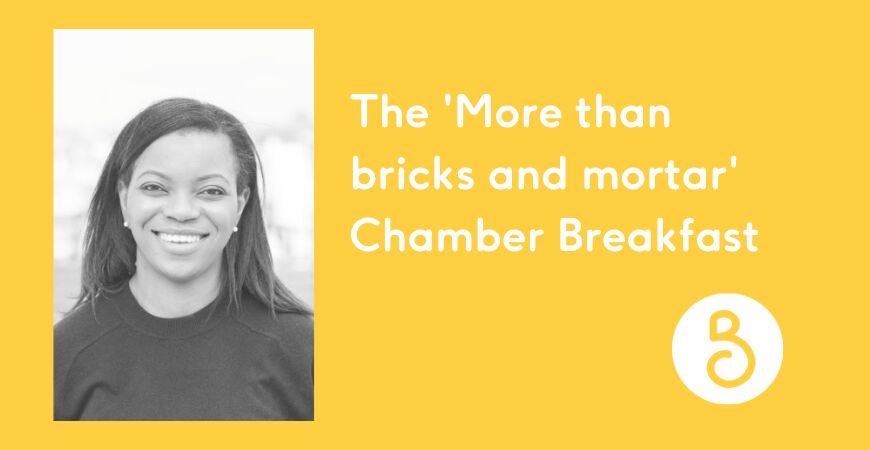 Fri 02 / 07 / 21
More than bricks and mortar
Olaide Oboh, Director of Partnerships at First Base, joined Brighton Chamber as guest speaker for the 'More than bricks and mortar' Breakfast Session.
Megan Slaughter of Midnight Communications shares some of the key takeaways from Olaide's talk.

By Megan Slaughter of Midnight Communications
Most property developers are interested in bricks and mortar. Olaide Oboh is interested in people.
Brightening up a grey Friday morning at another insightful Brighton Chamber breakfast, Director of Partnerships at First Base, Olaide, discussed how her fascination for human nature acted as a catalyst to a career in property development, focused on delivering long-lasting positive changes to people's lives.
Olaide's story
Olaide rightly pointed out that where a person lives has a massive impact on their life chances. Born in Lagos, Nigeria, Olaide moved to London in her early teens, acknowledging retrospectively that her whole life experience has been gained in two big bustling cities. It was in these cities tstudying socialihat she became acutely aware of the ever-present undercurrent of social challenges – the disparity between rich and poor.
After finishing school, Olaide went on to study sociology at university to understand more about what motivates people. What is it that makes people thrive? After completing her degree and ending up in retail, Olaide's fascination with human life was heightened through the everyday people-watching that came hand-in-hand with her role.
Later moving into crime and policing, Olaide was faced with another perspective: how do we deal with our society when it has failed people? How do we rehabilitate them and give them another chance at life?
Three Mantras
Eventually working in social housing and ultimately, property development, Olaide recognises the thread of her fascination with people continuing into her current role.
To guide her people-centric approach, she follows three mantras:
1. Inclusivity – we are not all the same. Therefore, a one-sided approach cannot be the answer. Whether we like it or not, the last year has taught us that we all experience things very differently, and so championing our differences throughout our organisations should be a priority.
2. Delivering positive impact – enormous amounts of investment go into new developments in cities; however, the ripple effects of this positivity are not always seen throughout an area. To do this, there needs to be real, and often difficult, conversations with local communities about the challenges that they face.
If there are healthcare inequalities – how can the developer utilise its network to open up the debate around this issue? Is it possible to bring experts into local schools who can help to support parents and children with healthy living, for example?
3. Relationships – society is a force for good. We need to work together in partnership to be able to move forward. First Base works with a wide range of organisations in each development location from youth empowerment to social services and arts and culture.
Building genuine long-term relationships is the key to delivering a development that will really impact people's lives. A building is just the shell of a development. It is what happens inside the building that is the most important thing: the people create the communities for many years to come.
Ultimately, the question that a developer should be able to answer is: has their development created value that is not simply financial?
Olaide Oboh is Director of Partnerships at First Base, and spoke at Brighton Chamber's virtual Chamber Breakfast.
First Base is a privately-owned mixed-use developer specialising in placemaking and urban regeneration. Its current development pipeline includes the regeneration of the Soapworks site in Bristol, which is being re-imagined as a mixed-use district of workspace and over 160 homes, and Edward Street Quarter, which comprises 170,000 sq ft of creative workspace and 168 homes in the heart of Brighton.

Midnight Communications works with businesses, professional service firms and brands alike, applying their commercial expertise to crack consumer briefs and approaching B2B campaigns with creative flair. Find out more about Midnight Communications here.
With thanks to event sponsor, Edward Street Quarter.