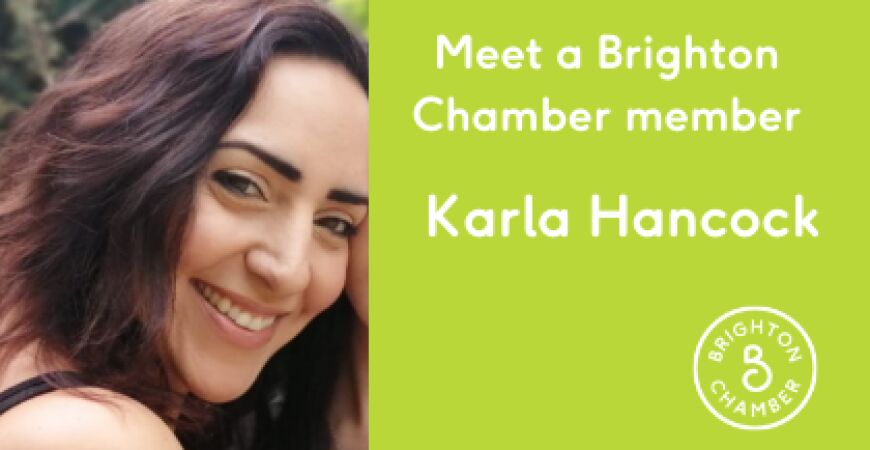 Tue 17 / 08 / 21
Meet a Chamber member: Karla Hancock from Off The Fence
Meet Karla Hancock, Corporate and Community lead for Hove-based charity Off The Fence. We chatted to Karla about her role at Off The Fence, how they've faced challenges to continue supporting their clients throughout the pandemic, and how they've used Chamber connections to help with business development.
By Hannah Jackson of Brighton Chamber
Hi Karla, can you introduce yourself, and tell us a bit about what you do?
I work as the Corporate & Community Lead for Off The Fence, a charity based in Hove. Off The Fence works with the vulnerable and marginalised men, women and children in Brighton and Hove. We have three centres where we work with our clients. Antifreeze is our daycentre, working with and supporting the homeless; Gateway is our women's centre, providing support and training for victims of domestic violence and those suffering from mental health issues; and our Schools office works with children on a 1-2-1 basis providing mentoring and reflective spaces in schools.
I have been volunteering with the homeless and vulnerable women for the past few years so when I was made redundant from Brighton Fringe last year and a friend mentioned that Off The Fence were recruiting I got in touch. This role brings together my experience of creating high profile events, a desire to help the overlooked people in our city and my love of creating great partnerships with socially conscious businesses.
We're very lucky to have some amazing businesses partners in the city who value what we do and who in return get to be involved in some really fun events whilst supporting a great cause. I believe a charity partnership is just as much about us meeting the needs of our partners as it is about them meeting ours.
How have you been continuing to deliver services at Off the Fence throughout the pandemic?
We had to close both our daycentres at Antifreeze and Gateway during lockdown, when the need for our support was at its greatest. We worked closely with several other agencies in the city to ensure that our client's needs were met during this time. Unsurprisingly, we saw a large spike in requests for help, and as a result increased our street outreach, including opportunities to use our mobile hygiene vans so that our clients could have showers and wash their clothes. We conducted more 1-2-1 telephone and face-to-face meetings with clients, which served as a lifeline to many, and was one way we could support their mental health issues.
We have recently re-opened our homeless daycentre in Portland Road, Hove, and are looking at ways we can assist our clients to move out of their current situations - by helping them get back into work through training workshops and developing new skills. Our women's centre currently has a waiting list of clients in need of our services, and we hope with our fundraising efforts this year we'll be able to employ an extra member of staff to help us take on more clients.
What advice would you give to other charities using a Brighton Chamber membership?
I have always been super impressed with the quality of events and members at Brighton Chamber. I'd suggest signing up to a Member Meet-up every now and again as an informal way to get to know a few businesses. The recent charities Slo-Mo event was a great opportunity to share ideas with others charity workers who could relate to the challenges we face.
Also, get to know the lovely staff at the Chamber - they know their members really well and are always willing to make introductions and offer help where they can. The Bite-sized Learning sessions are brilliant too!
How have Chamber connections helped with business development at Off the Fence?
We were really lucky a few months ago to spot a competition led by Chamber member and digital marketing agency Creative Blend, offering 6 months free support to help a charity with their digital marketing. Creative Blend hold this competition each year as a way to give back to their community.
This couldn't have happened at a more perfect time. I'd just started at Off The Fence and begun a digital audit. I knew we needed some help but wasn't sure where to begin or how we'd fund the process. Grant Jennings and his team selected us as their winners after finding out a little more about the work we do, and this has really freed up valuable time for our core team and enabled us to focus on our clients and raising money to help them.
Grant and Blanca at Creative Blend have been supporting us with our strategy and linking us up with their contacts who can help us in other areas. They really are experts in their field and are looking to empower us with the skills to take our digital marketing forward.
Finally, a question we always like to end on, can you tell us a fun or interesting fact about yourself?
Whilst on holiday in Thailand some years ago I was asked by some tourists if they could have their photo taken with me. I said yes and then realised afterwards they thought I was Jennifer Lopez!
Karla Hancock is the Corporate & Community Lead for Off The Fence. You can find out more about Off The Fence, and how to get involved on their website.