Mon 17 / 09 / 18
Get to know Brighton's Circular Economy
What is the Circular Economy?
David Attenborough's Blue Planet II documentary highlighted the problem with plastic in the sea. It is estimated that by 2050 there will be more plastic in the ocean than fish.
Even before this documentary, several initiatives were underway in Brighton & Hove to reduce the amount of plastic that is used in the city. One was set up by Claire Potter called Plastic Free Pledge which aims to eliminate single-use plastic straws, used on average for 20 minutes but last 600 years.
These initiatives are focussing us on alternatives to the current 'linear economy' or 'Take-Make-Waste'; this means we take raw materials, make them into products and throw them away when we have finished with them. The 'circular economy' is one such alternative.
A professor once said that sustainability is the goal and the circular economy is the way to get there. This includes businesses being economically sustainable as well as supporting the sustainability of the planet.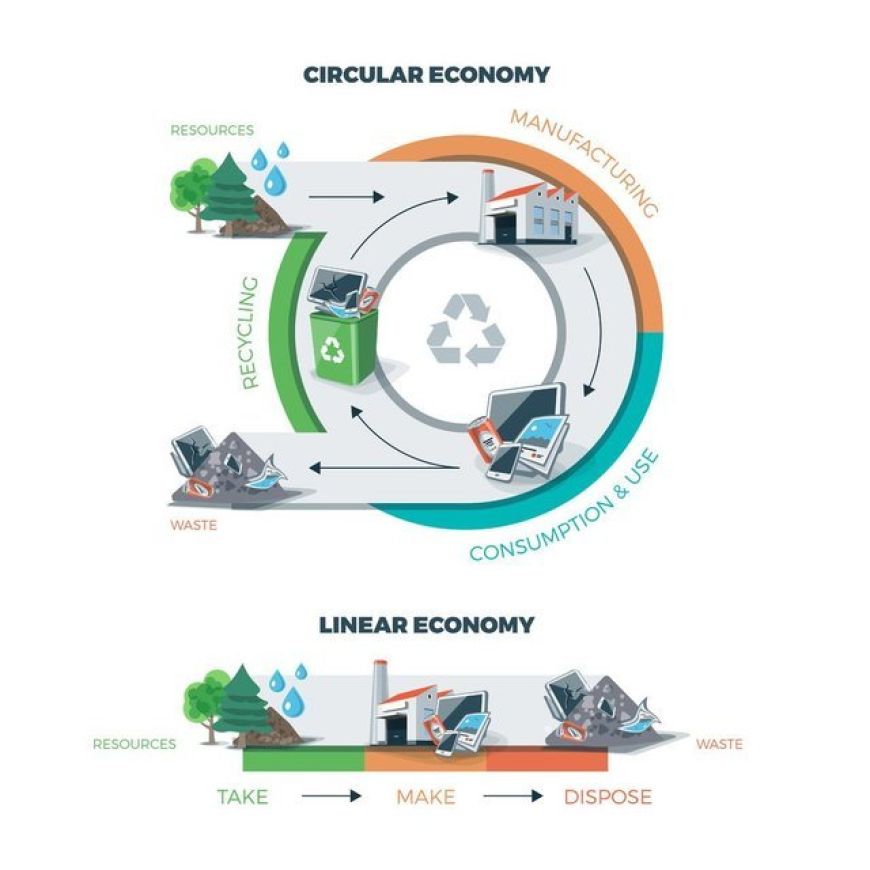 Let me give you a graphic example of the difference between linear and circular business models. If I ran a company making orange juice out of fresh oranges, I'd end up with lots of waste: peel, pips with all the pulp and stringy bits. In a linear economy, I would send these to landfill. In a circular economy, I would make much better use of all the parts of the fruit. Biorefining and green chemistry are creating new ways to turn that waste into by-products:
Pectin, pulp and zest can all go into food manufacture
Orange essential oils are valuable for cosmetics and pharmaceuticals
Citrus peel is being used to make a bioplastic and a silk-like fabric
Many large corporates have redesigned their products to be remanufactured such as Caterpillar machines and Renault cars. Philips don't sell light bulbs anymore – they charge their customers based on the amount of light they use and replace broken light bulbs.
Two Brighton & Hove examples of circular clothing businesses
Ruby Moon – disused fishing nets and plastic waste are made into fashionable swimwear
Superlooper – instead of owning your children's clothes you can pay a monthly subscription which allows you to return them as your child grows in return of a new set of clothes. This a new business model where the product becomes a service.
A circular business won funding on Dragons' Den
OPTIAT – One Person's Trash is Another Person's Treasure – using coffee grounds to create body care products.
Examples from the electronics industry
Sony – after two years the battery is wearing out but I can't replace it myself. For some electric and electronic equipment, you have the impression that the manufacturers have planned obsolescence into the product so they have a limited life and can't be easily repaired.
Fairphone – a modular approach: as parts wear out or break I can replace them myself, such as the battery, screen, cameras, wifi, speakers; some of the materials used are sourced from conflict-free zones and Fairtrade gold. And you can rent it – you don't have to buy it. Ownership remains with the manufacturer.
The benefits of a circular economy
Economic benefits:
Cutting Costs by using recycled material
Stronger customer relationship with more frequent interaction through subscription models
Developing new business models to create customer value
Environmental benefits
Reusing waste materials
Using less virgin raw materials
Reducing our dependency on plastic
Using less water
Moving from fossil fuels to renewable energy
Social benefits
New jobs created and different skills acquired
Sharing resources such as underutilised cars and tools
I have written a LinkedIn article (also published in shorter form by the Brighton & Hove Independent) about how business can benefit from the circular economy.
How did I get involved in the circular economy?
I have a passion that business can be sustainable by not just focussing on financial returns but the "Triple Bottom Line" – People, Planet and Prosperity. This has come from my work on sustainability for 20 years with Tomorrow's Company, including their Inclusive Development Programme which has led onto me co-founding the African Circular Economy Network. I attended the three week Circular Cities Summer School at the University of Amsterdam with Metabolic and learnt of innovative ways to create more sustainable urban environments. I hope that this focus will help Brighton & Hove firms improve their business performance as well as move from just doing less harm towards being a force for good and contribute to the achievement of the United Nations' Sustainable Development Goals.
What to do next?
A group of volunteers who are passionate about the circular economy has come together to create "Circular Brighton & Hove". We hold monthly meetings on the first Wednesday of the month at different venues around the city to share knowledge and take action. We are connecting with the City Council, businesses, social enterprises and civil society organisations to identify how we can take the ideas forward. We are on Twitter, Facebook and Instagram so please contact us: @CircBrightHove.
Peter Desmond MA(Oxon) MA FCA MBA FRSA is Managing Director of Growth International a member of Brighton & Hove Chamber of Commerce. Watch his interview here:
Thanks to Peter for writing this blog