Thu 13 / 09 / 18
Time to Utilise! How SMEs can protect themselves from rising energy costs.
The Sustainable Business Partnership discuss how expected rises in energy will impact both private and commercial properties, and what the Utilise Plus Programme can do to help SMEs keep costs down.
In 2016, Michelle Hubert of the Confederation of British Industry (CBI) warned that "energy prices….[are] predicted to rise by almost 30%" by 2021.[1] This was echoed in a report published in 2018 from the House of Lords EU Energy and Environment Sub-Committee, which identified Brexit as a possible catalyst for rising prices, given that around 12% of UK gas and 5% of electricity is supplied by other EU states.[2] It's not just 'warnings' and 'possibilities' either – data on energy prices for non-domestic properties is continuously published by the Department for Business, Energy & Industrial Strategy[3] and clearly shows that electricity prices are steadily rising (figure 1). In contrast, gas prices fluctuate but nonetheless appear to be increasing for small and medium organisations in particular (figure 2).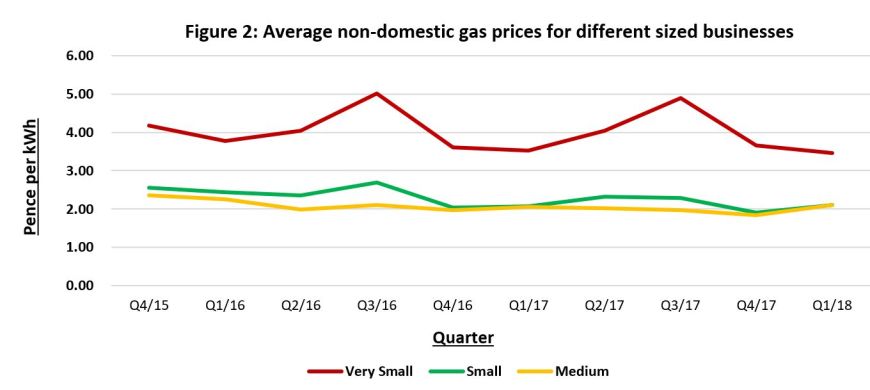 These rising prices will hit every property, small and large, domestic and commercial. It is arguably smaller businesses, who do not have the time or money to spare, that will struggle with paying this extra money in an uncertain political climate. But there is a solution – there's support to utilise.
The Sustainable Business Partnership CIC is proud to be delivering the Utilise Plus programme, funded by the European Regional Development Fund (ERDF). Utilise Plus helps small- and medium-sized enterprises (SMEs) to save money by taking control of their energy use. Not only does this prepare SMEs for future energy price rises, it also reduces their impact on the environment – win, win for everyone! Utilise Plus does this with a variety of different services, all fully-funded by the ERDF – grant funding, educational workshops, networking events, and energy audits.
Grant funding is available to help SMEs install energy-saving projects in their organisations. Eligible businesses can apply for grants of up to £5,000 to cover one-third of the total cost of the installation. Whether it's upgrading to a more sustainable heating system or installing efficient LED lighting, the Sustainable Business Partnership is there throughout the entire process.

It can be difficult knowing where to start with an energy-saving installation. That's why we also offer fully-funded (free!) energy audits to help organisations identify potential energy and cost saving opportunities throughout their premises. After assessing an SME's energy data, a qualified auditor will visit the premises to conduct a thorough survey of how energy is being used. An Audit Report will then be produced, which makes recommendations on how to save energy and money.

As well as grants and audits, Utilise Plus also offers a variety of events. 'Energy Saving Workshops' are practical, interactive sessions in which the business case for saving energy is outlined and barriers to change are addressed with each attendee creating their own unique 'Action Plan' tailored to their specific organisation's needs. 'Sustainability Tours' aim to inspire attendees by giving them a behind-the-scenes look at other organisations that have successfully installed a multitude of energy-saving technologies. Finally, 'Business Networking Breakfasts' allow for networking with like-minded businesses, hearing from expert speakers, and sharing success stories.

Utilise Plus is the perfect opportunity for SMEs to protect themselves from these rising costs – as well as other future uncertainties – and ensure long-term benefits for their business, for the local economy, and for the environment. Find out more and register your interest today.
---
[1]Department of Energy & Climate Change (2016). SME Guide to Energy Efficiency. [PDF]. Available at: www.gov.uk/government/uploads/system/uploads/attachment_data/file/417410/DECC_advice_guide.pdf
[2]House of Lords (2018). Brexit: Energy Security. [PDF] Available at: https://publications.parliament.uk/pa/ld201719/ldselect/ldeucom/63/63.pdf
[3]Department for Business, Energy & Industrial Strategy (2018). Industrial Energy Price Statistics. [PDF]. Available at: https://www.gov.uk/government/statistical-data-sets/gas-and-electricity-prices-in-the-non-domestic-sector
Thanks to Sustainable Business Partnership for writing this blog