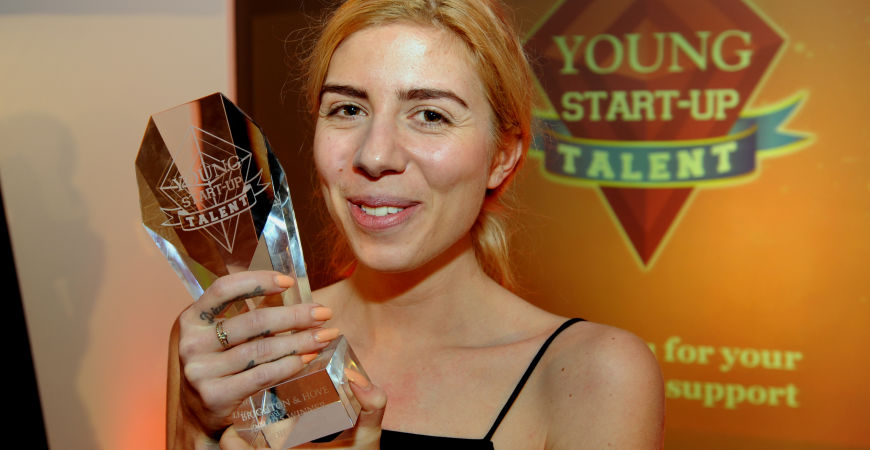 Tue 24 / 02 / 15
Brighton and Hove Young Start-up Talent 2015 winner
The Brighton and Hove Young Start-up Talent (YST) showcase named Jodie Deakin, who runs pet accessory company Hounds & Hides, as its 2015 winner at an awards ceremony held at Brighton Racecourse on 29 January.
Jodie, who said she was 'shocked' to walk away with the prize, was awarded £50,000 worth of business products and services donated by a host of local businesses and organisations.
Brighton Chamber is among the sponsors of the community-based scheme, which was designed to encourage and support young entrepreneurs aged 16 to 25 to turn their idea or fledgling start-up into a booming business.
Brighton Chamber membership manager Abby Moreton said of YST, 'It has direction, it has talent for sure and it encourages creativity, entrepreneurship, forward-thinking and a sense of responsibility which is important.'
This year a shortlist of ten semi-finalists was whittled down to just five, and the finalists battled it out to claim the prize by pitching their ideas to a panel of judges in a 'Dragons Den'-style finale at the British Engineerium in Hove on 8 January.
The innovative products and services presented included Joseph Paul's bespoke print service, Bettina Nemeth's clothing brand using upcycled materials, Ben Le Brocq's app intended to keep children occupied while parents are doing the weekly shop, and Josh Avis's line of furniture made from repurposed wooden pallets.
However it was Jodie's pitch for her business selling luxury leather accessories for dogs that collared the award, chosen by a panel of judges with a wealth of business experience between them: Dan Simpson, partner at Hartley Fowler; Stephen Mason, MD of Mason Consulting; businessman and property developer Mike Holland; Rebecca Glazebrook, partner at PDT Solicitors; regional director of RBS, Gary Chown; and YST founders and directors Matt Turner and Lorraine Nugent.
It was when Matt - former Gatwick Diamond Business Awards Young Entrepreneur of the Year and Business Person of the Year, and MD of design, print and marketing business Creative Pod – and Lorraine, MD of PR and marketing agency Media Word Waves, came up with the idea of an initiative specially designed to encourage young people starting out in business that YST was born.
The scheme, which also runs in Croydon, East Kent, West Kent, and the Gatwick Diamond area, delivers workshops across the South East, reaching more than 40,000 young people in schools, colleges, universities and youth organisations with the goal of inspiring them to carve out a successful career in business.
Thanks to Latest TV, this year's YST entrepreneurs are even going to be hitting our television screens as the stars of a six-part fly-on-the-wall series, which will give viewers a behind-the-scenes look at their journeys so far, and continue to follow them throughout the year as they grow their start-ups.
With ideas, drive and determination in abundance - coupled with the invaluable support, expertise and contacts afforded by YST - Jodie and her fellow young entrepreneurs look set to show that, when it comes to business, Brighton has definitely got talent.
Written by Ros Branagan.