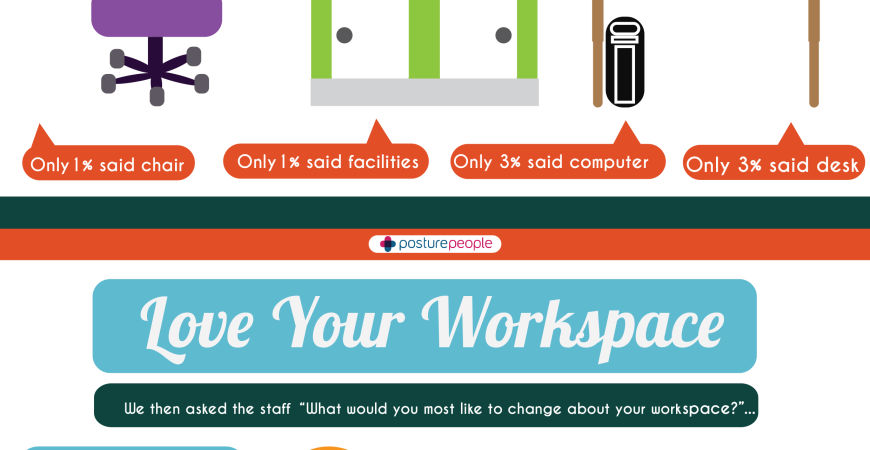 Mon 23 / 02 / 15
New survey by Posture People reveals what people love most about their workspaces
Want to know the secrets of happiness at work and find out how to increase productivity?
Numerous studies have shown that happier staff are more productive staff† and a recent poll reveals that fellow workers are what members of the UK workforce love most about going in to work.
According to a new nationwide study by Posture People, a team of ergonomic furniture specialists, over half of people think that their colleagues are the best thing about being at work, though office staff would prefer more privacy if they were allowed to change something about their workspace.
As the debate about open-plan vs enclosed offices rages on, when asked the question "What do you love most about your workspace", respondents overwhelmingly chose the people they work with, with 54% of those surveyed saying that their colleagues are the thing they love most about their workspace.
When asked to elaborate on their reasons for their choice, respondents said…
"It's the other people you work with who make the biggest difference to your working life. "
"Being happy at work depends on being happy with whom you work."
"They're awesome "
"Have been working from home for last 5 years so lovely to be in an office again with friendly colleagues and a light, bright environment."
"I'm a consultant, so only in the office every fortnight. I have no personal desk, so it's the whole concept and the people that keeps me rooted somehow."
"a nice mix of people/companies/industries who inspire each other"
"We make a point of going to the pub every Thursday which is great and helps build relationships and encourage new projects and working across companies."
These results back up findings by the Chartered Institute of Personnel and Development's (CIPD) autumn 2014 Employee Outlook report*, which shows that after "Job Satisfaction" and "Work-Life balance", "The people I work with" was the 3rd most cited factor for career satisfaction as identified by 43% of respondents to their survey.
The Posture People survey revealed that location was another popular choice, with over a quarter (27%) of respondents choosing the whereabouts as their favourite thing about the office. They said:
"If you need to get away from your desk, it is handy being near open space that you can go and walk round."
"Self-employed, working in a variety of places, sometimes outdoors!"
"Central location on Mayfair, close to the tube and walking distance to most other stations. Good variety of restaurants for lunch."
Of those questioned, 6% of respondents said that they loved the personal things on their desks and some more unusual benefits were also highlighted:
We have a shared fruit delivery once a week so there is always a supply of healthy snacks.
My big tip: having 2 microwaves so you never have to wait while somebody else is using it at lunch time.
The study was prompted by Posture People director Jo Blood wanting to find out what makes people happy at work.
As well as asking what was most loved amongst workspaces, the survey also asked the open question "What would you most like to change about your workspace". The responses were varied, from requesting a more comfortable working temperature to wanting a pool table! The most common answer, from 16% of those surveyed, was for more privacy/fewer distractions and 14% of respondents wanted more space.
A number of respondents replied to the question simply with the comment "less noise". Other answers included:
More quiet, fewer distractions.
I would like more meeting rooms with better sound proofing.
I would like to have a quiet area for concentrated working
Additional space to hold private calls or conference calls.
The open space - would like a separate office for the team so we can talk freely about things that need to be confidential.
Around 11% would like a new desk or chair and the same number of respondents wanted their office to be given an injection of style. They suggested office plants, pictures for the wall or a pop of colour.
Many of those surveyed wanted the lighting (7%) or temperature (10%) to be addressed, a common cause of dispute, particularly in open plan offices.
Posture People have found this a key theme in the workplace redesigns they've recently worked on.
Director Jo Blood says "The trend for open, collaborative workspaces is continuing, but forward-thinking employers now understand that many staff need quiet time and solitary space to process complex tasks and to think creatively. We often suggest breakout areas and acoustic sound panels to break up shared office spaces and create privacy in open-plan offices."
Happiness in the workplace is a hot topic at the moment, with studies showing that happy staff not only perform better but stay with the same companies for longer**. One of the easiest ways of finding out what your staff love (or dislike) about their workspaces is simply to ask them, so that's what we did!"
To raise awareness of the survey, Posture People are asking people to tweet pictures showing what they love most about their workspace using the hashtag #loveyourworkspace and tagging them at @PosturePeopleUK. Anyone sharing a picture on twitter will be entered into a prize draw to win an Evoluent ergonomic mouse.
Posture People have also created an Infographic which visually summarises the findings and acts as a useful tool for office managers to see what can be done to improve the happiness of staff in the workplace.
Posture People are a team of office furniture and ergonomics specialists based in Brighton. You can find their website at: http://www.posturepeople.co.uk/.
For further information and queries on Love Your Workspace, contact Emily Cooper on emily@posturepeople.co.uk or call her on 0845 313 1503.
† http://www2.warwick.ac.uk/newsandevents/pressreleases/new_study_shows
* http://www.cipd.co.uk/hr-resources/employee-outlook-infographic-autumn-2014.aspx
** https://www.2degreesnetwork.com/groups/2degrees-community/resources/sustainable-business-happy-employees/