Amy Lishman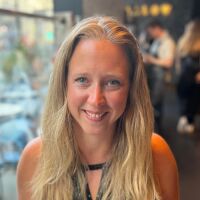 Amy (she/her) is our Head of Member Engagement and Deputy CEO. You could describe her as a business match-maker, as she connects members with each other to help them grow their networks. One member recently called her the 'Cilla Black' of business matchmaking.
She helps grow and develop our dynamic community of members and works with Hannah on marketing the Chamber and our members.
Amy also works on strengthening the Chamber's reach, influence and impact in the wider business community as Deputy CEO.
Her friends think she drinks tea for a living as she's always out and about in Brighton meeting with members and new contacts in the city.
Amy is an extroverted-introvert so while she loves talking and meeting people, she likes nothing more than curling up with a good book or cooking up a feast in the kitchen after a busy day of chatting.
Get in touch with Amy for a tea (obviously) and a chat if you'd like to find out more about networking, business support and what's happening in Brighton & Hove.