ZYX Limited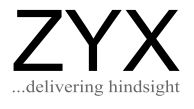 What would better decision making mean to your organisation or to you personally?
There are so many reasons why good decision making in today's world is incredibly difficult to achieve consistently. The challenge is getting harder, not easier! All around us we see the evidence in the form of failed initiatives, unintended consequences and surprising outcomes. Projects run over budget, fail to deliver the original objectives, deadlines are missed. Stress has become a major problem.
And so it is reasonable to consider how much training you or your organisation have received in the process of decision making. The process is all-important, it needs to incorporate best practice, be skilfully/knowledgeably designed, imaginative, flexible, well led/directed and responsive to events. As well as arriving at a decision, it should deliver greater understanding and insight, ideally giving rise to new opportunities.
ZYX provides training, facilitation and consultancy on the process of decision-making.