Sussex Innovation Centre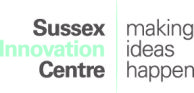 The Sussex Innovation Centre is a stimulating location for entrepreneurs, start-ups and innovative growing companies, offering strategic advice, a willing business support team and, for those who need it, flexible, professional office space. Our goal is to help you grow quickly and sustainably during the vital early years of operation.
Who are we looking for?
All Sussex Innovation Centre members have one thing in common; they have a new idea that could lead to high growth. People define high growth in many ways, but for us it means that you will have the ambition to grow your business year on year, accelerating sustainably to turn over millions, rather than thousands, in the first few years. As a growth engine for Sussex, we want to help you to scale that growth sustainably and efficiently, so that our region and its talent thrive.
What do we do?
In a nutshell, we will help members take their idea to market and then grow sustainably, year on year. Sometimes this means getting the business model right, other times it can mean helping you to understand your customers, or getting our hands dirty by working on marketing and sales. We look to find the factors that are holding you back, make introductions to experienced contacts who can help you to grow, and build the skills and confidence you need to succeed.
We know that start-ups need the most help at a time when they can least afford it. That's why we pass on subsidies to you, in the shape of funding and grants that we receive as a regional growth engine for Sussex. We are a membership organisation, where start-ups and entrepreneurs pay a subsidised monthly fee to access our services and networks. We also provide affordable, serviced office space for those that need a base.
Who are our members?
Our members join us from a wide range of different industries and environments - some of the most common types include:
Tech or digital start-ups
Start-ups with a disruptive idea
Ambitious entrepreneurs from any industry
Businesses looking to develop a product
Businesses who want to scale up based on an innovation
Employed people who have a new idea
Inventors and innovators seeking funding
Academic spin-outs
What to do next...
Get in touch with us to discuss your idea and how we can help you to take it to market. Call +44 (0) 1273 704400 and ask to speak to Peter Lane or Claire Pasquill, or complete our enquiry form to let us know about your idea and receive a call back.