Brighton & Hove Libraries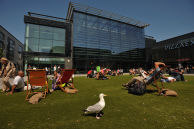 The beautiful Jubilee Library in Brighton opened on 3 March 2005 and is a £14 million landmark building forming the focus of the Jubilee square development. Innovative and modern, it is one of the most energy efficient public buildings in the country.
Conference Rooms Hire
Whether it's for a small two person meeting or a conference for seventy delegates; Brighton's Jubilee Library is the venue. The award winning, eco friendly building houses four conference rooms, which are available for hire for business, community and charity use.
The rooms are modern and spacious, all of the facilities are fully accessible and each is equipped with its own plasma screen, the larger rooms have air conditioning. Tea and coffee is available on request.
Rooms are available for full or half days at prices which are highly competitive.
Speak to our conference bookings team to discuss your needs, and find out how Jubilee Library can help make your event a success.
Please email jubileelibrary.conferencebookings@brighton-hove.gov.uk or call 01273 292872 for more information.
We can help make your day a success.
Business & IP Centre
Located on the first floor of the Jubilee Library, the Business & IP Centre (BIPC) Brighton & Hove offers free support to small and medium-sized enterprises (SMEs), entrepreneurs, inventors, and innovators across the whole of Sussex.
From that first spark of inspiration to successfully launching and developing your start-up, we can acquaint you with the resources you need to equip your business, charitable organization, career transition, or artistic enterprise for success.
Services include:
Walk-in access to a range of business databases

121 Information sessions

121 business expert sessions
Events – webinars, workshops, networking events
Plus, workshop space hire for businesses

If you would like to find out more information about how the BIPC can help you, or book a one-to-one business advice session, visit our website or email BIPC@brighton-hove.gov.uk and for all upcoming events visit our Eventbrite page.
For the latest news and events from the BIPC, follow us on Twitter, LinkedIn or sign up to our newsletter.
Brighton & Hove Libraries's blog posts
Brighton & Hove Libraries's activity