Brighton Dome & Festival Ltd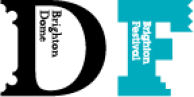 Brighton Dome and Festival is a unique arts organisation in the UK as we run a historic Grade 1 listed venue, Brighton Dome, a five space arts and conference centre presenting over 600 events a year, as well as present the high profile Brighton Festival across three weeks annually in May.
Brighton Festival (est. in 1967) is an annual celebration of music, theatre, dance, circus, art, film, literature, debate, outdoor and family events - taking place in venues both familiar and unusual across Brighton & Hove for three weeks every May. As England's biggest curated mixed arts festival, it attracts some of the most innovative artists and companies (and some of the most adventurous audiences) from the UK and around the world.
Guest Directors bring cohesion and prestige to the artistic programme: in 2016, we welcomed pioneering artist Laurie Anderson as the Guest Director of the 50th Brighton Festival. Her predecessors included award-winning author Ali Smith; critically-acclaimed choreographer Hofesh Shechter; poet, writer, broadcaster and former Children's Laureate Michael Rosen; actress and human rights campaigner Vanessa Redgrave; Burmese democracy leader Aung San Suu Kyi; renowned visual artist Anish Kapoor and celebrated musician Brian Eno.
We are committed to offering a diverse range of partnership opportunities all year round, designed to help you meet your corporate objectives – whether it is building brand awareness, client entertaining opportunities or engaging with the community. We are very proud of the association that we have with many successful local businesses such as Rampion Offshore Wind, Class of their Own, Riverford Organic Farmers, Nutshell Constructions, ZSTa and many more.
Collaboration with the business sector has lead to many exciting opportunities and enables us to offer our audiences and our community artistic richness and variety as well as promote accessibility and diversity in the arts.
For more information on working with Brighton Dome and Festival please contact Kata Gyöngyösi on 01273 260810 or kata.gyongyosi@brightondome.org
Brighton Dome also provides a unique and versatile venue for a variety of corporate events to include; meetings, private dinners and conferences. With five individual venues catering from 20 delegates through to over 1700 delegates, the possibilities are endless.
To discuss your personal requirements please contact Delphine Cassara on 01273 261 524 or email events@brightondome.org