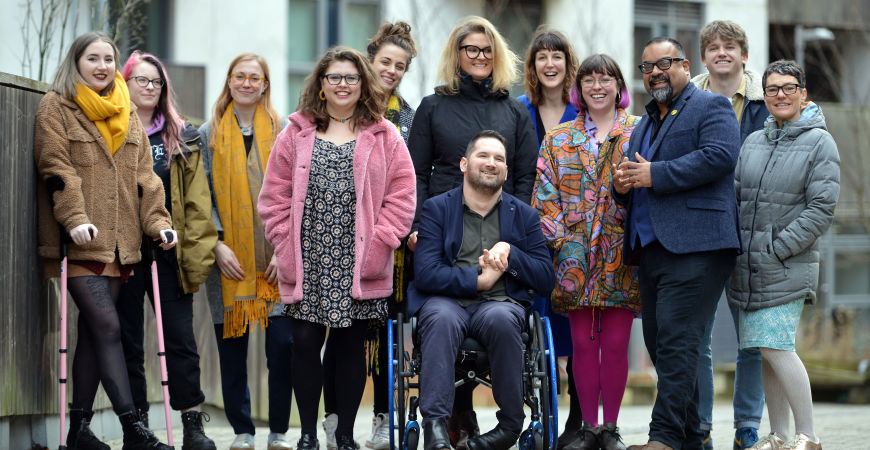 Wed 01 / 04 / 20
How can we keep connected in these unconnected times?
We all know about the importance of meaningful relationships and how loneliness can be harmful to our mental and physical health, but how can we keep connected during the coronavirus lockdown?
As a disabled-led organisation which specialises in using Assistive Technology to support 'disabled' students, organisations and homeless people around the world, the team at www.diversityandability.com has come together to keep our staff and organisations feeling connected.
How are we supporting organisations to keep connected?
With our lived experiences at D&A, we are also sharing our expertise and insights to support organisations to keep connected. As a disabled-led organisation, we appreciate the difference in reaching out and ensuring the inclusion of neurodivergent and disabled workers.
Supporting the wellbeing of your entire workforce has never been more important. How you hold your employees through this universal experience will make a huge impact on their sense of belonging and how well they return to work, once this 'rather peculiar' period of history ends.
We can help you to get these broader supportive structures that are so needed into place. We have also launched an email address called justask@diversityandability.com for anyone who has a question and is unsure how to support their staff remotely.
We are delivering programmes of support to help employers and to help employees. Our programmes include:
Wellbeing and Mental Health:
Webinars for a cross-section of the workforce or targeted teams
Remote 1-2-1 Wellbeing mentoring with qualified mental health professionals
Assistive Technology (AT):
1-2-1 AT training and support for staff who need to use AT to be able to work from home (both those currently and new to using AT)
Group webinars to introduce the use and benefits of AT for the wider workforce
We are continuing to work with our corporate clients, but are adjusting to a remote approach, such as monthly wellbeing mentoring sessions for an energy provider and consultancy on inclusive job descriptions. Inclusion and diversity are being built with or without the Coronavirus.

How are we keeping our staff feeling connected?
With an internal team of trainers and mentors who are also trained counsellors, the team have been putting together online support groups, shared yoga classes, a reading and discussion group, wellbeing webinars with guided body scans and a mindful early morning birdsong listening online event which the team took part in.
Phoebe Pennington, Senior Operations and Safeguarding Lead said: "We're doing video meetings for the operations team every morning and evening to stay connected and catch up/vent/plan our work. We also have a WhatsApp group going all day, things have deteriorated though as it's now called 'D&A - Crab Chat!' - I can't remember how it happened but we're keeping our spirits up as well as feeling lucky to be distracted by work (and to still have work!)."
While Jamie Crabb who is a mentor and counsellor has set up #TheKindnessPandemic on social media. He says: "This is because so many people need acts of kindness right now; and so many others want to hear stories of kindness. Kindness won't make COVID19 go away, but it will make our lives easier and more rewarding".
There are many different ways we can support organisations in these challenging times. If you would like some support with how you can keep your staff feeling connected in these unconnected times, drop us an email at hello@diversityandability.com or keep an eye on our blog for updates.