Fri 08 / 11 / 13
Harveys let us in on some brewing secrets
Dan Rose of Spade and Spoon reveals the magic behind October's Harveys Brewery Tour. Photos by Melita Dennett.
When Willy Wonka wasn't obsessing over chocolate I'm positive he would be lending his 'pure imagination' to brewing ale. Behind iron gates in Victorian buildings bulging with pipes puffing steam and frothy bubbling vats, perfuming the air with comforting and peculiarly English smells of malt and hops, it is the perfect place for him.
Sussex's own Wonka, Mr Hamish Elder kindly swung open his gates to the Brighton Chamber for a tour of the brewing marvel that is Harveys Lewes, Sussex's oldest brewery.
There is so much to enthuse and fizz about exploring this wonderful historic brewery. You have an indescribable feeling when in a space that it's alive with work and history, unchanged over time. The room is alive with brewing gadgetry, copper top vats, mashed tuns, gigantic spanners and bewildering array of pipes snaking throughout the whole building. You are transported into the bowls of Captain Nemo's submarine.
Hamish gave us a history of English ale – for a long time is was the only guaranteed hygienic drink source helping our nation through the plague! England became and probably remains today the master brewer of the world. It was fantastic to learn about this rich interwoven history of our nation and its beer.
Throughout the tour we learnt about all the essential ingredients of beer and the unique processes that Harveys cherish and enshrine in their pursuit of the perfect pint.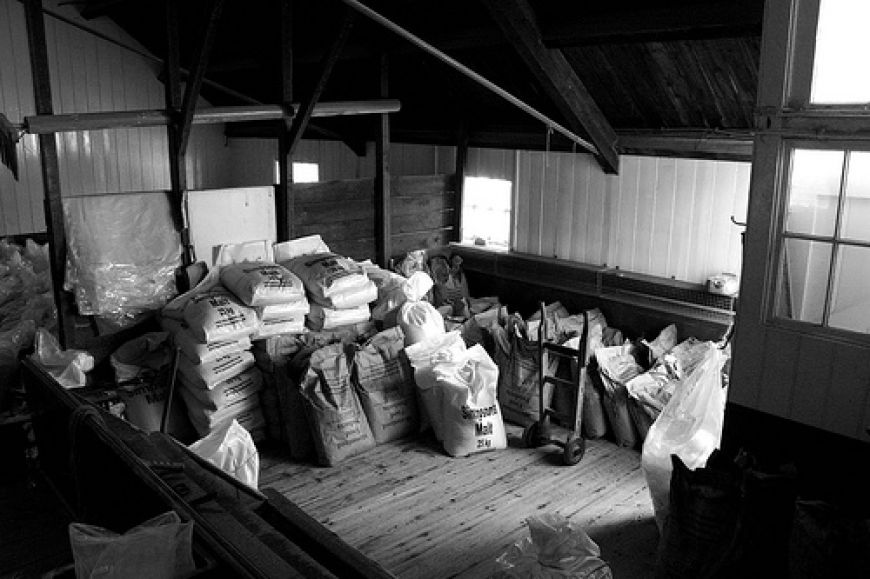 The Malt with its brown sugar, baked bread flavour and floral fruity notes of the hops give the bitterness and all-important preserving qualities to the ale. Brewers refer to water as liquor and Harveys has a direct source under their building from an aquifer that captures the rainfall over the Downs. The final essential ingredient is yeast, which turns the sugars into alcohol. Unique to Harveys, they used the same yeast strain today as they've been using since the 1950s, recycling it after every batch. Harveys ensure this yeast is kept alive during the brewing process resulting in a very medicinal pint.
The proper conclusion to any brewery tour is the Sampling Room. Hamish generously poured the ale whilst enlightening us on the how's and why's of the different ales. We learnt about the bubble swirl test, like a cloud of starlings above West Pier, precious to every Harveys pint. It comes from a deliberate intention to retain as much of the CO2 in liquid and not loosing it to a big frothy head. The same reason as Champagne, these little bubbles help open up your taste buds. So next time you enjoy any pint of beer give it a swirl to see whether you get that starling cloud, it will be there with a Harveys.
Harveys has never had to 'go green', it's been in their blood, or ale, since the very start. Every stage of its creation and delivery is local and recyclable. Water sourced from rainfall over the Downs, drawn directly from underneath their building; Only ever using local hops from Sussex Kent and Surrey with the side products going to Plumpton Agricultural College to help feed the cows resulting in gallons of milk. Finally happily for us Harveys only deliver within a 30 mile radius and you can return their bottles for a discount!
The fantastic tour and a fantastic brewery also gave me a new favourite word – Fuggles (a heritage hop variety.)
Dan Rose, Spade and Spoon, The Great British Mobile Cafe