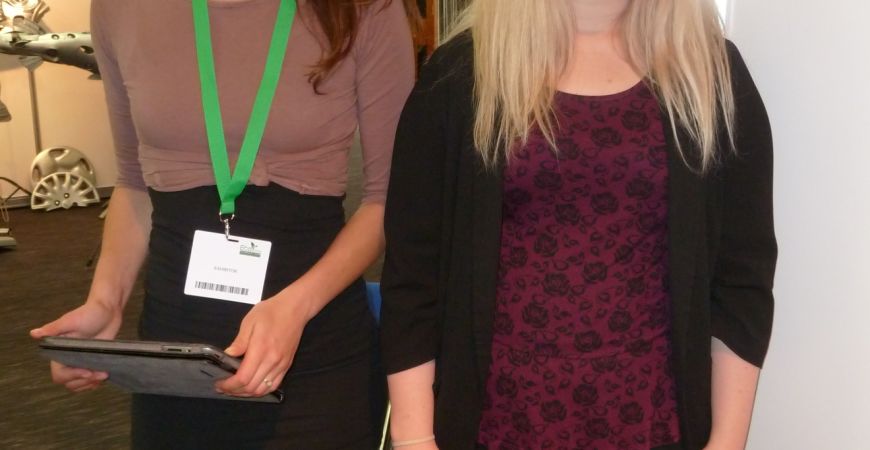 Tue 22 / 07 / 14
Growing your business with a graduate intern
Chloe Molyneux (right) with Dora Clouttick (left) from Organic Roofs at the Eco Technology Show in Brighton.
The University of Brighton is delighted to be sponsoring the July Brighton Chamber Breakfast at Carluccio's.
I'm Rebecca Duffy, the Employer Engagement Officer in the Careers Service, and I'll be joined by Chloe Molyneux, a recent University of Brighton graduate. Chloe has just undertaken a six week internship with Strategic Management Partners, part-funded by the Regional Growth Fund. In our two minute sponsor's slot, Chloe will give you a snapshot of her work as Responsible Business Advisor, employed by Clive Bonny, Managing Director of SMP.
Chloe made a promising start: "From my interview, which involved a small dog shaking a shoe and falling asleep on my lap, my internship has been extremely pleasant and rewarding."
Clive's dog Binky has an eye for talent. "Chloe has been an excellent fit to support multi-project activities for Strategic Management Partners," confirms Clive. "As a result of Chloe's support, several hundred businesses across Sussex are now aware of four key opportunities for their growth. Namely, how to access government grant funding up to £500,000, trademarking and Intellectual Property protection, and Responsible Business Standards. Chloe has been hard-working, flexible, focused and good fun. I'd recommend her to others who want to develop business opportunities quickly."
An internship is an opportunity for a graduate to apply their skills in the workplace. Chloe, a graduate in Economics and Finance, will tell you how she's delved into the diverse worlds of conservation, SME business growth and responsible business standards: "I have discovered many exciting businesses and have met some extremely inspiring people. Clive has provided me with some excellent opportunities and has been extremely accommodating. He is positive and friendly and I would recommend him to any small business needing help."
The University of Brighton can facilitate a range of internship grants for smaller businesses (with less than 250 employees and £50m turnover). For more information, visit the business section of the University of Brighton website .
Before our two minutes is up, I'll also flag up the University of Brighton's Momentum mentoring programme. Mentors help students with confidence and achieving goals, and do not need to be academic specialists. It's a great way to network and can be incredibly rewarding. "I feel I have learned lots myself as well as meeting many lovely people," says Lesley Houston, a mentor for 2014/15.
Come and meet Chloe, Clive and myself after the speeches to talk about internships, mentoring, exciting opportunities for business and interviews chaired by dogs!
Written by Rebecca Duffy, Employment Engagement Officer (Graduate Internships), University of Brighton