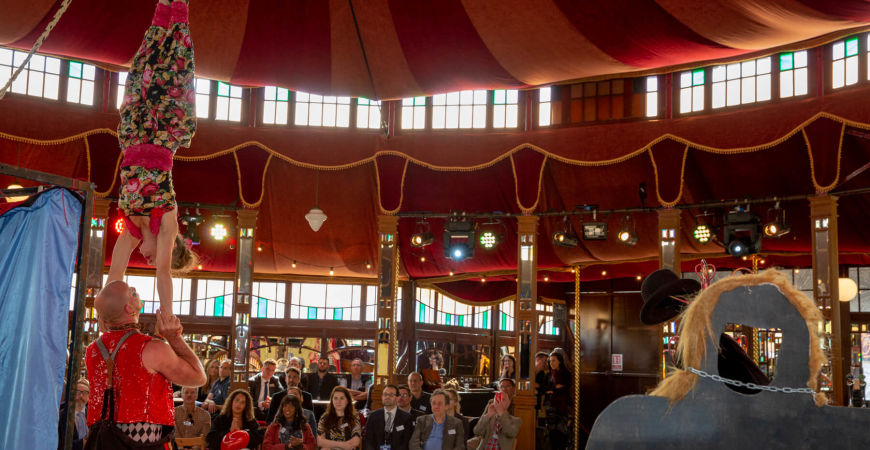 Tue 21 / 05 / 19
Clowning around at The 'Brighton Fringe' Pop-up Breakfast
By Alice Reeves
Sophie Turton shares her key takeaways from the 'Brighton Fringe' Pop-up Breakfast.
What do you get when you bring Brighton business owners together to watch a man swallow a long, thin balloon and get ridden around like a beast from a Gaiman novel in a tent made for wonder? Just another casual Chamber breakfast, of course.
Brighton Fringe is back and it's bigger than ever.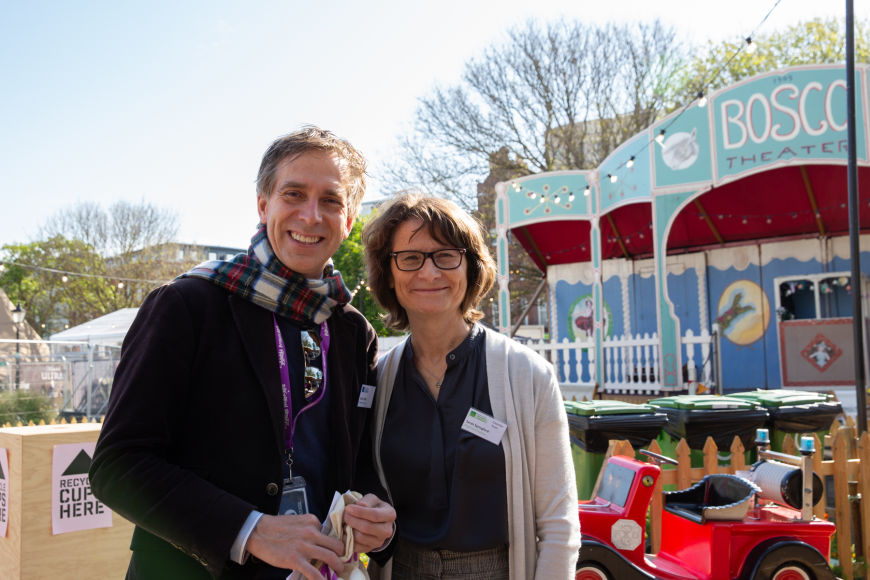 As director Julian Caddy says, it is a 'creative, chaotic miracle that thrives in this city.' And what a place to be. Especially in May when art, culture, food, music, madness and mayhem create an electricity that buzzes around the city, energising all who dwell here. And what better way to celebrate the launch of the Fringe than the annual Chamber 'Brighton Fringe' Pop-up Breakfast?
This year was as mind-bogglingly weird as ever. We'd settled for no less, after all. For me, it's also a powerful reminder of how darn tootin' fortunate we are to do business in this crazy, colourful city, and have the support of a Chamber completely unlike any others.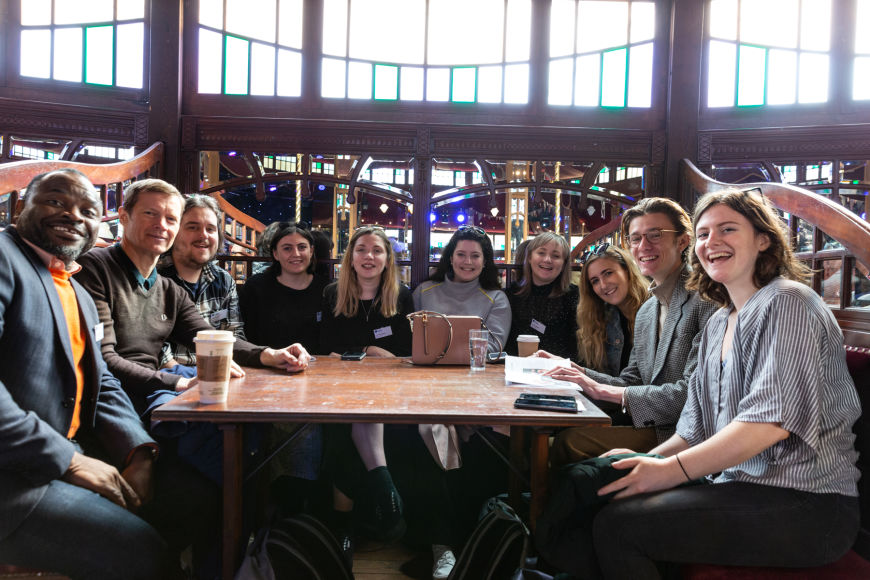 With the fan girling out of the way, here are the deets from the day, along with my key takeaways:
1. The Fringe has more than doubled in size and it's thanks, in large part, to the Brighton business community (you guys rock so many socks!). Julian Caddy introduced the event with a massive thanks to us all for supporting the Fringe over the years, which continues to go from strength to strength. Also, have you seen how awesome The Warren is this year? Check that bad boy out!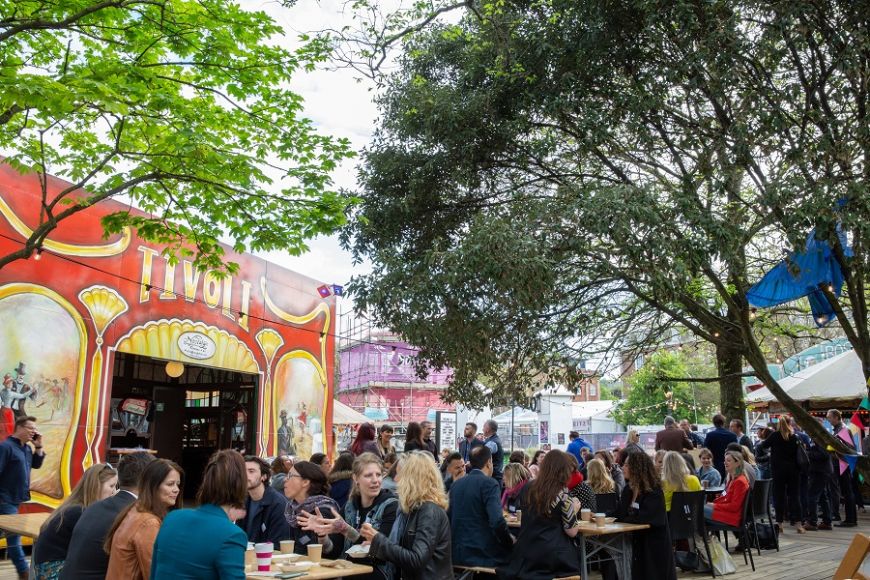 2. The theme this year is Dare to Discover, which is an invitation for us all to explore further, seek out something you wouldn't usually watch, and embrace all, even, as Julian eloquently put it, those "hidden little poos".
This is a pertinent theme when applied to business, because me oh my what a journey of discovery it is to build something from nothing and make it fly. There's a lot we business owners can learn from the passion, gumption and, in many cases, sheer sass of Fringe theatre makers and performers.
3. It's possible to [at least appear to] swallow a balloon as long as a man's torso. There's likely an important lesson in this...something around swallowing your losses?! At any rate, it was pretty amazing and equally uncomfortable to watch one half of CircoPitanga shove an inflated oblong latex object down their gullet, at 9am, at a business networking event. Rock on, Brighton!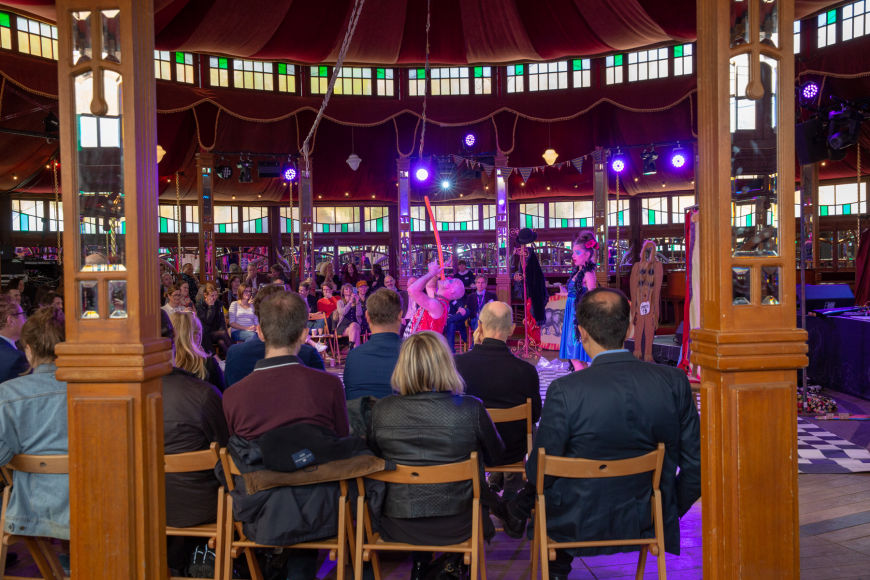 4. Women run the world. I'm looking at you, Brighton Chamber team. This important public service announcement was also clearly demonstrated by the female half of CircoPitanga, who spent a great deal of the performance either tying up or riding the balloon guzzler around the stage like a wild beast.
5. There is no place to do business quite like Brighton. In case I haven't laboured this point enough, this is the greatest city to do business in. Collaboration trumps competition, a wicked sense of humour sizzles through any serious 'corporate norms', and when business owners come together, it's a giggle a minute. We're breaking the mold up in here, and we should be extremely proud of what we're creating.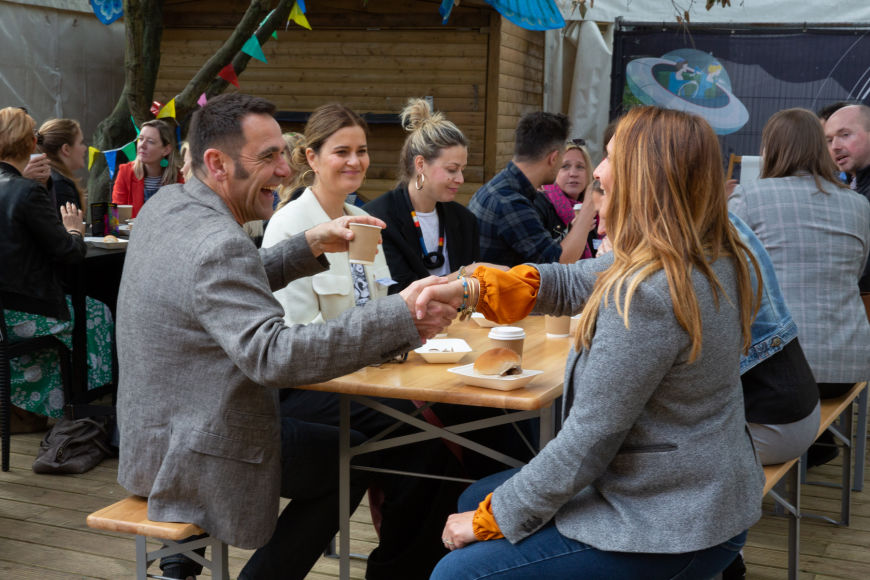 6. It's time to crack on. The Summit is back with the theme 'crack on', which is all about being positive and getting out of our comfort zone in business. Get your ticket here and get ready for the biggest (and most unusual) business event of the year.
So there we have it, now it's over to you. Make the most of this gift of a month, push yourself out of your comfort zone and dare to discover further. If you find something particularly weird and wonderful, don't forget to let us all know!
Sophie Turton is director of The Joyful Web, a growth agency for mission-led business, and proud Chamber member and general woo girl. Follow her on Twitter here.
Thanks to Sophie for writing this blog.
Photos by Maria Scard