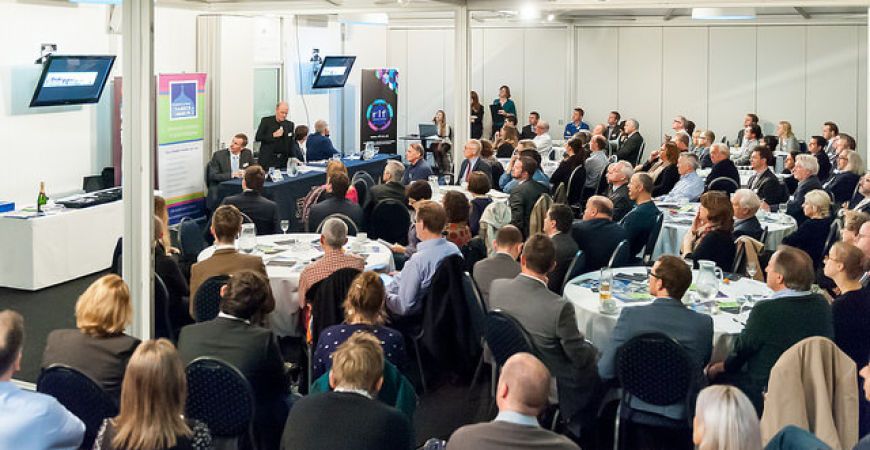 Sun 02 / 11 / 14
Brighton's development dilemma
Last week saw the latest installment of Construction Voice, tackling the challenges faced by developers in Brighton with an ever growing population to house. Adam Turton is a blogger and student at the University of Brighton. Here he gives us a breakdown of the event and the discussions that took place.
The issue of how to preserve Brighton's unique style, whilst combatting the need for economic growth through new and affordable housing, remains a pertinent topic. As such, there was an impressive turn out at Tuesday's Construction Voice event, hosted by the Brighton and Hove Chamber of Commerce. Everyone gathered with a shared objective - to make a better Brighton "without losing that special something" that drew us to it in the first place.
Some of the core housing issues for Brighton include a lack of space in the centre of the city for new houses – demand far exceeds supply, causing property prices to continue to accelerate alongside fears that Brighton may soon be incapable of housing students, newcomers and its own.
The number of houses needed is estimated at around 18,000 to 24,000 homes, not including student housing. This number has risen from previous estimates.
One potential solution, presented by Paul Zara from Conran & Partners, architect and panellist for the event, is to build upwards, much like some of the buildings we see in London and New York. Paul recognized people's pre-conceptions of towers in Brighton. Many view them as being drab and dull pieces of uninspiring architecture, purely functional. However, as Paul argued, aesthetic value does not need to be made negligible by tall building - the towers can be beautiful and dramatic while still being functional.
Those that do ruin aesthetic value are "poor quality buildings" and are "wrongly placed". The solution, therefore, is to employ world class architects so that these issues are avoided. One particular example used in Paul's presentation was the Bosco Verticale buildings in Milan, which combine architecture with horticulture and botany to produce a 'tree tower'.
An alternative solution was put forward by another panellist, Lee Newlyn who suggested that Brighton, as part of an initiative by the Mayfield Market Towns Company, should be looking for a "sub regional solution" - even though we "have left no stone unturned," we still have a shortage of houses.
He proposed that we should build market towns near Lewes, Adur and Worthing; this would provide around 50,000 homes and may also provide many more jobs for people.
Rob Fraser from the Council suggested we build in, building on land fill sites and the "open fringe" - small areas of potential land around the city and surrounding towns. To this, audience members raised concerns about infrastructure – can our roads, schools and businesses cope with over 13,000 extra residents. "In a word – no", Rob answered; although he assured that the council is working closely with local organisations to come to a solution.
Cost presents a huge issue when it comes to housing in Brighton, as panellist Sean Clemons from Robinson Low Francis recognised – even people in high paying jobs cannot always afford to buy family property in the city centre. The cost of renting and buying properties in the city continues to drive people to neighbouring towns, thereby giving some slack to the demand of houses in and around the centre. As such, Sean suggested we do nothing and allow this natural migration to solve the issue for us.
It was suggested that perhaps the answer is to simply play the waiting game. If we wait long enough, then people will naturally migrate, largely because of the cost of housing and the lack of viable family housing options. This this will free up resources and space to solve the issues that Brighton is facing.
A variety of different questions were posed after the panellists had finished, one of the questions that cropped up was how sustainable and deliverable the sub regional market town would be. This was interesting because eight different councils are opposing the move to build new market towns and it may be driving people away from Brighton rather than to it.
Lee Newlyn responded by stating that the towns would most definitely be bringing more people to Brighton and they would not instead be commuting to London due to better routes. Another question was raised over what kind of an issue this is, political or social? It seems to be a strange mixture of both, but there is only so much that can be done without the proper backing from government.
This led on to another question: "what hope can anyone provide that these solutions will work for all people?" This is tricky, as we may find it difficult to ensure a truly equal housing market, while still gaining the money that Brighton needs. As a result, a truly egalitarian solution may be difficult to pull off.
The majority of the audience were in favour of a tower based solution before the debate, and while this was generally still the case after the debate, it also became apparent that there was a faction that thought that all four solutions - building up, building inwardly, building out or doing nothing -were needed.
Miranda Birch of Miranda Birch Media who chaired the event, found it surprising that the majority voted to build up both at the beginning of the discussion and at the end.
This question posed by the event – how do we build 24,000 new houses for Brighton residents – still looms large. However, the amount of people, from all sectors, who took part in the debate is evidence of proactivity. This is always the first step to positive change.
You might also like: