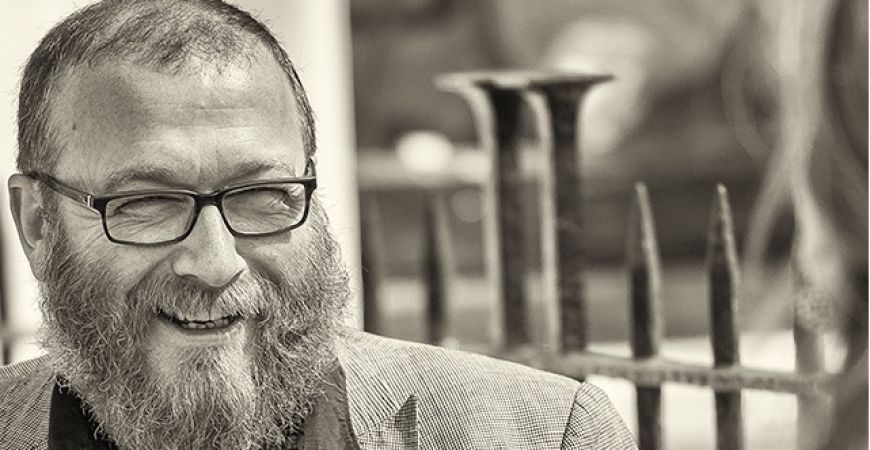 Mon 12 / 05 / 14
The Adventure of Business: An interview with Nick Price
As part of the run up to the Chamber Summit 2014 we interviewed Nick Price, a member of our Summit working group. Nick is consulting futurist introducing strategic change and future thinking into organisations. In this first of two interviews we asked him about the Summit theme of 'Come on an Adventure'
A (Abby): 'Come on an Adventure' doesn't sound like a typical theme for a business conference. What does it mean?
N (Nick): For a large part of our time in business we can find ourselves focused on operation and execution. We seek to improve how we do business and achieve success. Business however is a very human endeavour and a very emotional one, an Adventure.
The world is not a certain place, things change and challenges must be faced. Starting, running or working in a business is an adventure. It is not so much managing a balance sheet but living in a story. Business is about doing something new, different or better than others. This has inherent risks of failure but also success. In short, it is an adventure and that is a useful lens to look through.
A: You've talked about balance sheets and adventures that are each abstract in their own way. Can you ground that a bit for us?
N: Sure. We all have different preferences for learning and absorbing information. In inspiring stories of business success there are a complimentary triggering hard measures.
There are stories of personalities driving business through ups and downs like Steve Jobs at Apple. Whilst profitability, innovation and share price are important it is the engaging adventure that makes such a story come alive. His was an uneven road and technologically one invented as he travelled.
Being better informed to travel such roads, and making choices of ones to travel, is very important. A small business can experience the same travails as a large once. The adventure lens gives us a way to translate learnings across scales of business.
A: So how does the Summit fit into the Chambers activities?
N: The chamber runs programs on execution like the bite-sized sessions. It also has inspirational events like the breakfast and lunchtime presentations. The summit will take the inspirational aspects of business and make them active, experiential and social. Pragmatic business elements, reminding us of the need for action, will still be there to ground the day's program.
The day will be a space out of the office for business people to take a valuable moment to think about their bigger picture.
A: This theme is very attractive and high reaching. Is it this still relevant for small to medium businesses and people working within larger ones?
N: Absolutely. Small businesses have some of the most visceral and turbulent business adventures but also can find themselves isolated. The social aspect of the conference will for example encourage connections to others.
The metaphor of ' an adventure' scales from organisational leadership right down to us as individuals working within them. Careers are adventures and so are lives. I will dig into this aspect again in our second interview.
A: What about the more 'material' aspects of business. One that intrigues me is technology. Today, technology change seems to drive business more than anything. You haven't mentioned that.
N: To claim that technology drives us more today than any other time is debatable. Technology change has always had huge effects even back to the time of the canals, through steam to electricity etc. Today we are transitioning from the linear efficiencies of technology to the equally exciting, complex and unpredictable non-linear effects. It is the human capacity to integrate that change into our businesses and our lives that is important.
Technology on its own is passive until human innovation and application takes places. The translation of invention to innovation and pervasion into everyday lives relies on human ingenuity. Our current social structures that support that the most are businesses.
A: My last question is about a huge business and economic problem, growth. Is there an aspect of this in the summit not simply covered by the idea of building or growing business?
N: A good question. When we are in a time where quantitative business growth is difficult then it is an opportunity for qualitative growth. The Summit is also a growth opportunity for people and business through gaining wisdom (inspiring talks), knowledge (unconference sessions), experience (safe risk taking) and companionship (networking). Even business storytelling (communication) itself will be in the mix (which starts to get a bit meta!)
A: Nick, thank you for these thoughts
You can find out more about the summit here and Nick Price here. In a second interview, Nick will dig deeper into Adventure.