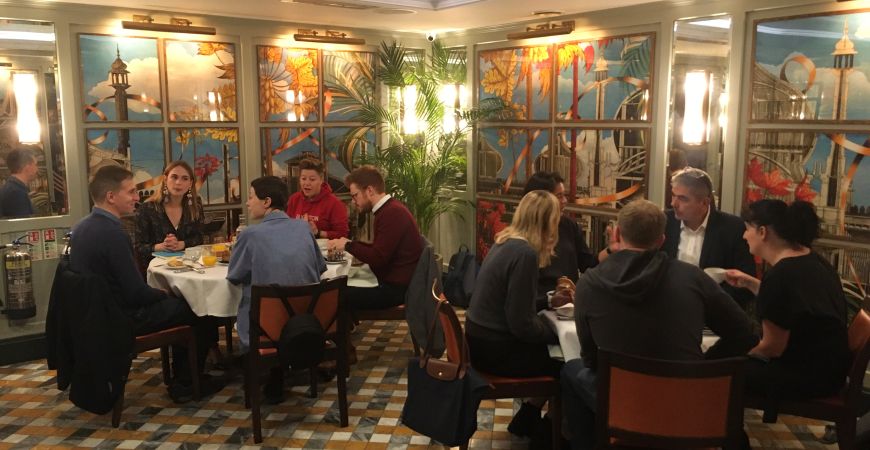 Tue 12 / 11 / 19
A better place to play
By Liam Ronan-Chlond of First Base
Last week, First Base held an incredibly insightful breakfast discussion focussing on what the future holds for Brighton & Hove's eminent creative, leisure, retail, food and drink sectors.
Hosted by the Brighton Chamber, we were joined around the breakfast table by a diverse array of small and medium local enterprises, from local coffee shop and restaurant owners, to gin-makers and cultural event organisers.
These businesses provide the key ingredients for any thriving, vibrant community. As a mixed-use developer, we believe that local independent shops, cafes, bars, restaurants and creative industries are just as important as high-quality homes, workspace and public realm, in creating truly successful places, which deliver economic, environmental and social value.
As one of the most active developers in Brighton & Hove, we are practising what we preach. First Base are providing an exciting new place for people to live, work and play at the Edward Street Quarter, on the site of the former American Express Headquarters.
In addition to 168 homes and enough new workspace for up to 2,000 desks; Edward Street Quarter will include almost 40,000sqft of commercial space to showcase the best of local independent food, drink, retail, leisure and culture.
First Base loves Brighton & Hove's independent and creative spirit, which is why we have specifically set-aside space for the city's much celebrated artisan community to be truly expressive, whether this is vegan food, craft beer, ethical coffee, organic clothing, independent film or modern art.
At last week's event, local businesses told us how important it was for space to be fully flexible and offer multiple uses. We heard some great examples of how space can be better utilised during the day and night and used for different activities.
Sharing space and splitting costs will enable cultural and community uses to flourish. For instance, a cafe in the day can be a food academy, training future chefs in the evening. A daytime distillery can be a night-time bar. Restaurants could be used as exhibition spaces. The possibilities for collaboration are endless.
Flexible spaces also provide more opportunities for new entrepreneurs to take their chance, to fail, to succeed, to learn.
The local businesses we met with also expressed how important early evening activities were in Brighton & Hove and how an eighteen-hour economy should be encouraged. We agree that an early evening offer is a key factor when curating a new community. We all like to dine out, whether it's to relax, dance, catch-up with family, friends, colleagues or meeting new people. A community that plays together, stays together!
There was also a shared view that national chains should not be allowed to dominate! In short, we agree. First Base always strive to showcase local talent; the Edward Street Quarter included. As part of our commitment to placemaking, we want to see soulful spaces, celebrating local character and identity, rather than just another corporate clone town. There needs to be a unique sense of place, with its own look and feel. Visitors and residents alike need to feel like they are truly in Brighton.
Brighton & Hove never ceases to inspire us with its independent flair, creative charm, community spirit and passion for play. Last week's breakfast with some of the city's most interesting food, drink, retail, leisure and cultural entrepreneurs was no different.
We listened, we learned and we will seek to curate a successful space for local independent creative industries to thrive at the Edward Street Quarter.