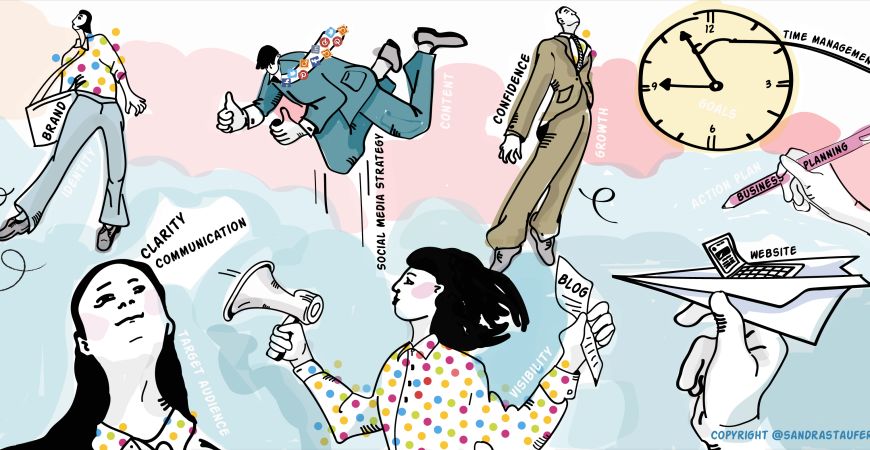 Mon 22 / 02 / 21
Clean, green brand identity for FareShare Sussex's zero-emission e-cargo bike
Creating a memorable identity
Background
Surplus food distribution charity FareShare Sussex was looking to expand its refrigerated vehicle fleet in Brighton with a four-wheeled, pedal-powered zero-emission e-cargo bike.
The challenge
FareShare Sussex wanted its new bike to look the part, with livery reflecting its function as well as advertising its superlative environmental credentials.
Solution
The pioneering vehicle, the first of its kind in the UK, is already turning heads, thanks to the clean-lined graphics and fresh, original illustrations on its striking green and white wrap.
Out of adversity...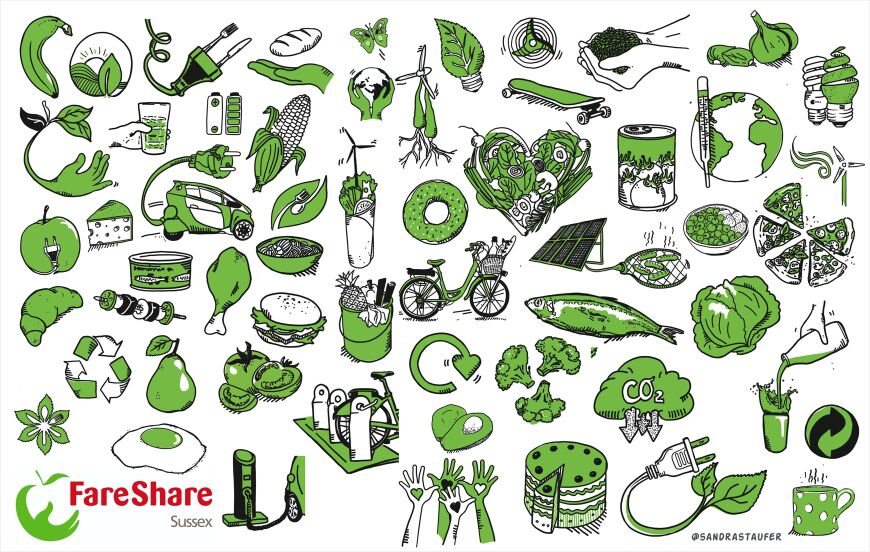 The brief

In July 2020 a colleague from the Brighton Chamber mentioned that FareShare Sussex was looking for someone to help with graphics for a zero-emission refrigerated e-cargo bike. FareFhare Sussex redistributes food industry surplus which would otherwise be wasted, to charities and community groups supporting vulnerable people.
A few months earlier it had joined forces with walking and cycling Sustrans to launch a kids' design competition for the bike's livery, but the competition attracted just two entries. It was looking for bold, easily identifiable artwork which shouts out its core intention of fighting hunger and tackling food waste. It also wanted this artwork to act as an advertisement for the electric vehicle project, conveying the message of sustainability and zero-carbon emissions.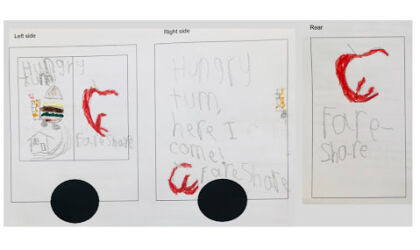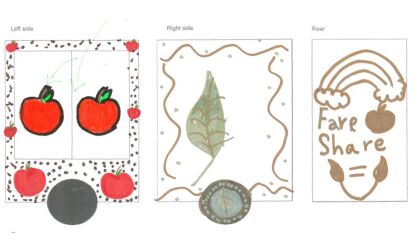 Collaboration
I feel very strongly about food waste and immediately recognised this as an exciting and worthwhile projects for which I was eager to volunteer. I was happy to join forces with local graphic designer Richard Excell, of Excell Design and Hove-based advertising products supplier TJ's Branding Solutions.
The solution
FareShare Sussex encouraged me to look at the two competition entry designs and incorporate some of their ideas into my illustrations. I loved George's hungry tum' slogan and liked the simplicity of the 'to-the-point food items and the white space and so I carried this into my design. I also liked the duo-colour approach of Tamsin's design. So rather than the illustration telling a story, I opted for an eye-catching design that could be grasped within seconds, as the e-bike whizzes past.

Setting the graphics into a wrap template was a tricky job for Richard, and we worked closely together to produce the final design templates. The resulting wrap reflects the e-cargo bike's function, and the fact that less food will now go to waste in Brighton – with no negative impact on the environment.
The e-bike's delivery was delayed, but FareShare Sussex's latest delivery vehicle was eventually launched at Brighton's Bevy community Pub in February 2021.
What the client said
"Thank you so much for your incredible and gorgeous talent in making our cargo bike look so fantastic.(..) It's really turning heads in Brighton." Nathan Catt, Project Coordinator (WRAP Project).
"I am very proud to introduce the latest edition to our refrigerated vehicle fleet at FareShare Sussex. It's a four-wheeled, pedal-powered zero-emission e-cargo bike! It's the first of its kind in the UK, built by EAV and funded WRAP. We want our last-mile delivery and collection of surplus food around Brighton & Hove to be toxic fume-free and we want to reduce our business CO2 emissions now, not tomorrow. Along with our large electric van we're moving that way. Thanks to Zedify UK's Brighton team for all your support." Kelly Dibbert, Marketing FareShare Sussex
Fareshare Sussex are currently recruiting for an e-cargo bike volunteer
The role of e-cargo bike volunteer is part of a new project funded by WRAP (Waste and Resources Action Programme). Register your interest please email Lara – lara@faresharesussex.org.uk