Fri 16 / 07 / 21
Charity appeal for statue of suffragette Mary Clarke
Local charity, the Mary Clarke Statue Appeal, hopes to raise £35,000 to commission a bronze statue in Brighton of Mary Clarke, the first suffragette to die for women's right to vote.
Having already raised £15,000 towards the overall cost of £50,000 they are now calling for individual and business sponsors to help raise the difference. With many hundreds of smaller donations from local people, they are in great need of larger donors to help take the fundraising over the line.
They have already fundraised successfully for a bronze maquette (statuette), made by well known sculptor Denise Dutton, to the design of the proposed statue. It will be on display in the Jubilee Library until 21st July.
About Mary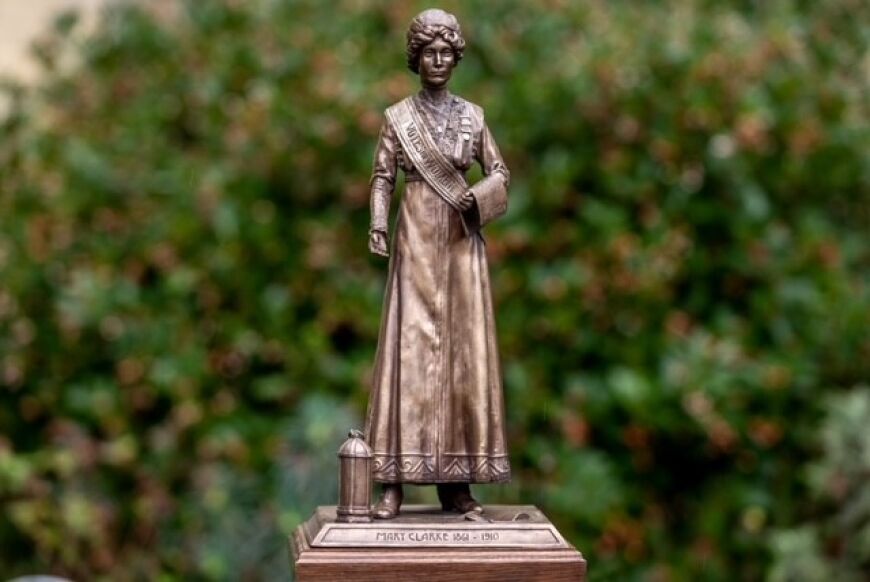 Mary Clarke was Organiser for the Women's Social and Political Union from 1909 to 1910, based in Brighton and operating throughout the South East. She was injured during the terrible physical and sexual violence of 'Black Friday' on 18th November 1910 and thereafter confined to bed for three days. Despite her injuries, she returned to London to protest about the violence and deliberately broke a police station window (her first illegal act).
She was sentenced to one month in prison, sending her supporters in Brighton the message "I am glad to pay the price for freedom". In prison she was forcibly fed, after going on hunger strike. Released on 23rd December, she died of a brain haemorrhage on Christmas Day 1910. She was 49 years old. There is no public memorial to her anywhere in the country.
Sister to Emmeline Pankhurst, Mary sold suffragette newspapers and spoke regularly to unruly crowds on the seafront, where she is reported to have quietened aggressive opponents by her calm good humour. She spoke in Hyde Park, led a delegation to Parliament and also organised and addressed large meetings in the Dome and old Hove Town Hall - and also in the Royal Pavilion, where her memorial service took place in January 1911.
As a leader, Mary was greatly loved and admired, especially for her courage and calm gentleness in the face of attack - all the more remarkable because she had endured an abusive marriage which she eventually escaped.
The preferred site for the statue (subject to Planning) is in the Pavilion Gardens, near the entrance to Brighton Museum, where every school child and adult resident and visitor will see and learn from her life of courage and commitment to democracy, equality and women's rights.
They have all-party backing of the City Council; members of Parliament from Brighton, Hove, Lewes and Hastings; the Sussex Police and Crime Commissioner; the Deputy Lieutenant Juliet Smith J.P.; and the Archdeacon of Brighton, Hove and Lewes.
For more information, to offer help or donate online visit www.maryclarkestatue.com
Or donate, go to https://localgiving.org/charity/mary-clarke-statue-appeal/ or https://www.paypal.com/gb/fundraiser/charity/3881341