Weather flare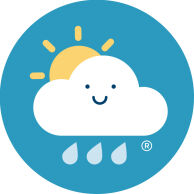 The weather app that helps chronic pain sufferers take back control.
"It's going to rain, I can feel it in my bones…" When I was growing up, my gran often joked that she didn't need the weather forecast when she had her creaky knee. When I was diagnosed with palindromic arthritis, I realised she wasn't kidding, and I became fascinated by the connection between pain and the weather. I went down the research rabbit hole and came back up with a bucket-load of evidence that this was more than just an old wives' tale.
If you've dealt with a chronic pain condition yourself, this won't be news to you. You'll know all too well that the weather can trigger huge flare-ups and bring your day (or even your week) grinding to a halt. You can't control the weather, of course, but with a heads-up and some helpful strategies, you can stop it from controlling you.
That's why I developed Weather Flare, an innovative app that helps people monitor their pain symptoms, figure out their weather triggers, and minimise the impact the weather has on their lives. With features like journey planning, weather trigger alerts and custom pain management tips, Weather Flare gives chronic pain sufferers the tools to take back control of their wellbeing.
Drawing on my personal experience with chronic pain and a successful career in the creative and charity sectors, I've created an app that I believe will brighten up your day in every way. Dave.