Greystone Associates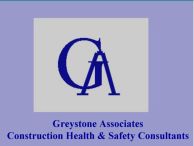 27 Mackie Avenue
Brighton BN1 8RA
Greystone Associates are a cooperative association of construction industry professionals with a group experience of several decades.
Most of our group are educated and experienced specialists from a construction industry discipline.
Now trained in construction industry health and safety, we can offer, through a "hands on" comprehensive understanding of the processes and procedures involved, precisely targeted strategies to handle your health and safety requirements.