Full Story Media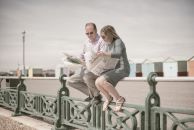 Full Story Media is a media consultancy based in Brighton, founded by Guardian and Telegraph business journalist Jon Card and digital PR Corinne Card. We offer journalism, media training and digital PR services to publishers and businesses.
Journalists need information for their stories. They need a wide range of information, including quotes, statistics and pictures, in order to make their stories work. However, the problem with many PR campaigns is that they fail to match their own output with the needs of the journalist. Full Story Media offers companies a service that ensures they are put into contact with journalists at the right time, and with the right resources to make an impact. This approach was devised by Jon and Corinne Card who, between them, have over 30 years of experience working with the British media.
Our Coverage Classes offer businesses and media professionals the chance to gain professional understanding of dealing with the press to help them gain visibility and brand awareness.
Media training courses are led by Jon Card, a business journalist for The Times, Guardian and Daily Telegraph.
Digital PR courses are led by Corinne Card, a former journalist and digital PR with 15 years' press experience. Corinne's campaigns are regularly featured by authoritative sites, including the BBC, ITV, Metro, Sun, Mail Online, University of Oxford & Huffington Post.
Our clients range from national newspapers to SMEs. If you'd like to find out more about our work and how we can help you, get in touch at: info@fullstorymedia.co.uk