Da Costa Coaching Ltd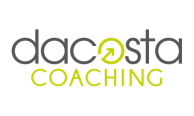 I specialise in working with creative agencies (design, marketing, PR, web, digital) and service based businesses. If you want to grow your agency's profits, gain a unique market position, win and retain long standing clients then get in touch I am both passionate about what I do and highly qualified – both in terms of coaching skills, business skills and life skills, with qualifications in business coaching, NLP (Neuro Linguistic Programming) as well as many years of business industry experience. I deliver my coaching face to face, by SKYPE as well as online learning courses.

Founder, Rob Da Costa has 30+ years of commercial business experience from working in blue chip companies to starting, growing and selling his own successful business. He also has worked in charities, helping young adults overcome adversity and excel in their adult lives. Having sold his business in 2000, he retrained to become a coach and now works with businesses to help them focus, build and excel – creating environments in which individuals, teams and businesses can thrive. His coaching style is business and results focussed, empathetic yet challenging and he is totally passionate about facilitating clients to get the results they seek from the coaching process.
Learn a little more about who Rob Da Costa is and how he can help your business grow.