Brighton Getaways Limited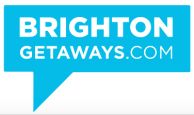 Maritime House
Brighton BN41 1WR
Brightongetaways.com are experts in unlocking the potential of your short term rental properties in the Brighton and Hove area.
Our aim is to give landlords a whole new way of making fantastic returns on your rental properties, 365 days a year.
We are an experienced team of short term lettings specialists and most importantly we are Brighton and Hove residents with years of local experience as landlords and property owners. Therefore, we know how fantastic it is to live in this vibrant area and have the expertise to sell this offering to guests to the city.
We can ensure you enjoy huge returns on short term lettings opposed to long term rentals, with more flexibility of choosing when you rent your property. Whether it is for a two days, week, or all year round.
We are the experts that can help you maximise the income from your property. Contact us now and unlock the potential of short term lettings in Brighton and Hove.