Brighton Fringe Ltd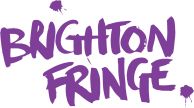 Brighton Fringe is England's largest arts festival and one of the largest fringe festivals in the world. We set out to stimulate, educate and entertain a diverse range of people through a diverse range of art forms. And all this in an iconic city with unique cultural heritage.
The Brighton Fringe team works all year round to nurture arts in the city and beyond. We connect local, national and international artists and organisations to promote their work, to develop professionally and to meet other artists, promoters, venues and businesses. We also work closely with festivals worldwide and international networks such as the World Festival Network and World Fringe Alliance to further support performers to tour, fundraise and develop.
In order to continue the work we do in our city and beyond we work with several local businesses who are able to offer their support either on a financial basis or in-kind. In return we are able to raise their profile through our extensive audience reach. Over half a million people attend our events each year. Our social media reach is wide and we offer bespoke partnership packages to businesses looking to target new customers and reward staff with unique experiences at Brighton Fringe.
Looking to meet your corporate social responsibility objectives? Invest in your local community by sponsoring the city's and England's largest cultural organisation.